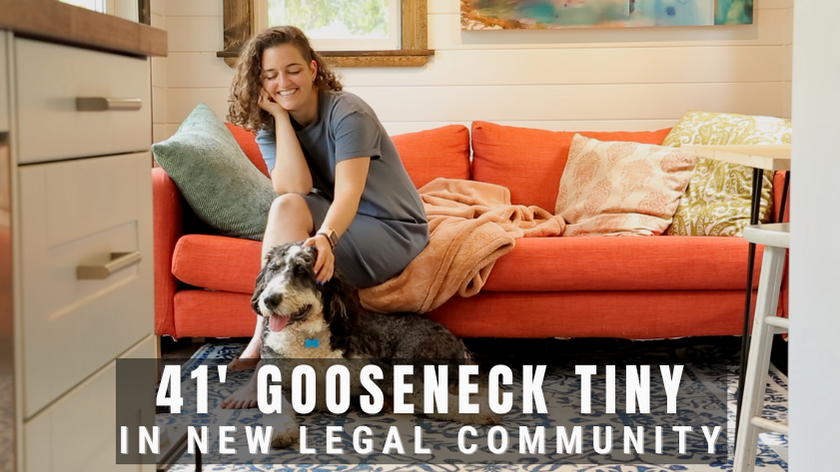 Lawyer's 41′ Gooseneck Tiny Home in NEW Community
First resident in NEW legal THOW community in North Carolina!
Meet Emily, a young lawyer who moved back to North Carolina into a 41' gooseneck tiny home. She left NYC to embrace a more outdoor-focused lifestyle. While she could afford a large traditional house, she wanted something simple and just right for her. Living tiny legally was a priority too. Importantly, she secured a lot in a new, almost-complete tiny house community called Cranmore Meadows.
"Going tiny for me is absolutely not a compromise. People always ask me what I gave up to go tiny or why I decided that was the best option. I genuinely wanted to do this for a while and was excited to do it.

So first and foremost, it seemed really cool, and I liked the lifestyle, and I liked the homes. So I went for it. Second of all, it's cheaper than buying a traditional house in a lot of ways. Although, as you might see in my tour, I didn't really skrimp too badly with this one. I put money into it to make it a house I wanted to live in for a long time.

I also liked the flexibility of being able to move it. I bought it before I knew where I would be living and working, so it let me look for different jobs in different towns in different parts of the country."

-Emily, @notteeny_justtiny 
Inside Emily's Custom 41' Gooseneck Tiny Home
Mint Tiny Homes built Emily's 41' gooseneck tiny home for about $120,000 (give or take with CAD to USD exchange rate). She worked with them to customize one of their models to best suit her work-from-home needs. Importantly, a separate room is dedicated to Emily's home office room. This is located in the gooseneck, where many folks typically put a standing-height bedroom. Instead, Emily sleeps in a spacious loft accessed by high-quality storage stairs.
Other top tiny house features include ample space for a comfortable sofa and table, multiple closets, and a spacious bathroom with a bathtub. Watch the tour to see all these in detail and to learn what Emily would change.
See more of Emily's tiny home life on Instagram: @notteeny_justtiny. 
About Cranmore Meadows
Cranmore Meadows is a fully legal tiny house on wheels community for permanent, full-time living, located on a 30-acre nature preserve near Saxapahaw, North Carolina. Currently, it's under active development to provide thirteen lots among rolling hills, open meadows, hardwood forest, a spring-fed pond, a working farm, and Haw Creek.
The first phase will be complete in September 2021 and will permit spots for the first seven homes, with full hookups for water, septic, power, and two parking spots. The lots are 8,000 square feet (about 1/5 acre) each. Residents can access common areas such as an outdoor pavilion for events and a catering kitchen and guest quarters. No surprise: all initial seven lots are now leased!
The second phase (spring 2023) will have room for six more tiny houses. Learn more.
Of note, Emily's 41' gooseneck tiny home is currently in a temporary parking spot until all the finishing details are ready on her wooded lot, further back on the property. After relocating, she plans to build a large deck to enjoy the beautiful outdoors.
Episode CREDITS:
Directed, produced & edited by Tiny House Expedition's Christian & Alexis

shot by Jon Carter

production assistance by CJ Carter
Exclusive Content
Monthly LIVE tiny living discussions with extended Q&A, plus BONUS content, like behind-the-scenes filmmaking and tiny home life insights.
Early Access
See new videos first, get first dibs on new online courses and more!
Exclusive Giveaways & Discounts
Win tiny living festivals passes, and more!
Join today!