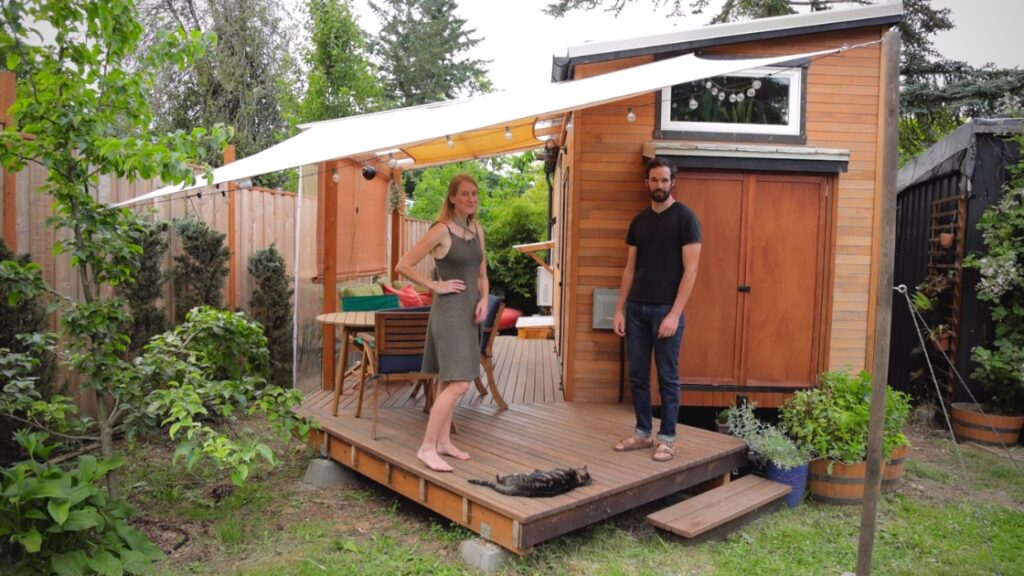 Couple Builds Light & Airy $35k Tiny House
What does a $35k tiny house look like? And how do you acheive that?
Meet Sara and Joel and their clever, beautifully efficient 26-ft self-built tiny home on wheels. Over two years of weekends, they built their tiny house with an incredible DIY Murphy bed for just $35,000. Importantly, this huge costs savings is a result of doing all the labor themselves and hunting for deals on Craigslist and Facebook Marketplace.
Their experience DIY tiny house building as a couple:
"Building a house with your partner is a really big relationship challenge, for sure. It was definitely was our biggest challenge in our relationship. But overall it was really positive, and in the end we learned so much about each other and how to work together, which is important for us. There's plenty of couples who just decide not to do projects together and to not work together, and they're happy to just have their seperate spaces.

But for us, it's really important that we're able to do big projects together and thinking about future projects, like building a home or having a kid. Knowing how to communicate and how to work through challenges, overall, has been hugely postive thing for our relationship."

-Sara, photographer & DIY builder
Inside Their DIY $35k Tiny House
Sara and Joel's impressive $35k tiny house is 26-feet long and 9.5 feet wide. An extra foot of interior space made a huge difference in creating an open feeling while providing ample space for their Murphy bed and bathtub. They also added an 8-inch bump-out for their main door that created a lovely little entryway. It has just enough space for coats and shoes acting as a much-appreciated mini mud-room for their tiny home.
Seriously every inch of this incredible $35k tiny house was maximized while not sacrificing on a few luxuries like a bathtub.
Their tiny house features a Muphy bed to provide a luxurious amount of headroom, his and her closet space, bookshelf, and nightstands. Sara and Joel also took advantage of the 6-8 inches behind the headboard to create a storage cubby for linens. When it's neatly folded-up, large open floor space is created for yoga or casual lounging. Beyond all that, another top benefit is no need to make the bed!
In place of storage stairs, Sara and Joel created a home office under their open staircase. They didn't anticipate the pandemic, like the rest of us, but Joel's been so grateful to have a comfortable desk space (complete with a real office chair!) to work from home the last year and a half.
Behind the office is their super-efficient kitchen, from the creative storage solutions to a foot pedal for turning off the water handsfree while doing dishes. Up top, they went with a floating dish rack and open shelving to maintain the airy feel in their tiny house.
We absolutely love their counter seating area too!
"One of the things we really designed a lot of the house around was having kind of a kitchen island that we could sit at. We found in previous houses we've lived at that's where we tend spend most of our time whether its eating breakfast, hanging out with friends, or doing crossword puzzles.

We tend to sit here a lot and wanted to make a lot of space for that. And also prep space for cooking; we do a lot of cooking and some baking. We jsut wanted a lot of counter space and also space to spread out to do projects and all kinds of things. This is kind of the heart of our house and has been in most houses we've lived at."

-Sara, Project Shortstack
Watch the tour above to see their $35k tiny house and all its rad features in greater detail!
See more of Sara and Joel's build and tiny home life on Instagram: @projectshortstack
Thanks to our video sponsor, Boyone!
Get 10% off their Wombat Portable Power Station with code: TINYHOUSE
Exclusive Content
Monthly LIVE tiny living discussions with extended Q&A, plus BONUS content, like behind-the-scenes filmmaking and tiny home life insights.
Early Access
See new videos first, get first dibs on new online courses and more!
Exclusive Giveaways & Discounts
Win tiny living festivals passes, and more!
Join today!