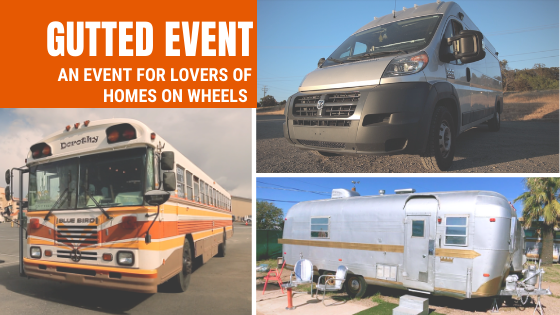 Tiny Home Conversion Competition Event + Meetup
Gutted! Sept 8-12, 2021 in Alamosa, Colorado
Do you love the incredibly unique and differing kinds of homes on wheels? You definitely want to check out Gutted, a tiny home conversion competition and meetup in southern Colorado. Three teams compete to renovate a van, an RV, and a school bus over five days!
While the competition is the main event, they're also hosting a public event for anyone looking for tips, advice, and a good hang with great people. That's just what we're doing! We'll be in attendance with our in-progress shuttle bus conversion.
Intrigued? Keep scrolling to learn more.
You Don't Need a Tiny Home Conversion to Attend
Bring your van, your school bus, your RV, your fire truck, your ambulance, or your "whatever on wheels" to off-grid camp at Gutted (porta-potties provided). Of course, the location is sweet—beautiful Colorado mountains on private land.
All are welcome to boondock for the full five days or just get a day pass.
Learn & Have Fun
In addition to cheering on the competitors, you can join in various activities throughout the week. You can enjoy hiking, biking, or just hanging out with other nomads and campers. Importantly, you can also learn tips on camping and tiny home conversions from experts in workshops and panel discussions.
Join us on September 8th for the panel discussion on Deciding Your Rig—Van, RV, Skoolie, Ambulance, THOW.
Here's the full list of happenings and nearby attractions, like the Great Sand Dunes National Park.
The Competition
During the five-day event, three teams led by popular YouTube creators go head to head competing for best build-out honor. Competitors are provided with a "gutted" vehicle, either a van, RV, and school bus. They also get a variety of products, building materials, and tools to complete the renovation. But what happens if a team gets in trouble? They can call on pro for help!
Did we mention the entire competition is being filmed? Of course, it is! The creators of Gutted plan to film and release a show similar to The Great British Show, Chopped, and other shows like that.
Nomadic Tiny Home Conversion Ideas
Have you pre-ordered our book yet?
Learn the history of the modern movement, get a breakdown of tiny home styles, and meet the passionate tiny community. The Beginner's Guide to Tiny Houses also discusses the pros and cons of micro-living―is a tiny house right for you, right now?
Our favorite part of writing this book was reflecting on our incredible experiences as part of the movement over the last many years. The fact is our lives are forever made better by what we've learned and the people we've met along the way. We know you're going to love reading about it too.