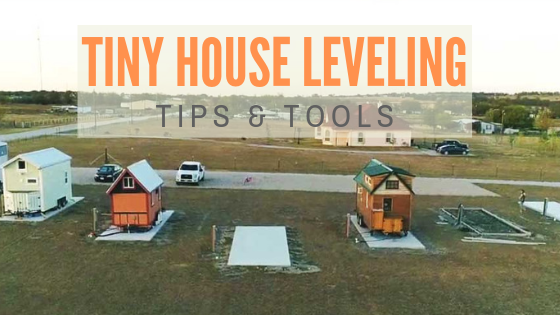 Level Up: Tips for Leveling a Tiny Home
Leveling and stabilizing your tiny home is incredibly important. Learn more about our easiy tips and tricks.
To make the most out of a tiny home, you have to make leveling a tiny home a priority. It's literally foundational to a stable, sane tiny living experience.
Leveling a Tiny Home to Meet Your Needs
Are you a permanent fixture in your community? Or, are you a free spirit, ready to move when the mood strikes?
What you do with your tiny house parking set up effects how you level it. The longer you stay put, the more care should go into leveling.
The basic hardware for all of this includes a level (at least 9").
It helps to start with a level bit of earth too. 
Ground Firmness
Almost any open lot can work as a parking spot, if large enough. Though ground firmness is everything. If it is even partially mushy, you run the risk of getting your tiny house stuck when trying to park, or it unevenly sinking over time, creating leveling challenges. A well-suited tiny house parking spot is firm level ground, ideally on a cement or gravel pad. 
Believe me, sleeping in a crooked house will slowly drive you crazy, or even prevent your bathroom door from properly closing. We experienced this problem exactly when we parked in this Boulder, CO, driveway:
New Parking Spot
So, you pull into a new parking spot. Now what? Whip out your handy level to check if your THOW is level front to back and side to side.
In place of a stout 9" level, you can install screw-in or stick-on mini levels.
First, check side to side by placing the level on the trailer tongue. To get extra precise, we also place it across our front porch (back of the trailer). If unlevel, the simplest fix is to use an RV leveling system. We use a leveler chock kit.
And if that is not enough, you can another layer of leveling blocks, or as needed pull up on to 2x4's. Next, check front to back by placing the level on a wheel well. As needed, crank the jack stand to raise or lower the tiny house.
Then you can use scissor jacks to stabilize and fine-tune the leveling, but not suited as the workhorse support for longer term stays.
Watch this video for more tiny house leveling and travel tips.
Staying Put for While? 
The ultimate in permanence to level a tiny home is to get a plot professionally graded and to have some kind of foundation set up, or park on existing slab. Because gravel is more prone to shifting over time, concrete slabs are likely the most reliable option. But no matter what you use, you want to ensure you have a level and compact subsurface. This is where a wacker plate comes in handy.
Though sometimes older concrete slabs can become uneven, You can bring in a concrete leveling service to bring the slab back to level and become even more durable with the use of polyurethane foam injection (made from recycled materials!).
Stay in the Know
Leveling a tiny home is a crucial step to enjoying life in it. With a solid and level foundation, it only gets better from there. Sign up for our newsletter to get the latest trends and how to best enjoy your tiny home.