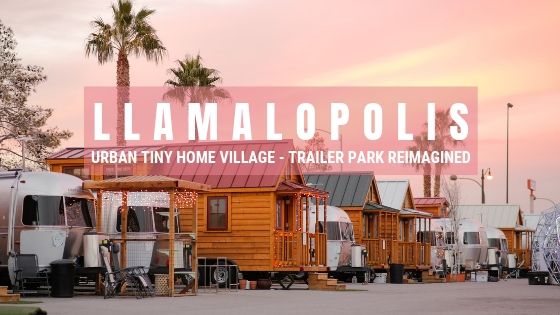 Llamalopolis, Urban Tiny Home Community Living
Ten thousand miles into our exploratory tiny house road trip, we found ourselves in the infamous Sin City. And what we experienced blew our minds.
Downtown Vegas is full of surprises. Along with the dancing neon lights and innumerable casinos, it hosts many bustling small businesses, especially at the magnificent Container Park. Additionally, it features countless brightly colored murals, and both locals and tourists can be seen strolling down the streets, even families. In short, the splendid picture of downtown revitalization. Not long ago, this area of Las Vegas was practically a wasteland.
When we pulled into downtown with our tiny house on wheels, the surroundings quickly morphed from desolate to quirky and charming. Then we glimpsed something truly out of the ordinary, a tiny house community!
That is to say, we found Llamalopolis. It is a tiny house and Airstream village in the Fremont East District, in the heart of downtown Vegas. Though it's lovingly referred to as the "Airstream Park" or "Trailer Park" by its residents. And that is accurate, but it represents the next evolution of RV/mobile home parks can be.
A few years back, the site of Llamalopolis was just another vacant, run-down lot. Long ago, it had been an RV park. While it still retained some of its infrastructure like hook-ups, but in need of repair.
Along came a visionary by the name of Tony Hsieh, the billionaire CEO of Zappos and founder of The Downtown Project. He was looking for a new place to call home, and it just so happened he owned a combined total of 33 Tumbleweeds and Airstreams. Consequently, the idea came to him to park all of these at the old RV park to conduct a community experiment.
The Tiny Home Community Experiment
In the fall of 2014, Tony invited 30 friends to stay at the old lot for two weeks. The goal: explore ideas on how to create a functioning, sustainable community. They began with a basic camp set-up on the empty paved lot. Soon, this creative group created a feeling of home through quality bonding time.
During their stay, they would all gather around the fire to cook, share ideas, and listen to music. Additionally, they explored design concepts for the optimal community layout. Tony and several others fell in love with this simple, connected lifestyle. After a couple of nights, they knew that they wanted to stay for good. Ultimately for Tony, this would become his full-time residence.
From there, a vibrant and unique urban tiny house community model has organically evolved to meet the needs of its residents best. Though the structure of the village was deliberately crafted to foster daily spontaneous social encounters. Tony calls these collisions.
A Community Full of Surprises
When we arrived, we entered Llamalopolis through a llama decorated gate. Immediately, we found ourselves in an enchanting semi-covered tunnel covered with twinkling lights and lined with trees.
Later, we learned this recycled element came from a local Christmas display. We could barely make out the tiny homes in the background. The tunnel opens up to the "living room"; an outdoor shared common space centered around two fire pits and a stage.
Christian and I certainly didn't know what to expect when we came for our visit. Fortunately, we were delightfully surprised by the down-to-earth residents. They come from varied professional and socioeconomic backgrounds, including both full-time and part-time residents. Many of them are downtown professionals, and a few are digital nomads that work from home.
For us, it was truly wonderful to have neighbors. The community as a whole felt like a big, warm family, including a wide assortment of animals (chickens, alpacas, dogs, and cats).
Regarding the structure of the community, the shared common areas act as an extension of living space for each resident and their respective sleek Airstream or cozy Tumbleweed tiny house. Additionally, each home has power, city water, and sewer hook-ups. The "living room" includes green space (artificial turf) with chairs, tables, a giant bed swing, fire pits, and a stage.
The stage features a projector with Apple TV with a community iPad attached. Perfect for playing music or outdoor movies. In the nearby seating area, two large, mobile canopies serve to provide shade or rain cover. Also, a large Airstream bus with rooftop deck sits in the back of this space, offering a chill hangout spot and great views of downtown, the stage and neighboring bar/music venue, The Bunkhouse.
Rent includes use of all these shared facilities, utilities, and WiFi. Though, there is a community "piggy bank" for beer money contributions, etc.
Creating a Sense of Community & Security
A five-foot-high concrete wall encloses the entire community. It helps maintain a sense of safety; especially crucial because Vegas' most famous celebrity lives here. Surprisingly for us, it didn't overly disconnect the village from the greater neighborhood. Instead, we found it helps foster a connected community feel for the residents.
All residents and guests come through one main entrance (the trippy covered tunnel). Again, this strengthens the community vibe by increasing the number of spontaneous social collisions. Parking is in a nearby satellite lot. 
Though a larger gate can be unlocked for cars, trucks, or tiny homes to enter as needed. 
Additionally, several empty Airstreams and tiny houses, aka "crash pads," are available to guests of residents as short term rentals or p
otential residents. They must be recommended via word-of-mouth by current residents. There is a one week trial period for newbies to help determine "fit" by both parties.
Llamalopolis has a point person, the "park ranger" or community manager. He manages the park,  oversees maintenance, and troubleshoots interpersonal or technical issues. 
The park ranger and residents communicate within each another through Slack, a messaging app for teams or groups.
For example, if 
someone made dumplings for sharing, he or she messages an open invite to the group. Moreover, r
esidents use for chore scheduling. They help keep things clean and orderly. Though security, maintenance, and cleaning staff work regular hours to maintain day to day operations.
Burning Man Vibes
The style and vibe of the community are reminiscent of 
Burning Man
. It's an 
epic festival, known for its emphasis on community, art, self-expression, and self-reliance.  Most importantly, it made a lasting impression on Tony and a handful of residents, who've attended many times.
Like the pop-up city in the desert, at Llamalopolis, the air is often filled with music and smoke from the fire pits that are always burning once the sun goes down. Another similarity is the number of spontaneous conversations and impromptu potlucks, which serve as o
rganic community building occurrences.
The night we arrived, an unplanned potluck feast came together. Daniel and Ranielle (@biglifetinyhouse) planned to make lettuce wraps to share, while Tony craved chicken, so he ordered extra to share. And on her way home and unaware of the other food happenings, Jess ordered pizzas for whoever was around.
Slowly, residents all wandered to the living room for food and conversation. If anyone missed out, they could enjoy leftovers in the community kitchen. Thoughtful and kind, as usual.
Contributions
During our stay, we learned that there's an emphasis on residents making contributions to the community. These are based around each resident's natural gifts, abilities, and interests. For instance, resident Daniel Park is a professional musician and often contributes music for the enjoyment of his neighbors.
He also organizes the bi-monthly Open Air Sessions. Friends of residents, Zappos and The Downtown Project, come out to enjoy a lively open mic night in the Llamalopolis "living room." You never know who will stop by for a surprise jam session, like the lead singer of Imagine Dragons.
Ideal Environment for Introverts
As we got to know our temporary neighbors, we were intrigued to learn that many of them are introverts. Longtime resident Krissee remarked that even she loved people if left to her introverted tendencies, she wouldn't go out of her way to interact with others. The spontaneous daily collisions between Krissee and her neighbors help her maintain a healthy sense of well-being.
So living at Llamalopolis is a perfect opportunity for her to enjoy her neighbors' company, while always having the option to retreat to her private, cozy tiny home.
For Tony, living here isn't about living small at all. He said this is the largest home he's ever lived in. He spends most of his time outside of his tiny home or his "bedroom." Consequently, his community life has become made him feel a part of something more meaningful.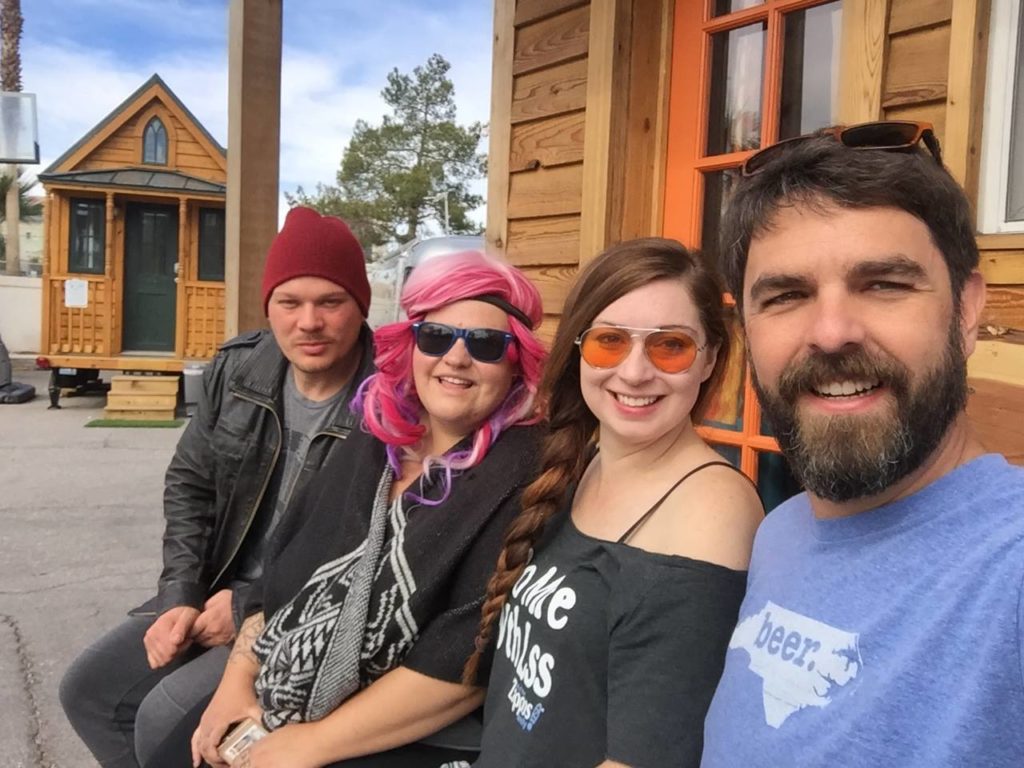 Llamalopolis is continually evolving and now has the goal of achieving net zero energy.
In the end, we stayed for two weeks and couldn't have felt more welcomed or more at home. Not what we expected to feel in downtown Vegas.
Can this community model be replicated? You bet!
Just imagine transforming abandoned or dilapidated urban RV parks into vibrant, intentional communities. What's needed? Besides quality tiny homes, start-up capital, creative thinkers, and engaged community members.
Do you want to live in this kind of community? Share your thoughts below.
-Alexis Stephens, Tiny House Expedition co-founder