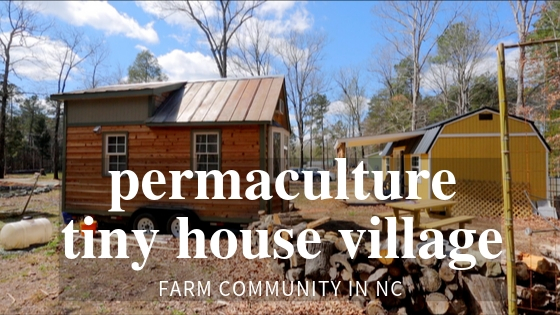 Permaculture Tiny House Community Farm with DIY Tiny Homes
Dream of community life and living off the land?
Welcome to Wildwoods Community Farm, a permaculture tiny house village.
When we met Brandon a year ago, the farm manager, he was preparing for a busy Spring of permaculture design and land work. During our stay at Wildwoods, he gave us a tour of his charming 16' tiny house on wheels that he built with his Dad. It's now an Airbnb rental. And now Brandon lives next door in a lovely 12' wide shed conversion tiny home.
He is incredibly thoughtful about everything he does, and permaculture is his passion. This shines through in the community tour he gives us, in the video above. Brandon provides insight into the making of the community farm.
As you might imagine, it takes much hard work. For this, engaged residents are essential. Also, welcoming WWOOFers, interns, and volunteers from the local area to contribute while learning has made a big difference too. Temporary farmhands can stay in one of the several on-site shed conversion tiny houses.
Sign up to volunteer here, or book a night's stay in Brandon's tiny house on wheels.