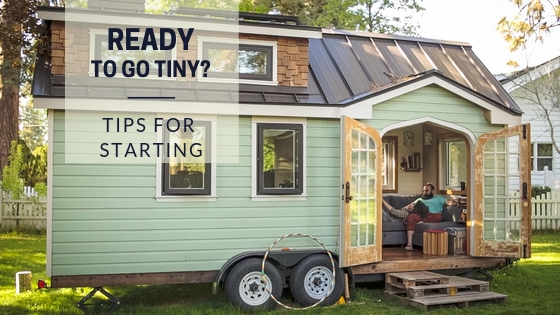 Great Tips and Strategies for a Comfortable Tiny Home Lifestyle
Taking a look at some great tips and tricks for starting a comfortable tiny home lifestyle. From downsizing advice to design, everything you need to get started.
Are you drowning in clutter?
Instead of walking into a place you can decompress, you walk into a hodgepodge of stuff and things. Countertops covered with mail, dishes on the table, miscellaneous boxes huddled in the corner.
The tiny home lifestyle is all about simplifying and living a more fulfilling life. Not only do tiny home residents enjoy happier lives, but they're also leading healthier lives too.
Scientific studies show that clutter can cause chronic stress and weaken your immune system. Can you imagine what decades of living with clutter could do to your body?
Are you thinking about embarking on the journey of building a tiny home? Read on to learn a few tips and tricks about navigating the world of tiny homes.
Choosing a Tiny Home Lifestyle
Before you start making plans to build your tiny home, your first need to know why you're doing it. When you know your "why," it'll be easier to overcome any obstacles that may present themselves. Right now, take a moment and write down three reasons why you want to downsize your living situation.
Here are three common reasons people choose the tiny home lifestyle:
Financial freedom

Low maintenance

Live off-grid
For your transition to be successful, you'll need to identify what's driving you to make this change. Dig down deep and find out your true reasons.
Once you know your reasons for getting a tiny home, you can move forward with confidence and certainty. Now, it's time to begin taking steps to make your tiny dream home a reality.
Know Your Local Laws
You know why you want to live the tiny home lifestyle, and you're ready to take action! Yet, you still have quite a few steps to consider before you can start planning your move.
Before you get too excited, you'll need to check your local laws regarding tiny homes. There's nothing worse than having your heart set on a specific location, only to discover they don't permit tiny structures.
Local laws vary significantly from place to place. While some areas are completely happy to allow tiny homes to exist, others aren't so welcoming.
Zoning laws, and building codes, in certain cities around the country, can complicate the process. Expect to invest a lot of time learning the zoning laws, and applying for the appropriate permits unless you're comfortable living under the radar.
Watch our Living Tiny Legally docu-series to learn more, and visit our Tiny Home Communities & Parking page for tips on finding a place to call home with your tiny house on wheels.
Slowly Begin Downsizing
You don't want to wait for moving day to start downsizing your belongings. Instead, start cutting back now and avoid having to rush when the time comes to move.
We suggest you begin downsizing in stages. You can do this by cutting back on one type of item at a time.
Here are a few examples of things you can downsize:
Office Supplies

Kitchenware

Shoes

Bedding

Clothes
All of the items on our list above, find ways of cluttering up your free space.
Downsizing Clothing
Go through your clothes and find all of the outfits your not wearing. Next, find all of the clothes that you rarely use, but are bulky. Separate these into three piles: yes, no, maybe.
Remember, the downsizing process doesn't have to happen overnight. Take your time as you go through your clothes in stages.
Start with the clothes you rarely wear, then dig deeper into the closet and finally into any boxes with clothes. Once you have a pile of clothes you don't want, get rid of them!
Donate and Be Free
Don't just throw things away. Try to find a good home for them; it will make the process more fulfilling. Maybe a friend needs something your getting rid of, or you can donate them to a local thrift store. Once you've determined what clothes you don't need, get them out of your living space.
Whatever you do, don't put them in bags and pile them up somewhere. We find that if you let your old clothes sit around, they usually manage to work themselves back into your belongings. Instead, be completely free of the things you are no longer using, by getting them out of your space.
Maximizing Storage Space
While designing your tiny living space begins in the build phase, once your tiny home built, you can still easily modify it to better suit your needs.
Here are a few ways you can maximize space inside your micro-dwelling:
Wall-mounted shelves

Furniture with multi-uses

Light color schemes

Small waterjet - precision process for multifunctional decorative elements like a loft railing
Wall shelves are a fast and simple way to create space in every room. Now, instead of belongings cluttering up the floor, they can be neatly placed on their designated shelf.
Yet, keep in mind, too many items on your shelves is a recipe for disaster. Overstuffed shelves will end up making the room feel cramped, suffocating the residents.
Instead, let your shelves have the appearance of open space by only placing a few items on them. Next, we suggest buying or building furniture that has more than one use.
Multi-functional furniture saves floor space and makes it easier to enjoy your home. For example, you could invest in a small staircase that also works as a seat and closet. Or doors that not only close entryways but also serve as pantry storage.
Light Color Schemes
Studies show that the color white has an amazing ability to help us feel calm. More importantly, the color white is also capable of creating the illusion of more space. This is why we suggest decorating the entire interior of your small home, using only light color schemes.
If white walls aren't your style, that's okay. There are plenty of other light color schemes that will still create the illusion of more space.
Here are a few light color schemes you should consider trying:
White Shades

Pale Pastels

Light blues or greens
You should also avoid putting in too much dark wood. It could end up making the room feel instantly smaller, no matter how white your walls are.
Start Your Journey
Now that you know more about the tiny home lifestyle, are you ready to take your first steps? Having the dream to build a tiny house is an exciting feeling, almost like falling in love. If you're ready to seal the deal and move towards your dream, we can help!
Here at Tiny House Expedition, we're on a mission to help everyday people redefine what home and success mean to them. We want to help others find sustainable housings options while leading more fulfilling lives.
Don't wait any longer to join the community of tiny home dwellers across the nation. Find community and inspiration at upcoming tiny home community events near you. Check out our events calendar today!