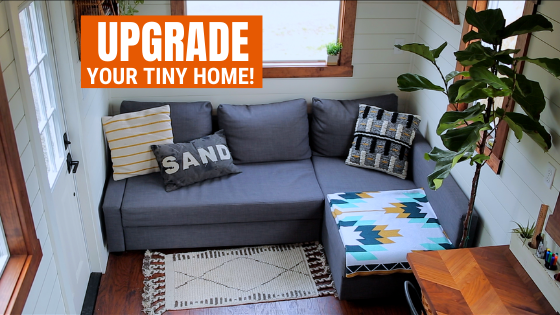 Inexpensive and Easy Tiny Home Upgrades
Looking for simple, affordable, easy tiny home upgrades?
Moving into a tiny home is an exciting move. You're leaving so much baggage behind that it feels liberating. For most people, it's a very new experience. Thus, when they're setting it up, they try out a lot of contemporary aesthetics and setups that they haven't had a chance to experience yet.
After living tiny for several months, you might your new tiny home doesn't quite in the mark in style or function. You can end up feeling dissatisfied with the look and feel of the space you are living in. This can lead to feelings of frustration or worse. While tiny homes are cheaper than traditional houses, they are not cheap.
To combat the blues, simple renovations can make a huge difference. Here are some inexpensive things and easy tiny home upgrades you can do to change the look of your humble abode.
Shelves and Hooks
This is a cute way to change the look of your tiny home and increase storage at the same time! Storage is always an issue in any tiny house since space is at a premium. So what do you do? The cheapest way to implement this is to buy sturdy hooks. Make sure to position them in a way you won't be bumping into them when you walk. Try placing them in recessed parts of the wall or above eye level to make them as inconspicuous as possible.
If you have a loft bedroom in your tiny home, you can turn the ladder you use to get up there into shelves. Extend the width of the ladder, and you can make that piece of furniture multifunctional by turning it into a ladder, a bookshelf, and a door for the living space under the bedroom!
If you'd like to utilize your walls, try using wire grids instead of hooks. They give you a larger area to work with, and you can hook things on them just as easily. These grids come in different colors so that you can add a quirky dimension to your interior design as well.
Pillows
One relatively inexpensive but luxurious way to change the look of your tiny home is to use a variety of pillows. This works exceptionally well if you went with a modern and minimalist look for your interiors. You can upgrade your living space and your bedroom space using this convenient hack.
Use different sized pillows to give your spaces a cozier look. Choose florals and embroidered options if you would like to give your home a lived-in look. If you would rather keep it more professional, you can choose solid colors and clean lines. Pro tip: Make sure the pillows you buy are washable! This way, you can avoid excessive allergies too!
Colors
It is easy and relatively inexpensive to change the entire look of your house and make it feel like a new one by slapping on a fresh coat of paint. Color affects our emotions and our perception. If you have any particularly small spaces in your tiny house, choose a light color for it. Light colors make a room look larger than it is, and they also reflect a lot of light. If you have any space that gets a lot of natural sunlight, you should consider lighter colors to maximize the utility of sunlight.
For spaces that don't feel grounded, you can add bits of darker paint. Dark colors make a room look smaller, so use them sparingly in your living, dining, or kitchen spaces. Avoid dark colors in the bedroom, as you want your bedroom to evoke restfulness. If you're feeling adventurous, you can rip up your carpets or vinyl flooring and look up how to paint a garage floor and paint your floors instead! This will give you a significant upgrade with minimal cost. However, this idea is suitable for all tiny homes.
Wall Stickers
Sure, painting is an inexpensive option when giving your home a makeover. But not everyone has the budget to buy paint and painting supplies, and not everyone is in a position to paint their homes. What do you do in this situation? Buy wall stickers, of course! Wall stickers are creative, pretty stickers that are large enough to use on your wall.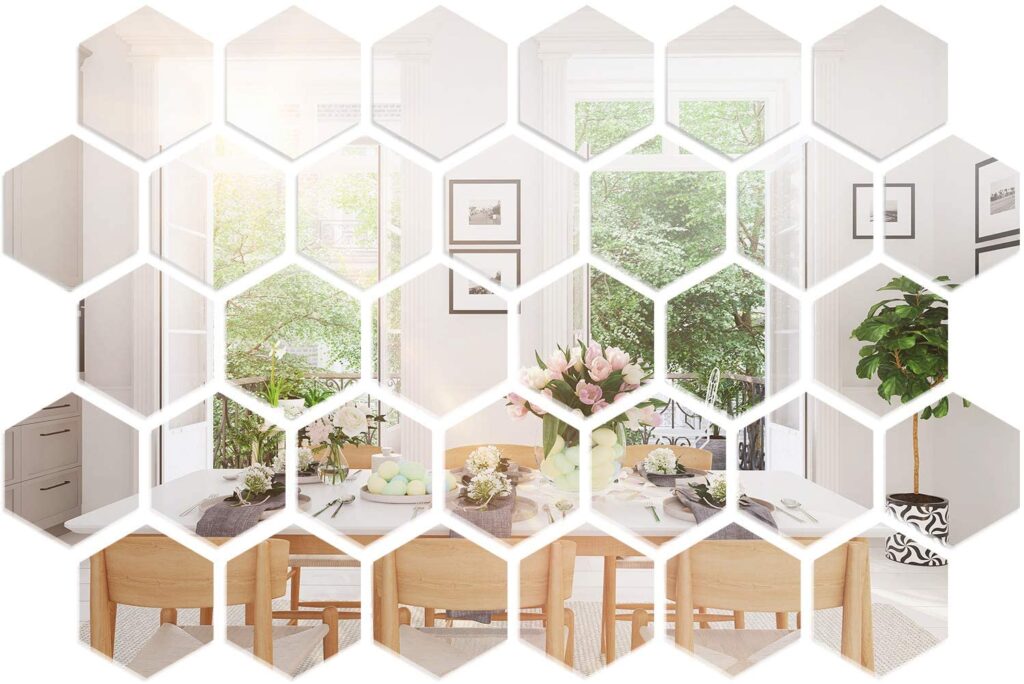 They come in a variety of designs and patterns to suit every aesthetic you can think of. There are even mirror stickers your can buy to make your space seem larger through reflections. You can use these stickers to form patterns and designs on your walls for a quick and easy makeover. These stickers don't leave a trace, so you could buy a bunch of them and keep changing them till you like the one you want to keep.
Easy Tiny Home Upgrades
Ready to refresh the look and feel of your space? Use these inexpensive and easy tiny home upgrade ideas to turn a start of a new chapter of satisfying, just-right small space living.
Here's how we updated our tiny home a couple years ago.
Digital Magazine Dedicated to Tiny Home Living
Do you have more time at home? Enjoy some inspirational reading from Tiny House Magazine!
Discover different types of tiny homes from liveaboard boats to Alaskan yurts, converted school buses, and more.
Try recipes from a tiny house kitchen. Each month we feature a recipe from the Tiny House Foodie. Learn to make it work and still cook like a pro.
Read excerpts from books on tiny houses, downsizing, and a host of other related topics.
Each month brings new topics and new, exciting articles!