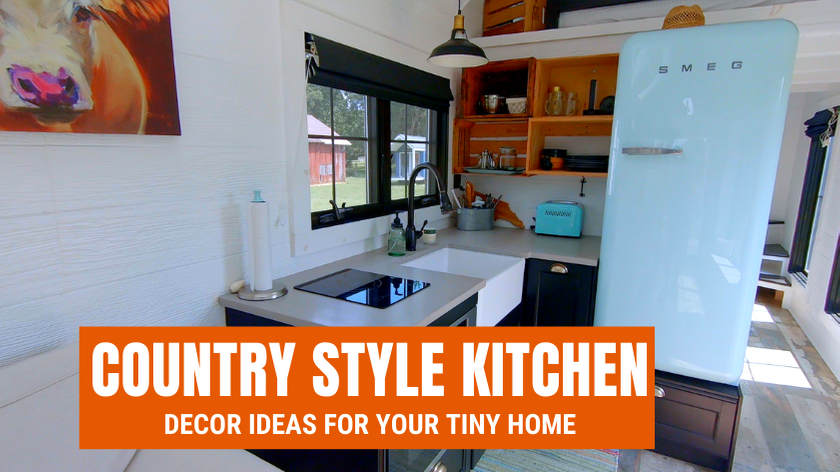 Shabby Chic Cooking: 10 Whimsical Tiny Home Ideas for a Country Style Kitchen
There's nothing more magical than a shabby chic country kitchen. Create your own country style tiny home kitchen with these whimsical tips and tricks!
While other kitchen themes come and go, the one enduring trend that you're sure to see all over the US is the country-style kitchen.
Inspired a rustic, farmhouse aesthetic, this kitchen decor theme feels classic but adapts to modern kitchens with ease, even if they're right in the middle of the city.
In fact, this look is one of contrast and combination, where wooden features stand out against crisp white walls, and vintage touches turn the functional into a feature. But there's no need to upgrade or renovate your whole kitchen. Often, a few shabby chic additions are enough to achieve this coveted look.
But what are the key touches to go for?
Keep reading to learn the top whimsical tips and tricks for creating your own tiny home modern country kitchen.
Incorporate Colorful Accents
Some people make bold choices when it comes to their tiny home kitchen decor, committing to color with a sage green theme or dove grey cabinets. If done well, these choices can often pay off, contrasting well with a country kitchen classics such as a bright white farm sink, wooden flooring, and a shiny new stove.
But most of the time, you'll find that a neutral palette is the preferred base for a modern country kitchen. As well as being easier to mix and match, neutral shades maximize light to create an open, airy feel that is both welcoming and stylish at the same time.
But that's not to say that you can't incorporate colorful accents here and there for an added dose of personality.
This pop of color could come in the form of a bright kitchen backsplash, a cobalt blue bench seating, or a reclaimed display cupboard painted bright turquoise.
Or, if you want some very low-commitment color, you can limit yourself to adding colorful accessories. Consider some patterned seat pads, a coral and white striped tea towel, display cabinets full of colored plates, or a bright vase of flowers.
The great thing about these colorful accents is that they're super easy to change if you feel like something new. When your ready to refresh your decor, check secondhand stores for treasures that are also ecofriendly (reduce, reuse recycle!).
Focus on Your Flooring
Don't make the mistake of making your flooring an afterthought. Country kitchen decorating themes often use the floor to set the tone for the rest of the kitchen.
A great example is a black and white checked floor. This has a sharp, modern feel that can contrast well with more rustic details for an eclectic shabby chic look. Or, if you want to make the floor the focus, go for colorful tile design in a kitchen dominated by white.
Just remember floor tiles are best used in a stationary tiny home!
Finally, there's the popular choice of terracotta tiles. These add an earthy, warm tone to the room for a country coziness that invites you in from the first moment.
Put it Out on Display
No modern country kitchen is complete without at a collection of pans, pots, or crockery out on display.
Open shelving is the best way to make a feature of your collectibles, creating a look that feels both intentional and casual.
Open shelves also feel more spacious than bulky cabinets, especially in a tiny home, and allow you to make a feature of your favorite kitchenware.
Another common feature of a country kitchen theme is a space to hang vintage copper pots and pans, turning kitchen tools into a purposeful part of the decor. This could be a set of wall hooks, or you might prefer to hang them above the island (better for a small home) for an authentic country feel.



Hang Unusual Light Fixtures
You could say that turning necessary items into kitchen decorations is a key feature in a modern country kitchen. As such, there's no place for hidden ceiling lights. Instead, whimsical, inventive light fixtures hang loud and proud, drawing attention to both their form and function.
Basket shades add a rustic feel that still feels modern and fresh thanks to the way these let out light through the weave. You may prefer to add a touch of whimsy with an open framework chandelier-style light fixture. Or, for the ultimate in country kitchen decor, hang reclaimed farming funnels or butter churns above the counter.
Milk glass pendant lighting is another popular feature of the country kitchen theme. The wrought iron leads create a stark and eye-catching contrast against a more neutral kitchen while the lights themselves provide a soft glow.
Consider Colored Appliances
Stainless steel appliances can dominate a smaller kitchen and also tend to detract from the country theme by appearing too modern or functional.
Depending on your color scheme, there are plenty of appliances to choose from that work with your decor and add a touch of retro glamour.
Stoves, refrigerators, and other appliances in black and slate can make a feature of these essential items while also offering sophistication and style. Or, you might want to go all out with an eye-catching colored appliance such as a red range or a pastel-colored retro-style fridge.
Add a Skirted Sink
This simple touch can add an instant touch of farmhouse chic to a simple kitchen, even if you're in the middle of the city.
Patterned fabric beneath the sink gives off a vintage feel while adding interest. Although gingham or floral fabrics might feel too twee if the rest of your kitchen is more functional than fancy. In this case, a block color skirt with a contrasting heavy border works well for a modern take on this sweet look.
Go for an Attention-Grabbing Hood
While modern kitchens tend to hide the hood inside a cupboard, country-style kitchens often make a feature of the hood.
As well as adding an authentic farmhouse touch, this allows you to go for something eye-catching and unique. And, the great thing about this particular feature is that you can go as bold or as subtle as you like.
For example, matching a bright red range with a hood painted the same color is sure to turn heads. On the other hand, a shiplapped hood or a white hood with a scalloped edge is sweet and understated without being boring.
Another popular look is to add a warm and cozy vintage feel with copper sheeting and matching rivets on the hood.
Include Rustic Touches
If you want to commit to the country kitchen theme, rustic touches such as exposed wooden beams will take your space to the next level.
But there's no need to make such big changes to pull off this look.
In fact, a few small rustic touches here and there is one of the simplest ways to achieve a shabby chic look without the need to spend a lot of time or money.
Consider what your kitchen has in terms of textiles, furniture, and other features and ask yourself, how can I make these items feel more rustic?
It can be as simple as adding an antique sign to an empty wall. If your kitchen has a complete set of top cabinets, consider swapping one of these for floating wooden shelves. Remember, it will make your small space feel more open.
Or, lose the stainless steel sink and go for a vintage porcelain farm sink instead.
Make Use of an Island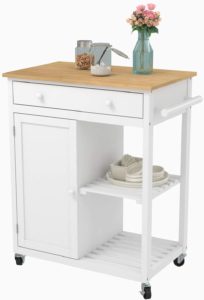 If you have the room, an island in the center of your kitchen creates a warm and inviting space.
An added bonus is the extra workspace an island provides. To take advantage of this, combine a heavy-duty wooden block surface dedicated to food preparation with a separate dining zone at the other end or side of the island.
You can also use your island for storage. In-keeping with country kitchen decorating themes, storage baskets, or repurposed wooden crates add a rustic touch while combining well with the functional theme.
Mix Materials
With limited space in your tiny house, you might be tempted to go for an all-white kitchen. But, by thoughtfully mixing materials, your kitchen will seem more spacious and considered.
And, by adding character in this way, you'll give off the appearance that you've spent years assembling the perfect country kitchen, acquiring pieces over time for the right look.
To pull off this mix, start by deciding what your centerpiece is.
This could be a distinctive butcherblock counter, a copper hood, or a colorful range. Then, choose complementary features to build your layered look.
For example, you could use floating wooden shelves to echo an island made of reclaimed wood and combine these warm touches with metal countertops, a soapstone sink, and brass accents.
Whimsical Ways to Create a Country-Style Kitchen
As these tips and tricks show, creating a country-style kitchen can be as simple as incorporating a few key shabby chic details.
Whether than means a hint of plaid here or a set of wooden shelves there, it's these small touches that add life to your tiny home kitchen and give it that sought-after farmhouse feel.
For more tiny home interior inspiration, be sure to check out our other blog posts!
Watch these tiny house tours for two takes on charming country style kitchens!
Find Your Perfect Plans for Your Dream Tiny House!
Browse this amazing, growing directory of tiny house plans—all on sale for a 5% lower price than other places on the web.
Plus, every plan comes with over $200 in FREE bonuses, including a comprehensive how-to build a tiny house digital workshop!