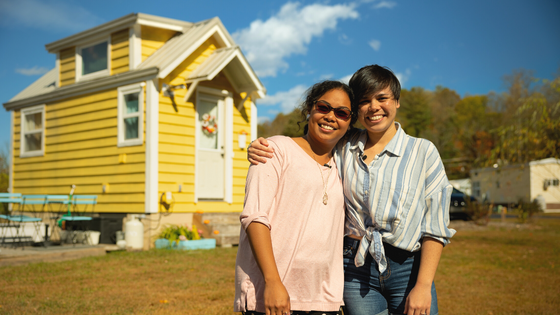 Their Adorable $30k 128 sqft Tiny Home
Meet Ashley and Norma-Jean, super cute owners of a 128 sqft tiny house on wheels. It began as a bare-bones $30k budget model by Incredible Tiny Homes. Then they DIY-finished out the interior, impressively, maximizing every inch.
For them, homeownership so early in their adult lives and having a secure parking spot at Acony Bell opens up so many doors. It's their starter home. Next, they plan to upgrade to a whooping 400 square feet!
"We're both in our 20s, and we feel very fortunate to have our own house. It's our own space. We don't have to shuffle around from apartment to apartment and deal with landlords. And we don't have any shared walls. We have our own yard. We can do whatever we want to the house.

It's nice being surrounded by different tiny homes, different builders from all over the United States. We've been in a bunch. And I think we've settled on Rough Cut Tiny Homes, which I think they're based out of South Carolina. They have some really great models. We want to go to a 400 square foot, and want to max out on our tiny.

I think we can actually say we've mastered the 128 square feet.

I really think we have mastered it because this was our first home together, and I think it's been a great starter home because we had never lived in a tiny house before. And you kind of just get an idea of what you want, how the space works for you, things that you feel like, you're like, oh, it would be really nice to have this.

Yeah, especially in such a small space, like we know, OK, prioritize closet space, prioritize kitchen space, and living room. we definitely want a lounge space. So it really helps that we started here, and then now we can go custom.

We're so lucky. We're just so happy to be able to live here. And, you know, just live our best lives."

-Ashely & Norma-Jean, @alohashleymichelle
Inside their Adorable 128 sqft Tiny House
Ashley and Norma-Jean call their 128 sqft tiny house Half Pint. It's 8 feet x 16 feet and built by Incredible Tiny Homes. When they got their THOW, it was just all raw pine. Then painted the outside yellow. Next, they transformed the bare-bones interior by sanding, painting, adding shelving, and creative storage solutions.
Perhaps the most impressive space is their tiny kitchen. Ashley offers her Acony Bell neighbors a vegan meal prep and delivery service. She does it all from their itty-bitty kitchen! Adding additional pantry space made a huge difference. This included installing a three-tier spice rack and a little cabinet at the end of the counter for extra workspace and food storage. Ashley and Norma-Jean also found an ideal compact-size utility closet at Target. It functions well as their pantry, especially after adding organizers and shelving inside it.
They beautifully maximized their living room space. As they'll tell you, the key is constantly hunting for the right furniture, even if you use it in a way that wasn't intended. For example, they found a storage bench at Aldi to use as their TV console. Hot tip: always carry a measuring tape with you!
Watch the tour of their adorable 128 sqft tiny house above for more great DIY small space hacks!
Thanks to our sponsor, Michelin! Visit their site to learn how to check your blades & easily find a pair that fits your car.