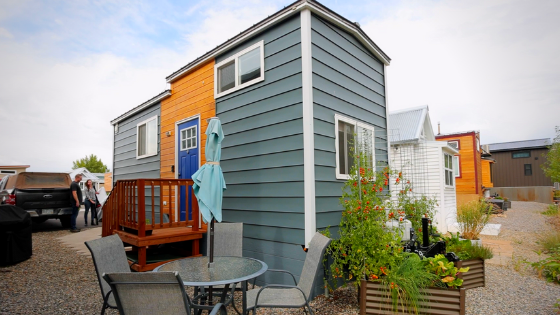 Split-Level Tiny House: Couple traveled with it as lifestyle reset
Meet Noah and Kate, owners of a unique split-level tiny house. They traveled 10,000 miles with their off-grid home on wheels to escape the big city life—serving as a powerful lifestyle reset. Ultimately, their adventures led them to Escalante Village, a tiny home community in their dream town of Durango, Colorado.
"As far as how we funded the trip, we decided not to work while we were traveling. So a big part of what we wanted to do was get out of our current jobs. We were in corporate America working telecom and just not feeling fulfilled, among other things. And so the timing worked out that we were ready to leave the city.

We saved up for a couple of years, enough money to support ourselves on the road without working, which is very scary for me. I've never not had a job, so that was a bit unnerving at first. But we budgeted pretty well and actually had a pretty good nest egg when we landed here.

We specifically stopped so he could start his own woodworking business. It was a passion for him when we were in Chicago, a hobby there, and turned it into the real deal here.

For me, I desperately wanted to work in a nonprofit and was lucky enough to find a role here that allowed me to do that."

—Kate, @mototiny
Inside Their Split-Level Tiny House
Noah and Kate's split-level tiny house is 170 square feet and 24-feet long. From the start, it was designed with off-grid travel in mind with a solar power system and large holding tanks. The beauty of the split levels is how it creates separate rooms, which eliminates the hallway feel often seen in tiny home design. Additionally, the elevated kitchen/bathroom level provides large storage compartments built into the floor—used for bulky items including fresh and grey water tanks.
Throughout their tiny home, Noah incorporated functional and beautiful woodworking elements. He added a custom breakfast bar for dining and home office space. Also, in the loft bedroom, he created a decorative headboard and nightstands with depressions carved into them to keep things in place while traveling. Check out more from Noah's woodworking business, Animas Craft, here. 
Watch the tour above to see their unique split-level tiny house in detail!
Follow Noah & Kate's tiny home life on Instagram: @mototiny
Thanks to our video sponsor Hone Health!
Go to https://honehealth.com/tinyhouse to get your at-home assessment and doctor consultation for only $45.
Have you ordered our book yet?
Learn the history of the modern movement, get a breakdown of tiny home styles, and meet the passionate tiny community. The Beginner's Guide to Tiny Houses also discusses the pros and cons of micro-living―is a tiny house right for you, right now?
What people are saying:
"Most books about tiny homes are really just about the fantasy, with beautiful pictures in far-off places, but they don't tell you how to get from point A to point B. That's where this book comes in and fills in all the gaps!"