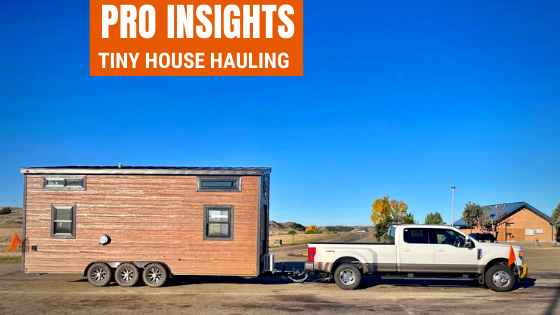 Professional Tiny House Hauling: Expert Insights
Need to hire help to move your tiny house?
As the tiny house movement continues to flourish, the need for professional tiny house hauling is at an all-time high. Towing a THOW is not for the faint of heart. We should know; Christian and I towed ours over 55,000 miles. You can to with the right prep, BUT if you don't plan to move it more than 1-2 times per year then hiring a pro makes more sense.
Lately, we've heard many positive reviews about One Call Logistics.
So I reached out to owner Taylor Tefft to discuss the intriguing and important world of professional tiny house hauling.
Tell us a little about yourself and how you got into the professional tiny house hauling business.
My name is Taylor, and I've been in the tiny house transport business since 2018. I absolutely love being a part of the tiny house community and love how close-knitted it is. Back in 2018, when I first got started in the Logistics Industry, I came across a few builders' social media pages that really caught my attention. I started doing some research on Google to understand the background of tiny homes, and I was instantly hooked. From there, my tiny house transporting journey began.
What do people often overlook about tiny house moving?
Tires and weight distribution on the tiny home are two major things people overlook when moving a tiny home, and this goes based on builders and everyday tiny house goers. Having good tires that have not been sitting and properly rated tires is crucial for a safe move.
Weight distribution is far overlooked by many. Making sure the weight is distributed evenly throughout the tiny home can change the entire tiny house transport. If all of the weight is at the rear of the tiny home and there is little to none on the front, it will cause the rear of the tiny house to sway, which can be very dangerous.
How do you help tiny house owners prepare for a move?
One Call Logistics has a full Tiny House Transport Prep Checklist that we send out to our clients when booking with us!
Do you have any funny stories for past tiny house hauls?
I have a few... But, one time, we were transporting a tiny home across the country, and the client wanted to sleep in the tiny house each night when our driver stopped so they could be with their animals and in their own bed. Long story short, we stopped every single night to let the customer inside of the home to rest and then woke up in the morning and headed out. It was quite interesting for the driver's sake, but overall it's a great story to tell!
What do you appreciate most about the tiny house movement?
How connected and engaged everyone is. It is such a tight knitted community!
If there is ever a question, whether it is about where to park tiny homes or how to find the best tiny house transport company - they all stick together and always are willing to help each other out.
How can people connect with you?
Connect with us on Instagram and Facebook! We post our tiny house transport photos daily!
Have you ordered our book yet?
Learn the history of the modern movement, get a breakdown of tiny home styles, and meet the passionate tiny community. The Beginner's Guide to Tiny Houses also discusses the pros and cons of micro-living―is a tiny house right for you, right now?
What people are saying:
"Most books about tiny homes are really just about the fantasy, with beautiful pictures in far-off places, but they don't tell you how to get from point A to point B. That's where this book comes in and fills in all the gaps!"