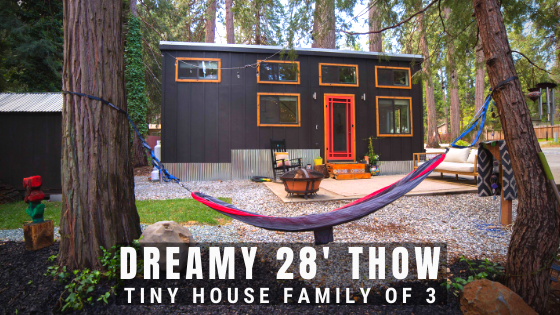 Teachers' Tiny Home Offers Fulfilling Lifestyle & Room for Baby!
Teachers Gilbert and Jessica downsized into a 28' tiny house to simplify and spend their money on adventure over a mortgage. They live in their THOW with their dog and two cats, and now a newborn! This thoughtful couple shares their perspective on bringing a baby into a tiny house on wheels and their tiny house parking experience in our latest tour video.
Nomad Tiny Homes built their tiny house out of Austin for $68,000. They then relocated to the Sierra Nevada Mountains in California, intending to create an off-grid homestead. But their hopes were shattered when they received a visit from code enforcement. Fortunately, they sold their land for a profit and then found a fully legal, beautiful corner lot in a mobile home park.
"It feels really, really smart. Just being two teachers, we're never going to be millionaires. BUT we can live like millionaires because we have all this extra money to travel, and we have the most amazing mountains and nature right out our front door. We're living what feels really luxuriously."
Inside the Teachers' Tiny Home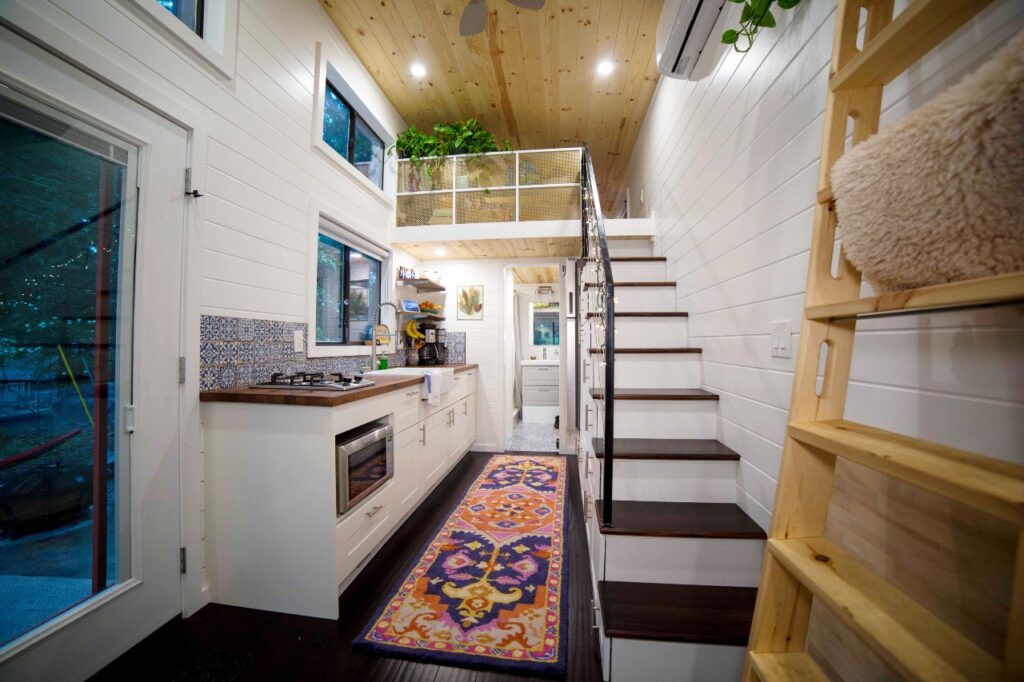 Gilbert and Jessica's 28-foot tiny house features two large lofts. Currently, they sleep in the larger sleeping loft with a king bed, accessed by storage stairs with sturdy metal railing. Nestled next to the bed is a small bassinet. Additionally, cubbies with a metal privacy screen create a sense of separation from the rest of the home. The secondary loft is a multi-use space: storage, art studio, and guest room. Earlier in the pandemic, it also became a makeshift preschool classroom.
When newborn River is a toddler, Gilbert and Jessica may give her the large loft.
Follow their tiny house family adventures on Instagram!
Exclusive Content
Monthly LIVE tiny living discussions with extended Q&A, plus BONUS content, like behind-the-scenes filmmaking and tiny home life insights.
Early Access
See new videos first, get first dibs on new online courses and more!
Exclusive Giveaways & Discounts
Win tiny living festivals passes, and more!
Join today!