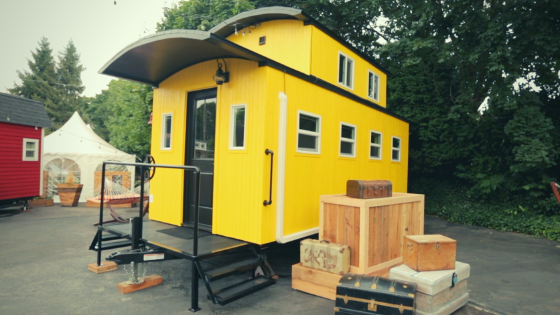 Impressive Caboose-Inspired Tiny House
Do you dig the railroad and trains? You'll love this darling caboose-inspired tiny house!
We share a look inside the build to see how space-efficient ideas were brought to life in the completed caboose tiny house. Friesian Woodcrafters built it, a family-run sister business of Tiny Digs Hotel in Portland, Oregon. The Arthur is one of the numerous themed tiny houses on wheels available for rent there.
Inside the Arthur Caboose Tiny House
The Arthur is named after Tiny Digs Hotel owner Pam Westra's grandfather, a life-long railroad enthusiast. Every inch is thoughtfully laid out for rail car realism, living space functionality, and classy train-lover decor. 
This caboose tiny house is only 18-feet long. Impressively, it can sleep up to four with the queen bed-sized loft and a pull-out couch.  Space-efficient design elements also help make the most of this extra small living space. For example, jackets and shoes can be stored under the stairs. A spacious closet is tucked between the shower and the back door with hanging space and shelves.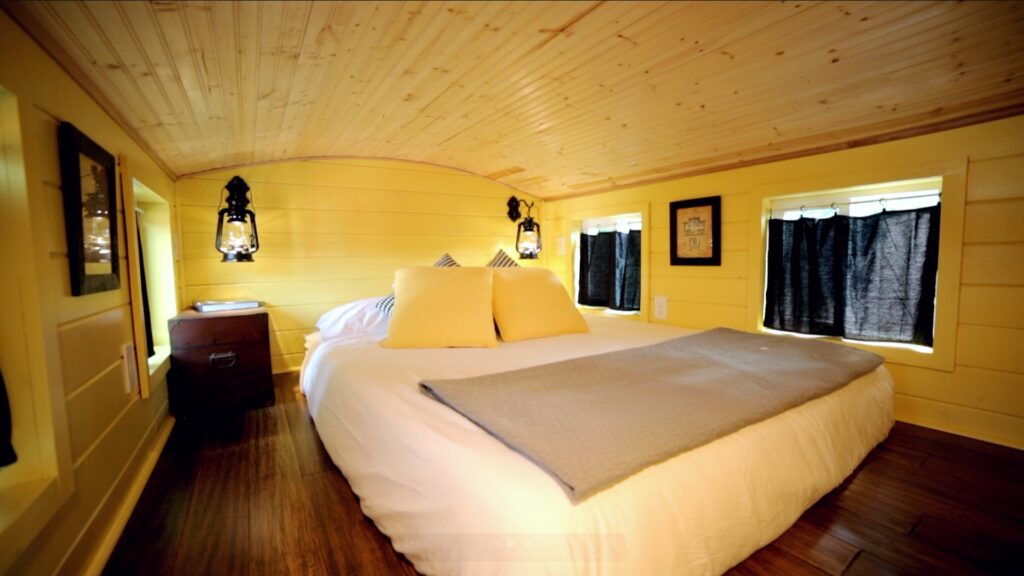 Fun Caboose Fact:
"As a rolling office and living quarters, the caboose was equipped with a desk, restroom, water supply, stove, heater, bed and even an icebox. And, of course, all sorts of supplies from oil cans to red signal flags, lanterns and extra lantern fuel. It was the rolling HQ for the train!"
Caboose Tiny House Special Features for Railroad Enthusiasts: 
Exterior utilities are hidden under decorative luggage--it looks like a mini train platform
Metal front porch with wheel, as seen on classic cabooses
Conductor's desk with electrified kerosene lamp
Small railroad spikes used for hooks throughout for cups, toilet paper holder, towel rack, etc.
Metal back porch
Coat rack made from small spikes railroad ties with engraved dates
Rail line map
Lantern night lights
More Tiny House Tours from Tiny Digs Hotel
Exclusive Content
Monthly LIVE tiny living discussions with extended Q&A, plus BONUS content, like behind-the-scenes filmmaking and tiny home life insights.
Early Access
See new videos first, get first dibs on new online courses and more!
Exclusive Giveaways & Discounts
Win tiny living festivals passes, and more!
Join today!