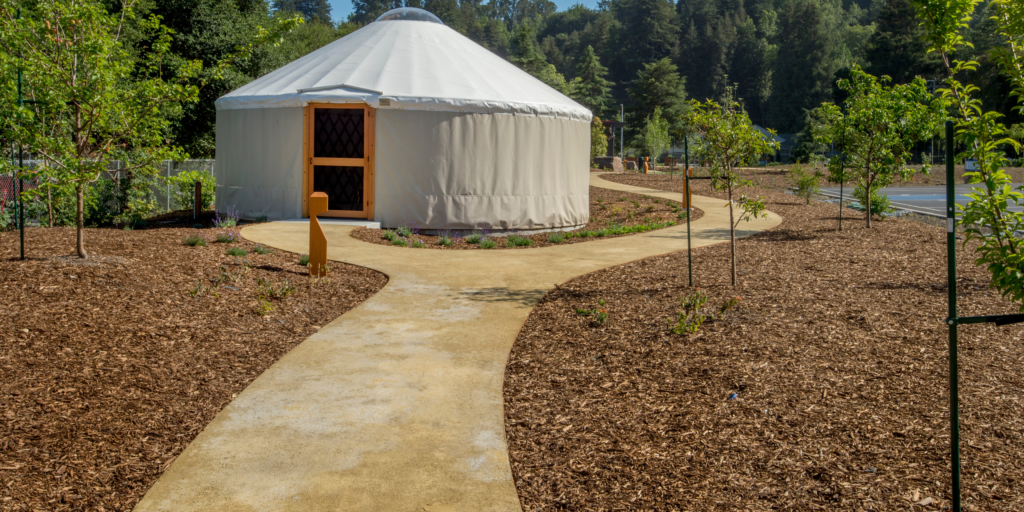 Exploring the Charm & Versatility of Tent-Style Tiny Homes
The tiny house movement has captured the imagination of people around the world seeking a simpler and, for some, a more sustainable way of living. While there are various styles of THOWs and ADUs on foundations available, the tiny home option I find most intriguing is semi-permanent tent-style tiny homes.
Combining the cozy charm of traditional tents with the functionality and practicality of THOWS, tent-style homes offer a versatile and affordable housing solution for those seeking simplistic semi-permanent shelter. Suitable for the unhomed community and for tiny home dwellers who enjoy traveling with their home without the commitment of hitching to a vehicle.
Let's dive into various tent-style tiny homes and discover their many benefits and design possibilities.
Embracing the Flexibility of a Tent
As we continue planning our farm and homestead, we have been narrowing down our tiny home "must-haves" for our "forever tiny." As we organized our list, we discovered our top two requirements are the ability to easily alter our home as well as move it with ease when desired.
That means we are interested in something lightweight (not difficult to tow or drive) or a home that is able and intended to be assembled and disassembled in a relatively simple manner.
The tiny home we live in now is wood framed, has mostly interior wood finishes, and is quite heavy - which makes it difficult to tow. While there are many features that work for us, we didn't design or build the home ourselves, so it lacks portability and functionality in many of the ways our family needs.
Due to our love of travel and with the intention to share our farm and music missions up and down the entirety of the West Coast, we believe having a simply built tiny home on wheels (i.e., shuttle bus or schoolie) for family and business travel, in tandem with a tent-style tiny home (to remain on our homestead or to come with us if we desired) can serve all of our family adventure and business needs with ease.
My Top 4 Favorite Tent-Style Homes
1) Avalon Bell Tent
While living in our tiny house on wheels, I have found about 100 sq ft per person to be a comfortable amount of space for our family of three (give or take a wiggle room for pets and miscellaneous items). Let's explore four of my favorite tent-style homes, all sized around 300-325 sq ft.
Starting with the tent, we think would make a rad addition to our tiny homestead, the Avalon Bell Tent.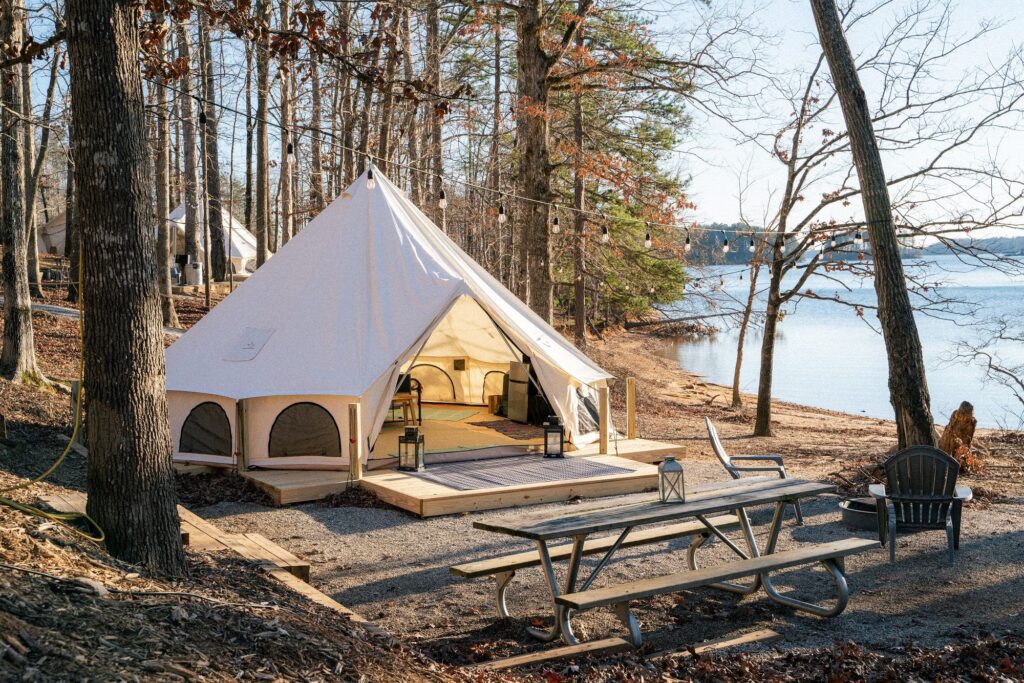 20ft diameter Avalon Bell Tent (314 sqft), from $1,849.99
White Duck Outdoors offers all-season complete package canvas tents in a wide range of sizes, including the Avalon Bell Tent.
"Bell tents are perhaps the most common form of canvas tents, with a fairly simple design where the canvas fabric is supported by a center pole and sometimes, a pole in the door entrance as well, referred to as an A-frame.

These canvas bell tents are affordable, versatile, quick to set up, and easy to use for people of all experience levels, so whether you're new to camping or a seasoned veteran...

The Regatta and Avalon bell tents are treated to be water-repellent, mold and mildew-resistant, and UV resistant, with fire-retardant options available if you plan to have a bell tent with stove setup."
PROS
Tent framing, canvas tent cover, tools, tent flooring, ground sheet, and carrying case are all included in the base price

Additional water and fire-repellent options

Tons of built-in features: wood stove jack, roof vents, bug mesh, 12 windows, and more!

Fast set-up time

Lifetime warranty 

Free returns
CONSIDERATIONS
The most popular tent options are often only available for pre-order; not available for immediate shipping 

Price point may be considered high in comparison to other canvas tent companies

The non-traditional roofline decreases interior height capacity around the perimeter of the tent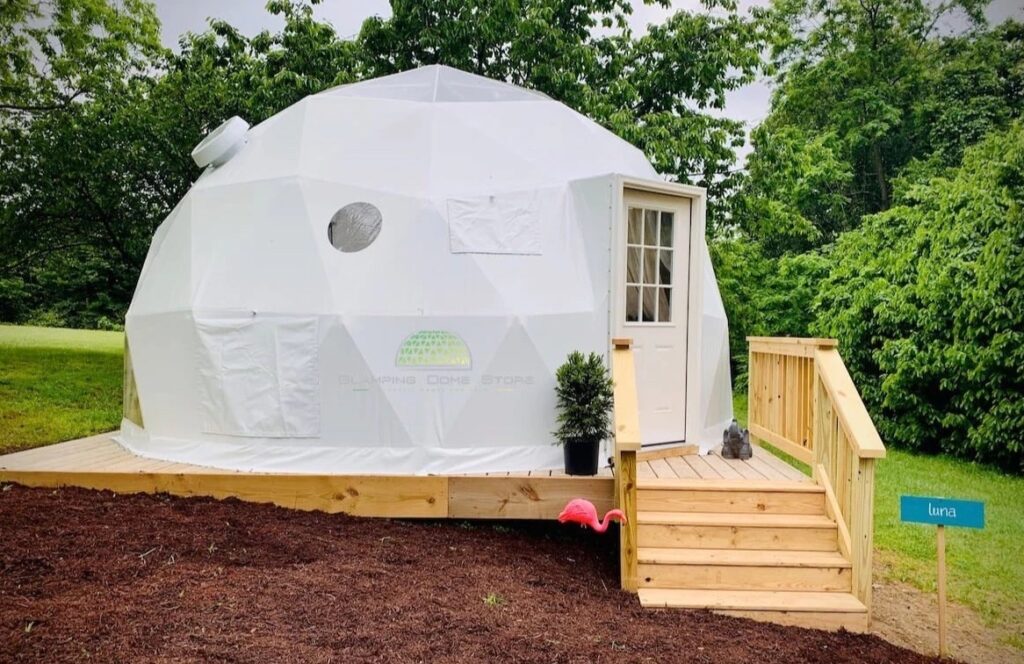 19.7ft diameter Geodesic Dome Tent - 304 sqft, on sale for $5,905 (reg. $9,390) 
The Glamping Dome Store offers 8 sizes of geodesic dome tents with a wide range of cover color options, as well as additional interior finishes, accessories, and exterior dome weatherproofing.
PROS
The geodesic dome kit comes complete with everything needed to complete the dome

Additional interior upgrades available: wood stoves, hard flooring, wall coverings, and more!

Frequent online sales and discount offers

The shape of the dome allows for a sturdy all-weather structure when properly anchored
CONSIDERATIONS
12-15 week delivery timeframe from when your order is placed

Ships from Canada (allow for additional freight time)

Most cost efficient when purchased during a promotional sale
Check out this tour of an amazing tent-style dome home! Can you picture yourself living here?
3) Yurt Tent
Living Intent Yurt Co. offers complete yurt kits with additional upgrades to further extend the potential of your yurt home. With 5 spacious models to select between, it's likely there is a yurt sized perfectly for you!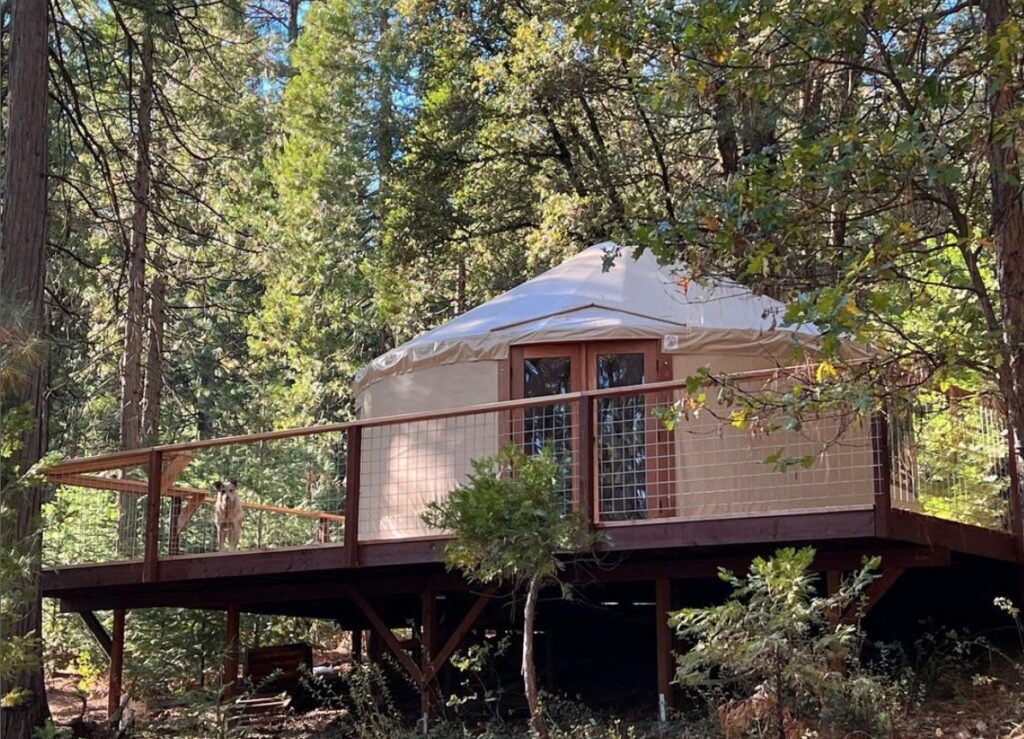 20ft diameter Yurt (314sqft), from $11,200
PROS
Yurts come as a complete ready-to-build package

Base price includes a handmade door, lattice, center rings, acrylic dome cover, and standard fabric windows

All dome sizes have high ceilings (minimum center height of 10 feet) with plenty of headspace around the entire perimeter of the yurt

Custom upgrades available

In-person delivery and set-up is available for an additional fee
CONSIDERATIONS
Considerably higher price point than other tent options

Best secured on a wood platform 

Made with synthetic materials

Requires additional tools and ladders
4) Wall Tent
This wall tent is a fantastic example of how to utilize a non-traditional space for everyday needs. I could absolutely live in a customized tent-style home like this! 
This is one of my favorite tiny home tours! Tents are exceptionally versatile and truly make a beautifully unique home.
The Alpha Wall Tent is another fantastic choice from White Duck Outdoors. If you desire a more traditionally shaped home without having to navigate curves, then the Alpha Wall Tent is for you!
With various sizes and exterior finishes available, it's easy to customize your tent specifically to your needs.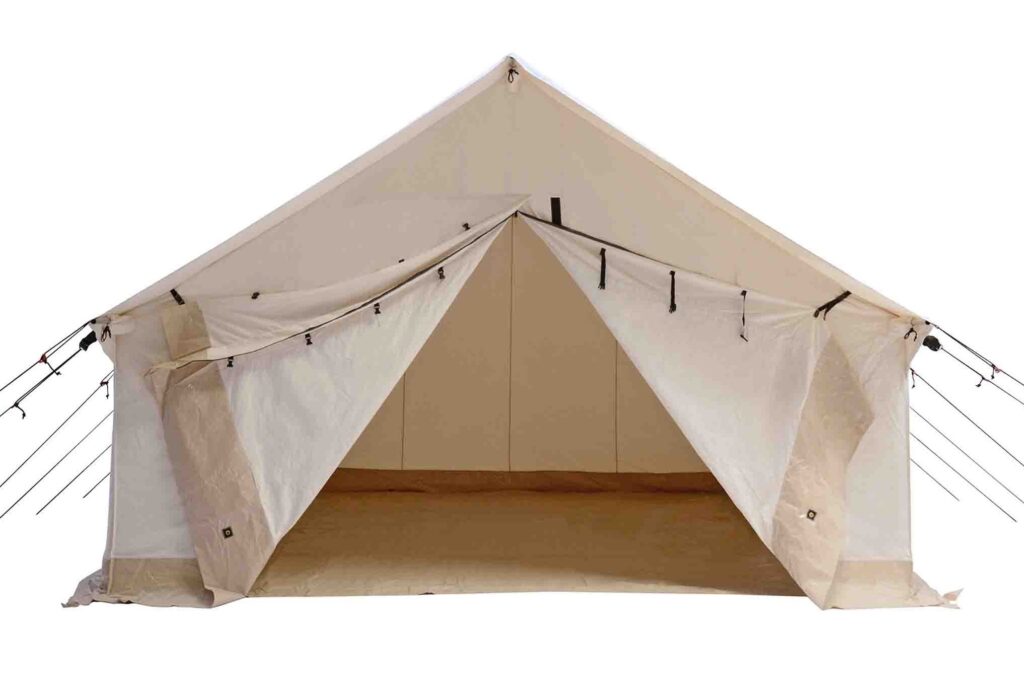 16x20 Alpha Wall Tent, 320 sqft, from $4,199.99
PROS
Tent framing, canvas tent cover, tools, tent flooring, ground sheet, and carrying case are all included in the base price

Additional water and fire-repellent options

Traditional roofline, offering premium headroom

Tons of built-in features: wood stove jack, roof vents, bug mesh, 12 windows, and more!

Fast set-up time

Lifetime warranty 

Free returns

Frequent sales! This is important if you are cautious about your budget. They have fabulous offers going on now!
CONSIDERATIONS
The most popular tent options are often only available for pre-order and not available for immediate shipping

Lower interior height in comparison to the Avalon Bell Tent

Price point may be considered high in comparison to other canvas tent companies, but remember this is a complete tent package
Pros of Tent-Style Tiny Homes
Simplicity
Tent-style tiny homes provide a nostalgic appeal reminiscent of camping trips and outdoor adventures. The simplicity of a tent's design can be integrated into tiny homes, allowing residents to reconnect with nature and enjoy a more minimalist lifestyle.
From the exterior, the tent-style tiny home blends in with its surroundings, making it an ideal choice for nature enthusiasts and those seeking a tranquil living experience.
Portability and Flexibility
One of the significant advantages of tent-style tiny homes is their portability. Similar to traditional tents, these structures are lightweight and easy to move, making them a perfect choice for those who value flexibility or enjoy traveling.
Whether you're looking to explore new destinations, live in it full time, or interested in simply changing the scenery in your own backyard for a relaxation station, tent-style tiny homes can be disassembled and transported with relative ease.
If you plan to keep your tent home stationery, you can add permanent exterior structural supports to further weather and nature-proof your tent. On the interior, you can cozy up your space by adding timber framing, insulation, and wall panels to offer yourself structure for added room division, privacy, and temperature control.
This below bell tent is a fantastic representation of how to extend the possibilities of a tent-style tiny home.
They opted for an additional THOW that only contains a kitchen, bathroom, and storage. This option is amazing! It makes it possible for the most necessary amenities to move with you no matter where you set your tent. You better believe this option is at the top of my favorites list!
Cost-Effective Living
In comparison to traditionally built tiny homes and campers, tent-style tiny homes are significantly more cost-effective if you're on a minimalistic budget. The materials required for construction are typically less expensive, and the size diversity reduces construction and maintenance costs. Additionally, the use of sustainable materials can further contribute to a lower environmental impact and reduced expenses in the long run.
Creative Design Possibilities
If you're interested in a wide range of design possibilities that allow you to fully explore your decorating creativity and personal style, then try a tent-style tiny home! Canvas walls can be customized with various colors, patterns, curtains, or even artwork, enabling residents to add a unique touch to their living space just as they would a traditional home or THOW.
The modular nature of tent-style tiny homes allows for easy expansion or modifications, accommodating changing needs and preferences over time.
For some, a super simple-connect with nature type of home is ideal. No fuss, simple interior, and fully in tune with nature, like this cozy off-grid bell tent with a wood door.
Connecting with Nature
Living in a tent-style tiny house allows you to forge a stronger connection with the natural world. The large openings and open designs of tent homes invite ample natural light and provide stunning views of the surrounding environment.
Imagine waking up to the gentle sounds of birds chirping, breathing in the fresh air, and being just a step away from outdoor adventures at a moment's notice!
Tent Homes as ADU's & Part-Time Living
Perhaps you are interested in a tent-style tiny home but don't desire to live in it full-time. You may consider living in your tent as a part-time vacation home for yourself, a place for guests to rest, to provide safe shelter for someone in need, or as a sustainable solution for an ADU income property.
With minimal building impact to a property, a tent-style dwelling is an easy alternative to navigating building codes and high-cost renovations to accommodate a traditionally built home.
Additional Considerations
Local zoning

Heating and cooling

Building site

Utilities

Kitchen

Bathroom facilities

Electricity 

Trash & Sewer

Pets (structured wall panels, flea/tick prevention, safety from wildlife)

Interior and exterior sound/nature/weather barrier 
Tent-Style Tiny Homes - Maximum Portability with Minimal Effort
Tent-style tiny homes offer a unique and enchanting way of living that merges the simplicity of traditional camping with the comfort and functionality of a tiny home. Without question, tent-style tiny homes are my favorite type of moveable home and reign supreme in terms of tiny home versatility.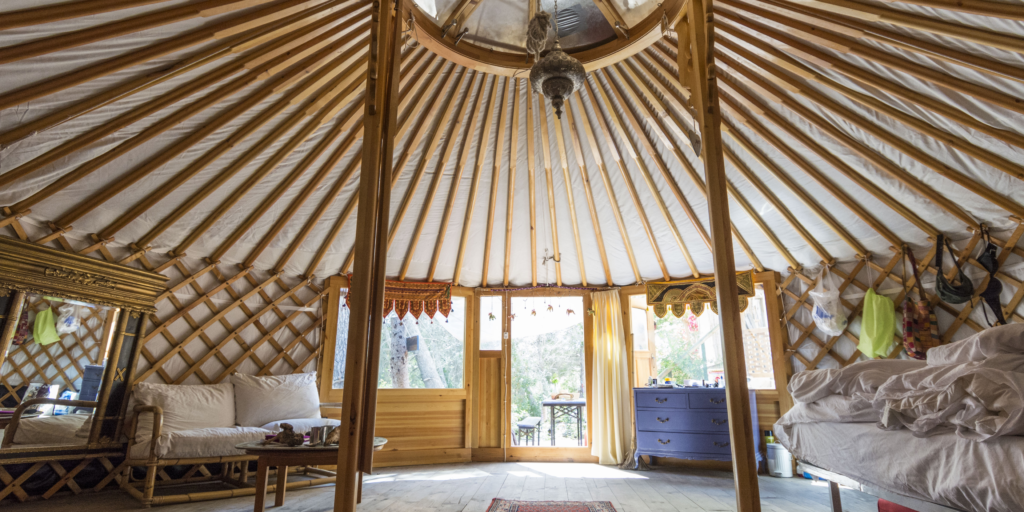 Pull up a seat with a cup of coffee and enjoy as nature floods through the beautiful openings of this yurt home!
These portable and cost-effective structures provide owners with a versatile housing solution that can adapt to different lifestyles and preferences. Whether you seek a cozy retreat in nature, emergency shelter, or a flexible living space that allows you to explore the world, tent-style tiny houses are an excellent option to consider. 
We look forward to the potential of embracing the charm of a tent-style tiny home.
What intrigues you about tent-style living? Let us know below!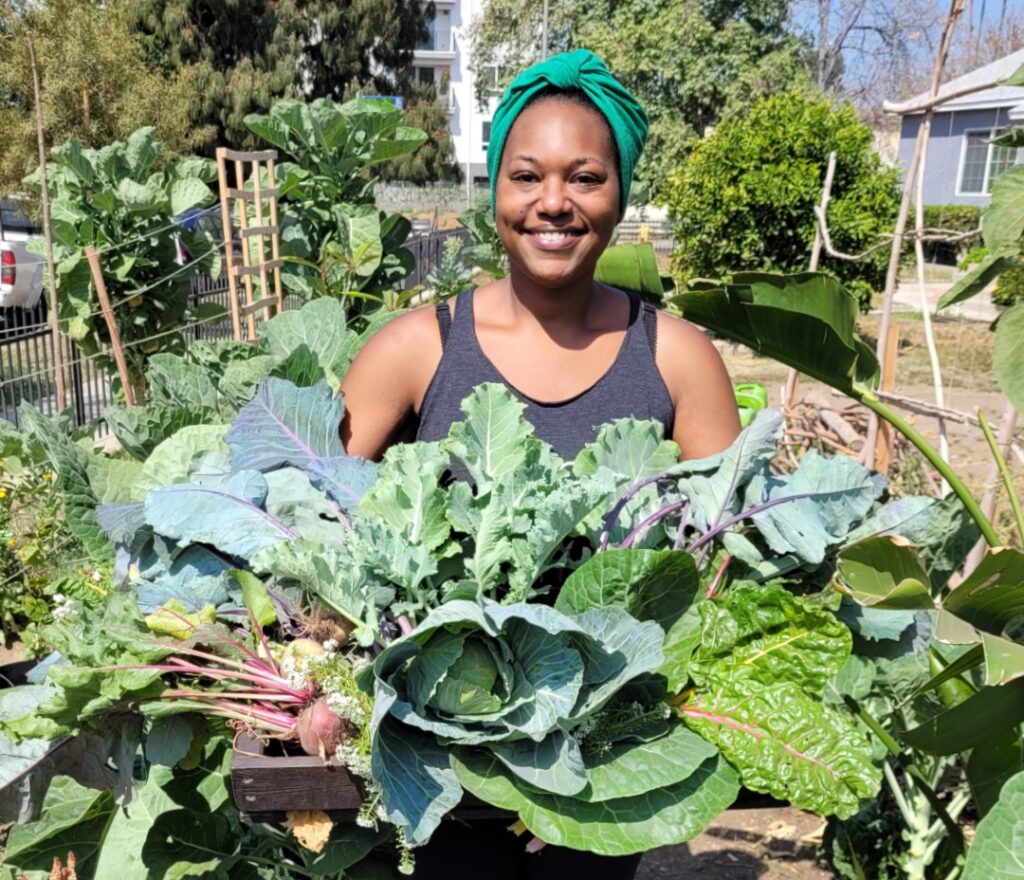 Hello, I'm Siri Lorece! I am a Los Angeles, CA based singer & musician, urban farmer, 200hr registered yoga teacher, sound practitioner, and tiny house dweller. I am grounded by nature, 90s R&B, and a ton of magical vibes!
I have spent my 24-year music career performing and teaching internationally in 7 countries as well as throughout the United States (37 states). I find joy in connecting with others by sharing my family's lived experiences in urban homesteading, music & mindfulness, and sustainability education.