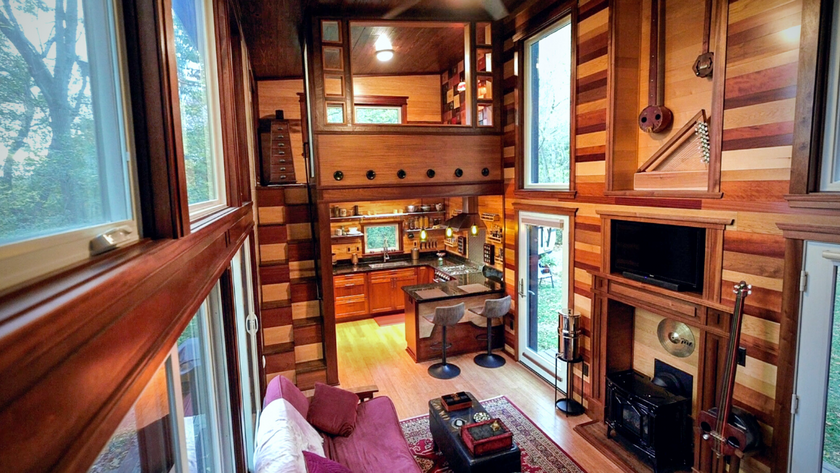 Mind-Blowing Tiny Home on Foundation built from Trash
Meet Christo, a musician and DIY builder extraordinaire. He built a truly mind-blowing tiny home on foundation using mostly reclaimed wood and salvaged & recycled materials. Initially, he planned to build on wheels but pivoted when the zoning of his land changed. This allowed him to build wider & taller, so he added an epic recording studio!
"In my search for land in the area to be closer to family, I was mostly looking for open-use lots. And what that basically means is that you don't necessarily need permits or variances for most structures. So you can freely build things.

However, things quickly changed almost within a couple of weeks of me getting my camper here.

I figured that was the best way to buck having to pay rent was just parked the camper on my open-use lot, and then I could just build away.

But the city council decided to change the zoning up here. They changed it to R3 zoning, which is residential zoning. It allows you up to three structures. However, you need to get permits.

No trailer builds, so I decided to take the opportunity, take the lemons and make lemon meringue pie. And I decided I'd build it on a foundation."

-Christo Morehead, Tall Small House
Inside Christo's Mind-Blowing Tiny Home on Foundation
Christo's tiny home on a foundation is about 384 square feet, not including the two lofts. With the lofts, it comes to approximately 480 square feet. The dimensions come to 32 feet long and 12 feet wide. At the highest peak, the ceiling is 15 feet tall, which creates a sense of spaciousness, making it hard to believe the house isn't bigger.
Christo's extreme attention to detail in every design aspect makes his tiny home truly impressive. For instance, he emphasized practical storage right where you need it, like the clothes storage next to the washer/dryer in the bathroom. His eye for symmetry also showcases this. As an illustration, the Juliet balconies in each loft have a beautifully symmetrical placement, shape, and decorative elements.
About 80% of Christo's tiny home uses reclaimed & recycled materials.
Many of these could be considered trash. However, you'd never guess because of his impeccable execution of the alternative materials.
Christo used paper bags, for example, to as finishing for his hallway walls and entry closet. It gives the illusion that it is somewhere between marble and leather.
While it's exceptionally inexpensive, it's also very time-consuming.
Basically, you take pieces of a paper bag and crumple them up. Then you use a mixture of half glue/half water. Next, apply it and sand it down. Add a stain. Finish with a cost of varnish or armor seal. Check out this how-to guide with more details.
He used flooring scraps as another excellent thrifty material choice to create a striking wall paneling. As Christo shares, many people bring their remaining flooring to Lowe's, thinking they will get their money back. But since they can't resell, it can be given away. Christo used various types of hardwood flooring. Then he painstakingly laid it all out to achieve a beautiful mosaic.
Christo admits that his tiny home design began with a simple idea: how to make a more creative staircase.
He just wanted to make something with a small footprint that maximizes all available floor space. As a result, the entire house was designed around alternating tread stairs—a cross between a ladder and a staircase.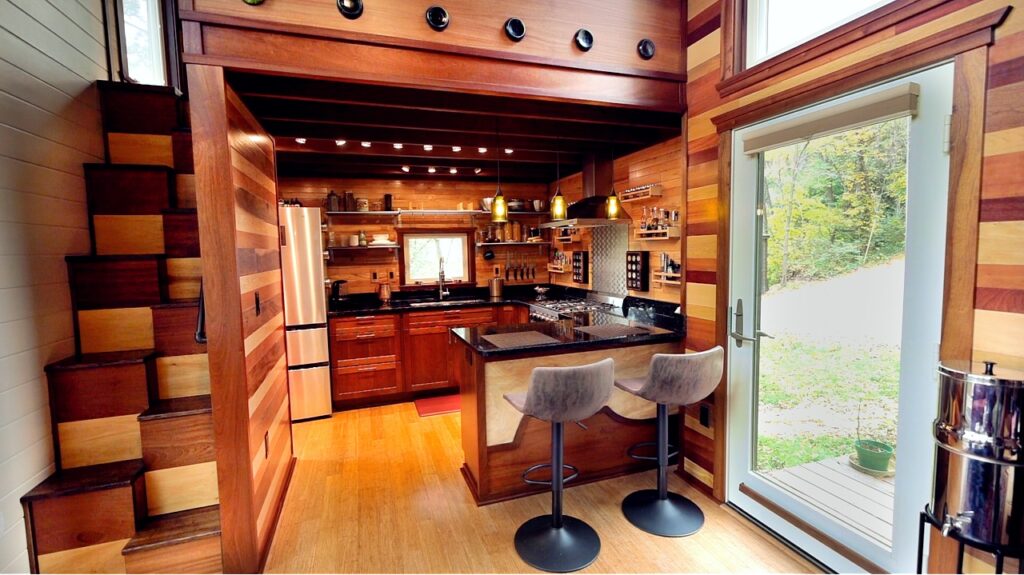 As you walk up, each foot has a separate cadence as it steps on the alternating boxes that make up the entire structure. The backside creates cubby spaces. Christo utilized the stair-backs in the kitchen and bathroom for loads of storage.
One of the most unbelievable features of Christo's tiny house is the recording studio with a full-size piano!
It's a great example of how he turned lemons into lemon meringue pie. By pivoting from his plan to build a home on wheels to a foundation-based one, Christo expanded the width and height of his design to accommodate this room. Otherwise, he planned to build a separate structure that he'd have to power & heat.
How Christo approached the design of his lofted music studio:
"Because I'm in such a small space, I needed to come up with a workflow, which would allow me to move around in a circle and to be able to record, mix, and play instruments very quickly, and in a short period be able to return back to my main recording workstation.

That's how I got my start.

The biggest problem you have in any recording studio, especially one this small, is slapback and reverberation from all of the acoustics that are going on.

So the way you manage this is through two techniques. One is called absorption. It is usually handled through foam, which I have these up for.

And then, with the scraps, and also the triangles that were cut off of the leftover framing from the house; I was able to make a reflector.

Basically, if you think a sound is kind of like water, you're able to distribute it and have it splash in other areas. And then it controls a lot of echoes. and feedback, cone filters, and things of that nature.

It's worked so far with both live instrumentations and for listening when I'm doing mixed sounds for songs.

But I did put them on giant command strip Velcro in case I did need to move things around if it didn't work out."
Check out a selection of Christo's original music here. 
Watch the tour for more about how Christo created his unique tiny home on foundation!