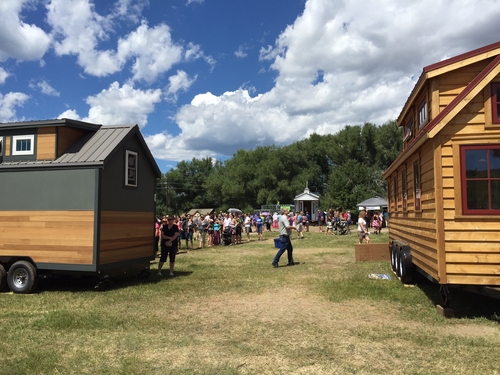 The First-Ever Tiny House Jamboree
Our first cross-country road trip with our tiny house on wheels took us to Colorado Springs for the wildly successful, first-ever Tiny House Jamboree.
Over 40,000 attendees, flocked to learn, share, connect and experience community during this three-day tiny house and simple living extravaganza. There were 28 tiny houses of all kinds on display, creating an energized, temporary tiny home community. We had at least 5,000 lovely folks come through our DIY tiny home and had countless conversations with enthusiasts. Many folks commented how much the enjoyed seeing how we used our space and seeing the tiny lifestyle in action; we're one of the only tiny houses featured that was a "lived-in tiny house". The positive energy of the crowd was exhilarating. If there was ever any doubt about the vibrancy, breadth and interest in the movement, it evaporated before the closing of day one.

A movement only exists when people are inspired to move, to do something, to make the cause their own.
Simon Sinek
The speakers were beyond inspirational; leaders in the movement with varying perspectives and expertise, the through line was their unmistakeable passion for tiny housing. They didn't just talk at the crowd, they engaged them, sparking lively conversations. One of my favorite moments of the Jamboree was during the Tiny House Tribe talk, led by a panel of inspiring tiny housers including B.A. Norrgard and Kai Rostcheck (be sure to check out their projects!).  This was a moving discussion about the power of community, specifically the growing tiny house tribe; a like-minded, passionate support group of sorts that you can lean on for advice, moral support and in some cases, collaboration. A young woman got up to shared her dream of not just building a tiny home for herself & her wife but to also create a tiny house community with support services for LGBTQ youth who find themselves on the street after coming out to their parents. Afterwards a group swarmed Kayln & her wife Ollie, the outpouring of love from the crowd was palpable. You can show your support by liking the LGBTQ Tiny House Enthusiasts on Facebook.
There we made meaningful connections with attendees and major movers & shakers in the tiny house world, received multiple parking offers and scored several intriguing leads for our documentary. An amazing experience all around. Christian and I filmed and humbly educated and inspired attendees about the joys of tiny house living and shared stories from our travels. We learned of many new, exciting tiny house movement happenings, like planned communities in a handful of cities across Colorado. The founder of Sprout Tiny Houses, Rod Stambaugh, is a key player behind many of these groundbreaking developments. As Rod told us, he doesn't like getting no for an answer. In Walsenburg, CO, he worked for 2 years to update the zoning regulations. The city counsel has now approved an ordinance changing the zoning of parcel of land purchased by Sprout Tiny Houses that clears the way to proceed with a proposed 28 unit tiny home development (on foundation). Breaking ground in October. Perseverance pays!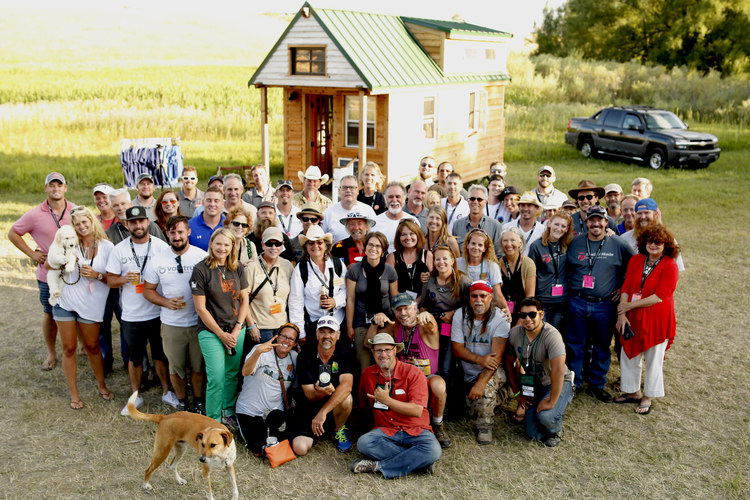 Leaving the Jamboree, we've never felt so confident & passionate about our mission. Cheers to all the incredible tiny housers, enthusiasts and tiny house community advocates who came out to share their experiences & dreams for growing the movement! Incredibly grateful to have been a part of this historic happening.
Watch our short video capturing the essence of the Tiny House Jamboree!
Check out this fun tour of our tiny house on wheels by the one and only, "Deek" Diedrickson of Relaxshacks. Plus, want a deep dive into our mission, objectives & hear stories from the road? Check out interview by UCCS Radio's Rocky Mountain Reflections.
-Alexis Stephens, cofounder of Tiny House Expedition