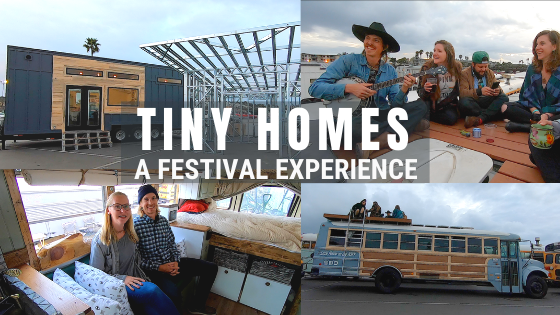 Tiny Home Tours of All Kinds from TinyFest California
Skoolies, Tiny Houses on Wheels & a Tiny Prefab House
With tiny house events being canceled and postponed, we hope you enjoy this fun look at a tiny living festival! We had a blast at the recent TinyFest California in San Diego.
There we toured a wide variety of tiny homes, including school bus conversions, tiny prefab houses, van conversions, and tiny houses on wheels.
What style of tiny living is right for you?
While we love touring homes, perhaps the best part is connecting with all the wonderful people. We soaked in the beautiful community vibes, from what feels like a family reunion to creating new friendships.
Also, we connected with other tiny house advocates, like the local American Tiny House Association chapter, as well as other Tiny Home Industry Association reps. Good news!
At the event, a San Diego city councilman announced that very soon, THOWs will be approved as accessory dwelling units. More advocacy news is available here.
Featured Tiny Homes:
While You're at Home, Enjoy Virtual Tiny Getaways & Events:
Exclusive Content
Monthly LIVE tiny living discussions with extended Q&A, plus BONUS content, like behind-the-scenes filmmaking and tiny home life insights.
Early Access
See new videos first, get first dibs on new online courses and more!
Exclusive Giveaways & Discounts
Win tiny living festivals passes, and more!
Join today!