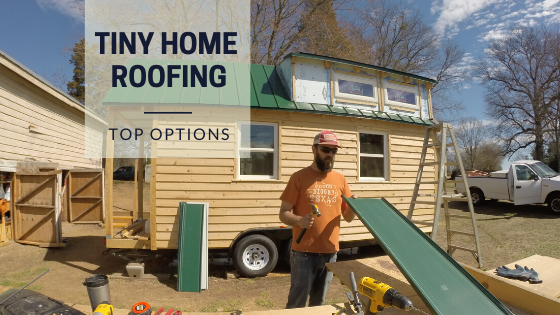 The Best Roofs For Tiny Houses
Here's a quick overview of tiny house roofing options worth considering.
Tiny houses are the small but powerful additions to contemporary alternative living. While some prefer to live in a van and drive across the country, others enjoy the semi-mobile and straightforward experience of living in a relatively secluded tiny house. There is an undeniable charm to living in a small but maximized space, surrounded by scenery that you love.
As a result, more and more people are opting for this lifestyle. In 2017 alone, there was a 67% increase in tiny house sales -- a remarkable achievement for the industry.
Despite the availability of tiny homes for sale, some people choose to experience building one on their own.
Not every aspect of a house can be DIY'd, however, as certain foundational elements, such as the electrical and roofing system, require the help of licensed contractors. According to City Seamless Roofing, a carefully installed roof using the best materials should last up to 30 years.
Here are some contemporary roofing options that are best for tiny homes.
Metal Roofing
Metal roofing is an attractive option for tiny homes because it is relatively lightweight and highly durable. When installed by a licensed service professional or extra cautious DIYer, you can expect it to last more than just a couple of decades.
Movable tiny houses are exposed to natural disaster level forces during relocations, so choosing a roofing solution that can withstand the elements is essential.
A metal roof is an excellent option if you love switching up your landscape from time to time, as it is water and wind-resistant and can survive heavy snow. It is also resistant against other unwanted elements, such as fire, mold, mildew, and bugs.
Shingle Roofing
A widely popular option among homeowners all over the globe, shingles are loved for being economical and readily available. They are easy to install and come in a variety of materials and colors, such as asphalt, wood, and slate. While this option is great if you are on a tight budget, it can weigh 2.5-4.25 pounds per square foot, which may be a stretch if you are opting for a very tiny home.
Consequently, it helps to consult with experienced contractors before going for this option. It also has quite a limited wind resistance, so if you can afford a more durable treatment, then it will likely pay off in the end.
Tile Roofing
Tiny homes have invaded even the most glamorous places like Las Vegas. Tile and slate roofs are highly preferred in the area because they fare well with the state's climate and are visually appealing.
Further, tiles can also survive in hot weather and salty air, which are common in southern coastal cities.
Additionally, tiles can easily last over 50 years and are unlikely to break unless they come in contact with substantial impact, making them a low-maintenance option.
Keep in mind, due to the heavyweight of tile roofs, these are best suited for tiny homes on a foundation.
Another option worth looking into is composition shingles—cross between traditional shingles and the tile look but without the weight. Also, they're engineered to withstand 150 miles winds as well as harsh weather, like hail.
Tiny House Roofing
Interested in more options? You can attend tiny house festivals to get inspiration on other exciting materials and forms.
There are various types of tiny homes that you can live in or build. Regardless, safety should always be the most critical aspect of choosing or building a house.
Getting the help of licensed roofers is beneficial in the long-term as they can provide decades' worth of warranty for your new roof, which DIY projects will not provide.
Though, if you're up the roofing challenge, take your time to ensure you do it right. It took us a month and a half to install our metal roof!
The Ultimate Tiny House Design/Build/Transition Workshop
Sign-up for this acclaimed 16+ hour Digital Tiny House Workshop to learn how to build a tiny house, the legalities to be aware, how to make the transition to living tiny, and more!
INCLUDED with the DIGITAL WORKSHOP:
54 bite-sized, engaging episodes
Downloadable follow-along booklet for note-taking
Over $300 in FREE bonuses, from tiny house plans to more how to's
Digital Diploma upon full completion of the course