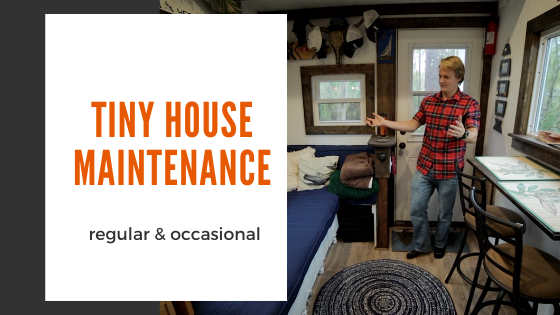 Tiny House Home Maintenance Projects
The tiny house trend is more popular than ever as more people turn toward a minimalist lifestyle. And what is not to love about tiny houses when they allow people to cut down clutter and reduce their carbon footprint. Living in a tiny house offers several benefits; it enables the owners to move around and can be cost-effective and eco-friendly. 
Notably, tiny houses are unique structures and require particular repairs that can prove challenging if you don't know what to look for. But of course, it's best to maintain your home and prevent repairing it later when the damage is more difficult to fix. 
How can you practice preventive maintenance when you own a tiny house? In a perfect world, you would already be aware of the quirks associated with living in one. You would know how to prepare it for inclement weather, care for the plumbing system, and secure it. But if you're new to tiny houses, these things might catch you off guard. Don't worry; you can still gain the necessary skills to keep your home in a top-notch form.
This article covers the most common repairs associated with this kind of dwelling and provides some information about how much it costs to maintain it. Knowing the common issues ahead of time can help you determine what aspects require your attention. 
Keep reading for important tiny house home maintenance projects.
Tiny House Home Maintenance
A tiny house can simplify your life, and one of the most appealing aspects is that you can cut down on maintenance expenses. Well, it should do it, but only if you do regular upkeep. Here are some common tiny house home maintenance and repairs you'll encounter along the way to help you prepare:
Exhaust Fans
High humidity can be a significant problem in tiny homes. So, many homeowners install exhaust fans to eliminate air moisture and smells. But, few remember to clean them, making them inefficient. This increases the risk of mold growth, forcing tiny homeowners to spend a lot of money on clean-up.
So, you need to clean them about every six months or at least once a year. Or, you may have to discover mold growth in parts of your house.
If you opt for more robust air quality control with an ERV (energy recovery ventilation system), it still needs maintenance. Depending on the model, the filters need to be cleaned about every three to six months. Also plan to replace them every two to three years.
Leaky Pipes
Your tiny house is more at risk of pipe leaking due to the shaking and rattling the structure experiences when you relocate it. Check any propane and water pipes regularly, and inspect them thoroughly before a long road trip. It would be wise to take pictures of the plumbing system to compare them during checks. To reduce the possibility of damage, simplify the plumbing system and ensure it's easy to access if it needs repairs. 
A tiny home has a showerhead and faucet, so you need to maintain the plumbing system as you'd do in a traditional house. Toilet maintenance depends on what type you choose—conventional, RV chemical, or composting. 
Solids in composting toilets needed to be emptied and cleaned out one to two times per month. Minimize urine management by piping liquids out into a holding tank or sewer clean-out, if available. Some units come with this system built-in, but other kinds can be adapted to have the option to pipe out or go into a small storage container.
Additionally, most tiny houses use on-demand tankless water heaters. Electric versions don't need much upkeep but a propane type needs more care. You'll want to monitor gas levels, so don't run out of hot water mid-shower! Keeping an extra tank on hand is always a good idea. The temperature of incoming water can vary by season, which requires you to readjust the flame level to find a comfortable heat.
When you relocate to a new parking spot, the incoming water pressure will likely be different. So you'll need to readjust on pressure level on the heater until you find the sweet spot.
Trailer Issues
Part of your tiny house's appeal is that it's a mobile structure that allows you to relocate occasionally or even frequently. This means it sits on a trailer, exposed to weather elements, requiring specific maintenance. 
Remove any rust that accumulates.

Check the tire pressure regularly, and maintain it at a proper level.

Change the tires when they show signs of wear and tear because they take a beating from the weather and road.
Repack and grease the bearings periodically.
Check the lug nuts frequently because they loosen in time.
Inspect the trailer lighting to see if it functions properly.
Damaged Flooring
A tiny house is more prone to heavy traffic, so your flooring is bound to see some wear and tear because of daily track on the small available floorspace, especially if you have pets. Vinyl, laminate, or floating hardwood flooring are the most common options. All materials are susceptible to scratches; covering them with rugs can minimize this. Also, going shoe-free can help.
If needed, you can replace them with something less damage-prone, like waterproof and scratch-resistant flooring.
Surfaces
Like flooring, most of the surfaces in your tiny house get touched or used daily, like kitchen counters and cabinets. They may show wear and tear signs, especially if you're a regular home cook. If this is the case, consider replacing cabinet doors from a company like kitchenwarehouseltd.com, specializing in custom kitchen furniture and replacement parts. 
For butcher block counters, condition them every so often with food-safe mineral oil or butcher-block conditioner. You can lightly sand them to remove any nicks.
How much does it cost to maintain a tiny house?
Your tiny house is built as a movable structure that allows you to travel. Different factors impact its maintenance cost. Sometimes the more expensive the dwelling is initially, the more affordable it is to maintain it over time. High-quality fixtures, finishes, insulation, and moisture management measures can mean less maintenance and fewer repairs. 
Here are some factors to consider when making the budget for tiny house maintenance:
Propane refills for stove and/or water heater are needed typically every 2-4 months. Refilling one 20-lbs propane tank costs about $14-$20.
Routine maintenance costs associated with caring for the plumbing system, changing light bulbs, and butcher block counters only occur here and there—mostly low cost.
Winterizing materials are primarily a one-time investment, but heated hoses are known to fail occasionally. So plan on having an extra $100-$200 in the bank during the winter, just in case.

Your appliances can also break down and create unexpected costs.

Abrupt major events like acts of nature or God can trigger unplanned expenses. Earthquakes, tornados, fires, and hurricanes can damage your tiny house and require high repair costs.
Ultimately, regular tiny house home maintenance costs are low but having several hundred dollars saved up can help you be prepared for unexpected repairs.