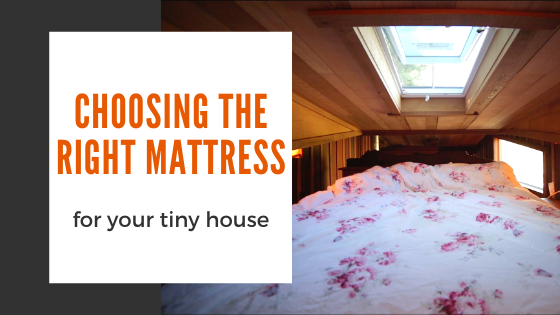 Tiny House, Sweet Dreams – How To Choose The Mattress For Best Sleep?
How get a mattress into a tiny house loft? How comfy are space-saving options?
One of the best things about living in a tiny home is that you have fewer items. Since it's a smaller space, you have to be strategic when choosing furniture.
Comfort and practicality should be your main priority, especially when it comes to a bed.  In addition to size, there are other factors that you should consider when choosing a mattress for your tiny house.
In this article, we'll go over a few things that will help you decide on a bed that fits your home and lifestyle.
Does it Come in A Box?
The majority of tiny homes feature loft-style beds. Forcing a traditional spring mattress through the door would be a huge hassle, maybe even impossible.
If you manage to get it in, maneuvering it to fit into the loft space would be another strenuous task. 
Box springs and traditional mattresses are big, bulky, and hard to move around. They are also less comfortable than their modern counterpart when they're placed directly on the floor.
Luckily, many types of mattresses are cozy, delivered conveniently, and set up quickly.
Popular companies like Casper, Brooklyn Signature and Alswell offer affordable and quality mattresses. The best part is that they're conveniently delivered to your doorstep in a box. To set them up, you simply unroll the vacuumed sealed packaging and give the mattress a few hours to expand. 
Space & Size 
Just because you live in a tiny house doesn't mean that you have to have a small bed. Depending on the size of your home, you may even be able to go for a luxurious king. 
One thing to keep an eye on when deciding on a mattress is the height. Just because a bed isn't so tall, doesn't mean that it won't be comfortable.
As a general rule, it's best to stay under 10 inches, or you might end up hitting your head on the ceiling. 
Home of Wool is an excellent option for tiny house owners, especially if they aren't big fans of memory foam. These mattresses are made of 100% organic wool, and you can choose from many cover fabric materials. The sizes range from 3",5", or 7", or you can order a customized size. 
Firm or Soft?
Different materials have different effects on the body. As the Parade covered in their article, The 7 Best Memory Foam Mattresses to Help You Wake Up Happy, memory foam offers better sleep for a range of body types. It distributes weight evenly, so it's great for your back, and you don't feel your pet or your partner moving around throughout the night.  
You want to find a mattress that's optimized for your body type and sleep preferences. Many mattress companies offer you the choice to choose your level of firmness.
Figuring out the right ones requires considering your height, weight, and preferred sleeping position. 
Side sleepers generally prefer a soft mattress contouring to the body, whereas a firm mattress is ideal for those who sleep on their stomachs.
Back sleepers tend to prefer a medium-firm mattress that offers balanced support. Medium-soft beds are the best choice for people who regularly toss and turn.
Environmental Footprint & Cost
Many people choose to move to a tiny-home to reduce their carbon footprint. If that's why you've decided to live small, it makes sense that you want to be environmentally conscious in your buying habits. 
These days you have a lot of options if you want to fill your bedroom with an eco-friendly mattress.
One company spearheading this positive trend is Sleep on Latex Pure Green. This model is available in two heights- seven inches or nine. They're made of entirely GOTS Certified organic wool and cotton. Despite the tricky name, these beds are free of latex and fillers. 
Home of Wool is another environmentally conscious company that uses unused fabric scraps to create affordable mattresses. This is an inspirational model of sustainability, and any pieces that don't get used are donated. 
The Verdict
Your bed is your sanctuary, which is why it's essential that you do some research before choosing a new mattress. You want to make sure it fits, is firm to your liking, and made in a way that is good for the planet. 
Digital Magazine Dedicated to Micro, Tiny & Small Home Living
Do you have more time at home? Enjoy some inspirational reading from Tiny House Magazine!
Discover different types of tiny houses from liveaboard boats to Alaskan yurts, converted school buses to high wall tents.
Try recipes from a tiny house kitchen. Each month we feature a recipe from the Tiny House Foodie. Learn to make it work and still cook like a pro.
Hear from those living with kids in a tiny house. What happens when you build for two but end up with four? Can it really be done?
Read excerpts from books on tiny houses, downsizing, and a host of other related topics.
Each month brings new topics and new, exciting articles!