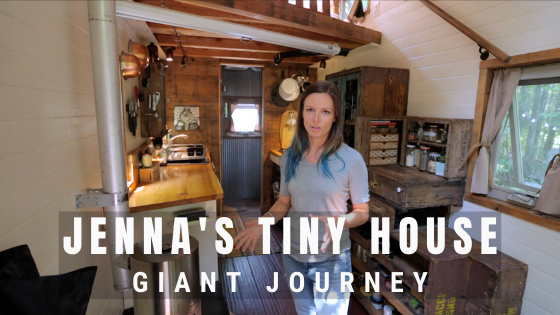 Woman Builds Superb Tiny House to Pursue Her Dreams
Jenna's Tiny House Giant Journey
As Jenna puts it, tiny homes are dream fulfillment vehicles.
She built her tiny house to pursue her passions for journalism and travel. The result: an amazing tiny house giant journey, from 25,000 miles of THOW travel to countless trips around the world. Along the way, Jenna has shared her personal tiny living experience and all kinds of tiny houses to inspire others to live their best lives.
Her personal tiny house on wheels is 165 sqft, 20' x 8.5 x 13.5'. It's absolutely charming! The style is rustic, farmhouse chic, which shines through with all the reclaimed and repurposed materials. While Jenna's cozy THOW is on the extra-tiny side, the space is incredibly efficient.
It lives large thanks to an open layout and built-in multifunctional furniture, like her stairs and desk/dining/coffee table. Enjoy the design ideas for days!
Watch the great tour Jenna did of our tiny home:
Cheers!  We share THOW travel stories: