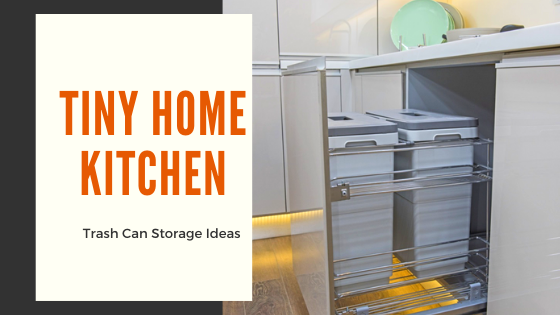 Tiny Home, Not So Tiny Trash: 4 Tiny Kitchen Trash Can Solutions
Living in a tiny home or even a small home presents storage issues - especially when it comes to the stinky kitchen trash can. Learn how to cope, here.
The tiny house trend is in full swing, with many Americans choosing to live in a home that is 600 square feet or smaller. But several challenges come with downsizing your home.
One of the places you'll feel the pinch the most is in your kitchen. You'll need to figure out a new way of storing your kitchen recycling and trash cans, which often overlooked in tiny home designs.
Try one of these four ideas for your trash can when your kitchen is limited in space.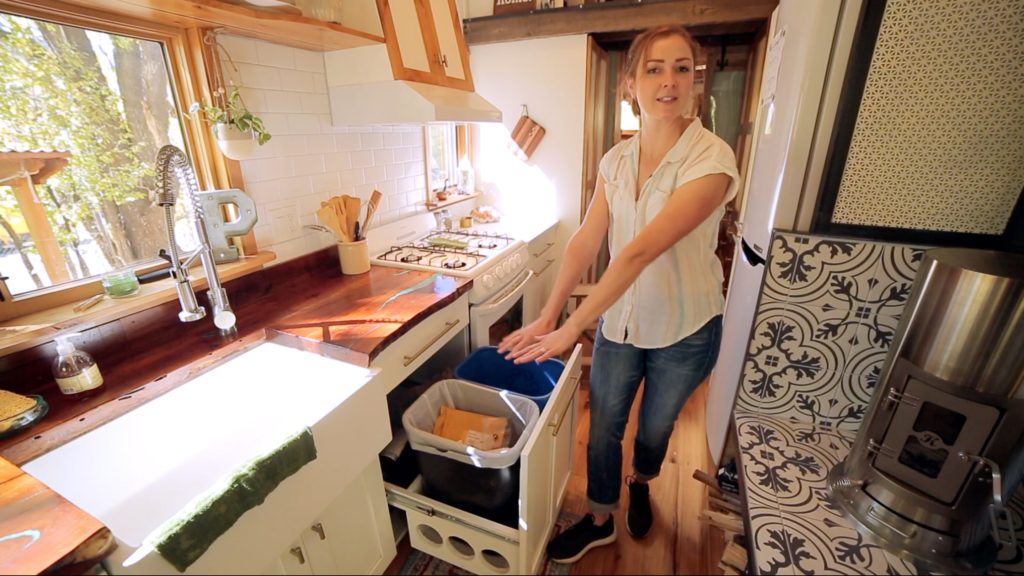 Pull-out Cans
One way you can take advantage of the limited space is by hiding your recycling and trash cans away in a drawer. You can pick any cabinet you want in your kitchen to hide your trash can in.
If you aren't ready to give up one of your kitchen cabinets, you could create a separate cabinet for your trash can. Take an older piece of furniture and DIY so that it hides your trash can. Though custom built-ins are preferable in a tiny house on wheels, due to the limiting dimensions.
Use the Dead Corner 
No matter how large or small your kitchen is, there is one place that tends to get neglected. The corners become a dead space that you forget about. It's a weird spot that isn't convenient for storing items.
So why not turn this waste of space into your trash can's home? You can create a corner cabinet and then install a rack that will automatically bring out the trash can when you open the cabinet door.
Go Smaller 
If you have a micro kitchen with a serious limit on space, then it's time to consider changing the size of your trash can. Getting a smaller trash can means you'll need to empty it more often. This site has more info about having your trash removed (similar services available in most cities; also helpful during the downsizing phase).
The smaller trash can also mean that it will take up less space. You can stick it in a cabinet or hang it on the back of the cabinet door. Or you could hang it up under the overhang of your countertop.
Make It Mobile 
When you're limited on space, it can feel cramped quick when you can't easily move the items in your way, somewhere else. You can fix this by getting a trash can that has wheels.
Hide your trash can away in a place where you have room for it. Then wheel it out and bring it to where you're working, like cleaning the composting toilet.
Another solution is to do the opposite of what we just described. You can put the trash can in a place that works well for multifunctional storage, like in front of your onboard water tank that you only need to infrequently access.
Move the can(s) out of the way when you need to access that area of the kitchen. When you're done, wheel the trash can back into place.
Get Creative with Your Kitchen Recycling and Trash Cans
When it comes to your kitchen trash can, you can't do without one. So try one of these four ideas to get creative with placement.
Check out our Resources (tab above) on successfully designing, building, and traveling in a tiny house.
Sign-up for this acclaimed 16+ hour Digital Tiny House Workshop to learn how to build a tiny house, the legalities to be aware, how to make the transition to living tiny, and more!
INCLUDED with the DIGITAL WORKSHOP:
54 bite-sized, engaging episodes
Downloadable follow-along booklet for note-taking
Over $300 in FREE bonuses, from tiny house plans to more how to's
Digital Diploma upon full completion of the course
30-Day Money-Back Guarantee