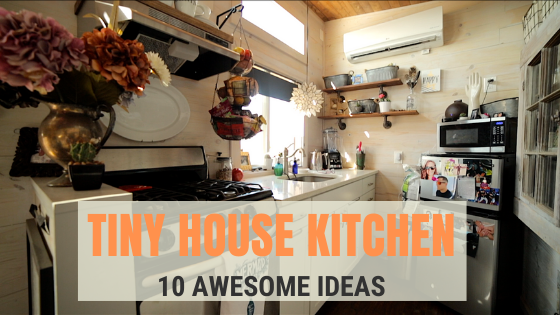 10 Amazing Tiny Home Kitchen Design Ideas You Will Love
Design your tiny home kitchen you will love for years to come. Keep reading for 10 amazing tiny home kitchen design ideas.
Are you fascinated with tiny things? Or do you feel like rent's getting way too expensive? Then tiny living may be something that's piqued your interest.
What is tiny living? Well, think of an apartment. Now squeeze it into an even smaller space that stands alone as a house. That means everything's been downsized, including your bedroom, living room, and bathroom. So yes, that means a tiny home kitchen as well.
Downsizing doesn't mean sacrificing. Instead, think of it as curating. And in the case of tiny house kitchen, you craft to meet your cooking desires, whether gourmet or basic.
Benefits of a Tiny Home
It may seem a bit cramped at first, but living in a tiny home is much more beneficial than living in a home or apartment. Because you've downsized, you use a lot less energy, which makes this lifestyle more sustainable. You won't have to pay a pricey mortgage, and you can usually build a home that's customized to your tastes and budget.
If you choose a tiny house on wheels, you have the option to become a nomad, if you wish. But you don't have to, of course. The best thing about living this lifestyle is you have the flexibility to move whenever you want to or as the need arises. Most importantly, the flexibility to design your tiny house to suit your preferences.
So now that you know the benefits of a tiny home, here are 10 tiny home kitchen ideas for some inspiration.
1. Built-In or Mounted Microwave (or Toaster Oven)
When you're living tiny, you have to make use of every square inch you can. While in a regular home, you can have plenty of space plus a kitchen island, with everything at your disposal. That's not the case with a tiny home kitchen.
To utilize your space and not have it feel cramped, get a built-in or mounted microwave. That way, it doesn't take up any valuable counter space that you need to prep your food. A built-in microwave also looks cleaner and won't have your counter looking cluttered.
2. Slide-Out Side Table
A slide-out side table is perfect if you live with your partner and like to sit down to a meal together. Come mealtime, you just slide the panel out from the wall and sit down on some stools to eat together.
After you're done eating and hanging out, all you have to do is clear the table and slide the table back into the wall. That means it's usually out of the way when you don't have to use it, which gives your tiny home the illusion of it having more space than it actually does.
3. Large Kitchen Window
By having a large kitchen window, you'll get a beautiful view of what's going outside, especially if you're nearby nature. Every time you wash the dishes, you'll get a glimpse of the outside world.
Plus, with a large kitchen window, you'll let the maximum amount of natural light in. With more natural lighting, your tiny home will seem bigger.
4. Galley Kitchen
Take a page from ships and utilize space the same way they do by having a galley kitchen. Position your kitchen appliances to both sides of your kitchen walls and leave a central walkway.
This lets you switch sides easily and also gives you and your guests a clear path to get from one side of your home to the other.
5. Vertical Shelves
When you don't have much space horizontally, you have to start thinking vertically. In many homes, vertical space isn't utilized, which means you have a lot of potential for storage when you look up.
Have a few vertical shelves installed so you can store all your foodstuffs without running out of space. This can be especially handy if you're a foodie who doesn't want to leave anything behind.
6. Aluminum Doors
Aluminum doors are lightweight and also low maintenance, not to mention they're also effective for insulation so you can keep warm while spending time in the kitchen. If you want to get the opposite of a rustic feel, aluminum doors can achieve that without putting too big of a dent in your budget.
Not only is aluminum lightweight, but it's also very strong. When compared to steel, its strength to weight ratio is better, so you'll want to consider picking aluminum over steel when you can. Ecovue has more details on the benefits of aluminum doors.
7. Stacked Appliances
Obviously, you'll still need to do your laundry, but in a tiny home, you won't have space for a laundry room. So, where do you put your washer? In the kitchen, of course!
It may seem odd at first, but it's commonly done in British small space apartments and homes. Plus, washers fit perfectly underneath your kitchen counters, which makes good use of space.
8. Use Lighter Colors of Paint
Darker colors of paint can make a room seem smaller, so stick with lighter shades that are closer to white. When you combine that with lots of natural lighting, you won't feel as claustrophobic in your tiny home.
9. Stick with Just a Stove
If possible, stick with just a stove. It'll free up a lot of room underneath the range, which means more storage for you.
But if you're big on baking and can't let go of your favorite appliance, then this may be worth sacrificing space for it. Otherwise, you can try to make everything work with just a stove and a microwave.
10. Consider an Open Floor Plan
When you add walls to an already small living space, it can make it feel even more cramped. Try to keep your cabinets and shelves to the walls, so you leave an open space in the middle of your kitchen. That way, you'll get the sense of a roomier space to work in.
Create a Lovely Tiny Home Kitchen
Just because you don't have much room in a tiny home doesn't mean you can't create a kitchen that's everything you've dreamed of. You just have to get creative with your ideas to make it happen! So if you're looking into tiny living, know that you can get a tiny home kitchen that's still impressive and workable.
Looking for more tiny home design inspiration? Then browse our tour videos on YouTube.
A Home Cook's Tiny House Kitchen without Sacrifice
Tiny House Design/Build/Transition Workshop
Sign-up for this acclaimed 16+ hour Digital Tiny House Workshop to learn how to build a tiny house, the legalities to be aware, how to make the transition to living tiny, and more!
INCLUDED with the DIGITAL WORKSHOP:
54 bite-sized, engaging episodes
Downloadable follow-along booklet for note-taking
Over $300 in FREE bonuses, from tiny house plans to more how to's
Digital Diploma upon full completion of the course