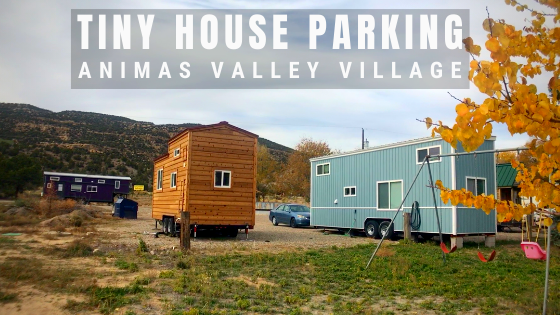 Today's Tiny House Parking Spot: Animas Valley Village
Today's Tiny House Parking Spot:
Animas Valley Village RV Park & Tiny Home Village
In this episode of Today's Tiny House Parking Spot, we ventured into Land of Enchantment.
We parked at the lovely Animas Valley Village. It's a tiny house/RV community located just over the Colorado state-line into New Mexico. Surrounded by beautiful spruce and golden cottonwood trees, the village is only a short walk from the Animas River.
There are eleven total parking spaces, with some available for short or long-term stays. Additionally, there are two unique short-term tiny house rentals available.
During our short stay, we parked next to a friendly tiny house family of five, the Tiny Cottage Caravan. Their tiny home backs up to a grassy lot with a small playground. In their opinion, the one thing that would make the village better is another tiny house family, or two.
Looking for tiny home parking? Full-time spots are now available at Animas Valley Village!
During our stay at Animas Valley Village, we explored the charming small town of Aztec. We enjoyed its refreshing slow pace by strolling through the historic downtown and riverside park.
The highlight of our trip to Aztec was the fascinating Aztec Ruins National Monument.
It is an ancient communal home to the Pueblo people. Over their centuries-long migration, they made settlements across the Chaco Canyon region.
We took a half-mile pathway that weaves through the Aztec Ruins, from their ritual gathering places to their sprawling masonry rooms used for living, cooking, and storage.
As we took in the sights, we felt like we were transported to the 11th century–an awe-inducing experience. The well-crafted communal facilities and the cooperation required to keep this civilization thriving is similar to a modern cohousing community.
Exclusive Content
Monthly LIVE tiny living discussions with extended Q&A, plus BONUS content, like behind-the-scenes filmmaking and tiny home life insights.
Early Access
See new videos first, get first dibs on new online courses and more!
Exclusive Giveaways & Discounts
Win tiny living festivals passes, and more!
Join today!