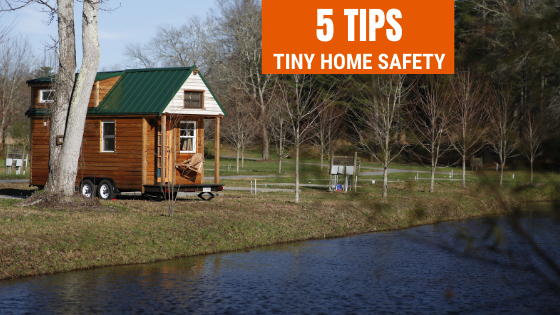 5 Ways to Be Sure Your Tiny Home Is Safe
Some of the first questions we've received when discussing tiny homes are regarding safety and security.
You've considered many aspects like safe towing and the ideal spot for parking your tiny house. 
You've got your fire extinguisher and smoke detector installed, and you know the drill when it comes to issues like bad weather, including storms or hurricanes.
Have you considered its security? 
In this article, we'll look at how to protect your tiny home from theft, and how to ensure you and your valuables are secure. 
Tiny Home Technology
Modern technology allows for several options for home security. The most obvious would be to install a reliable alarm monitoring system. 
When installing your system, consider the best solution for your needs.
If you're moving around or in a remote location, self-monitoring may be the best option. This can be done with live alarm apps via your mobile phone or the web, which allows you to view the status and even disarm it remotely.
Lights, Cameras, Action
Security lights with motion sensors are an ideal way to deter intruders. Consider the best spots for these when you have neighbors so that your lights are noticeable, but not a disturbance.
On the flip side, remember that larger animals or wildlife may also set these off if you're in a remote location. Or pets in backyards! Our neighbor's cat turns our motion sensor light regularly.
To keep an eye on your house, security cameras are the best options. Located in strategic spots, you will be able to view your home live through a real-time video feed, or have the opportunity to be alerted only when motion is detected by your tiny house. 
When opting for security cameras, it's advisable to put up a sign that the whole area is monitored this way. 
Tiny Home Tracking
A GPS tracking device will allow you to locate and recover your tiny home in the unfortunate event that it's stolen. Technology allows several options for tracking your house by installing a GPS or alternate device. Tracing your home can then be done via a mobile app, or online sites, much like the 'find my phone' functionality for mobile devices.  
It's vital to install the tracking device in a well-hidden place within your house so that it cannot be removed or easily disabled.
Also, it's essential to consider whether it needs to be powered up at all times and if it must be connected to a satellite or mobile network to be fully functional. 
Lock Your Load
If technology isn't for you, if you're off the grid, or your budget is more modest, you do still have security options available for your tiny home. 
Going back to basics with secure locks for doors and windows is your best option. Opt for deadlocks that cannot be turned without the key or secure your doors with 'pick-proof' ones and add latches to windows. 
An important consideration when adding locks and latches to your home would be having a spare set of keys with a friend or family member in case of an emergency.
You should also have an evacuation plan, to ensure you can safely exit, or tow away your tiny home (if you have enough warning), in case of an emergency like a fire or hurricane. 
Community Awareness
A community of like-minded tiny home or RV owners offers an ideal forum to share advice and learn about the pitfalls of being this unique kind of homeowner. 
It's advisable to spread the word on local community groups or platforms in the event of a stolen, damaged, or vandalized house. Being part of a tiny home community could help you recover yours if it's stolen or get you the information that may lead to its recovery.
What it takes to feel safe in your tiny home, varies based on the lived experience of many people of color. Check out this resource guide promoting inclusion and equity within the tiny living movement, includes links to community groups too.
Sensibly Secure
In conclusion, best practice would be to treat your tiny home with the same regard for safety and security as you would have done with any other property. 
The freedom of 'living on wheels,' being able to move around, plus the joys of downsizing and enjoying an experiential lifestyle should never cloud your common sense.
Digital Magazine Dedicated to Micro, Tiny & Small Home Living
Do you have more time at home? Enjoy some inspirational reading from Tiny House Magazine!
Discover different types of tiny houses from liveaboard boats to Alaskan yurts, converted school buses to high wall tents.
Try recipes from a tiny house kitchen. Each month we feature a recipe from the Tiny House Foodie. Learn to make it work and still cook like a pro.
Hear from those living with kids in a tiny house. What happens when you build for two but end up with four? Can it really be done?
Read excerpts from books on tiny houses, downsizing, and a host of other related topics.
Each month brings new topics and new, exciting articles!