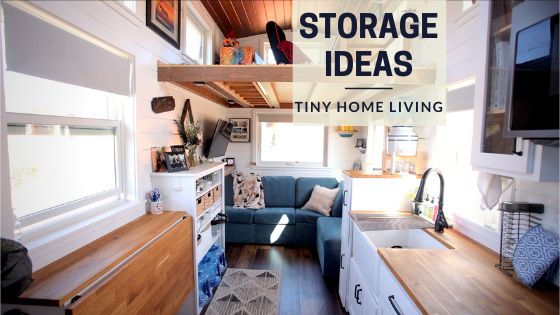 8 Tiny House Storage Solutions
Tiny house storage is all about effectively organzing your home.
Tiny house living is a unique way of life. It comes with awesome perks, but there are also some unfamiliar downsides. One of the biggest problems you'll encounter is with tiny house storage.
If you live in a tiny house already, you know what we mean. And if you're interested in living in one, this is something you need to know about! House organization is different when your home is only 100 to 400 sq. ft in size.
So, how can you make it work? Just keep reading. You'll find out eight brilliant tiny house organization tips to make life easier in your small space.
1) Hang Items From the Ceiling
Looking for a way to make the most out of your tiny kitchen space? Consider taking advantage of your ceiling! You can hang items from it, like pots and pans, for storage. Also, do what Maria and Tino did, create a hanging wardrobe, above your stairs, on a pulley system.
2) Use Space Above the Cabinets
Take a look at your kitchen or bathroom cabinets. If there's space above them, take advantage of it for the ultimate small space storage hack! Linens, baskets, shoes, and more can fit up there.
And don't forget about above your oven hood!
3) Build Into All the Walls
Don't let your walls take up too much space! Instead, build into them for better house organization. Shelves, cubbies, and cabinets are all great choices to consider for more storage.
If your tiny home isn't fit for a wall remodel, consider selling it to start from scratch. Find out more to learn if that's the right choice for you.
4) Look For Versatile Furniture Pieces
Make your furniture work double-time! Look for pieces that are multipurpose to save on space. You might find a side table that also functions as a desk or bench that doubles as shoe storage, for example. Perhaps, a cat litter box that doubles as a table--lol!
5) Organize Inside Each Cabinet
You have to utilize all the space inside your tiny house cabinets. The often-overlooked but best way to do this is with organizers! Storage shelves, tiered drawers, and pullout racks are the most popular choices.
6) Sleep On a Raised Bed
Beds take up a decent amount of space, but they're perfect for tiny house storage if you use them right. Keep your mattress raised or on a platform bed frame. By doing so, you'll create some storage space underneath.
Check out this loft bedroom with loads storage under the bed!
7) Make Use of Every Corner
How many corners are in your home? If you're not utilizing them for small space storage, you're wasting them! Install shelves or countertops that fit into every corner possible to gain extra space.
8) Make the Most of the Stairs
The possibilities for tiny house organization are endless when it comes to your stairs! You can install a variety of different storage solutions. Use them for closet or shelf space, or convert each step into a drawer.
Stair storage in this tiny house was 100% maximized!
Get Crafty With Your Tiny House Storage
Tiny house storage doesn't have to be a challenge. All it takes is a little innovation and creativity to make it work for your family! Consider using some of these small space storage tips to organize your home better.
Find Your Perfect Plans for Your Dream Tiny House!
Browse this amazing, growing directory of tiny house plans—all on sale for a 5% lower price than other places on the web.
Plus, every plan comes with over $200 in FREE bonuses, including a comprehensive how-to build a tiny house digital workshop!