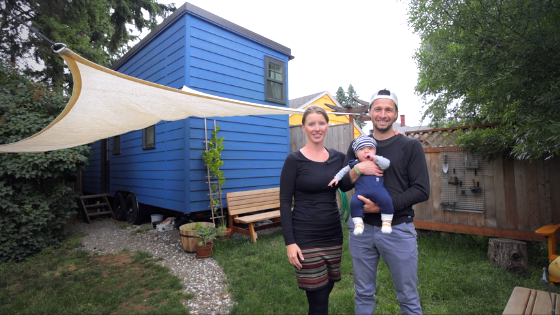 German Family's 26-Foot Tiny Home Life in US
Meet Maria and Tino moved from Germany to the US for a job and decided to try out tiny house living. Their 26-foot tiny home is filled with creative storage solutions and lots of room for their new baby boy! Now they're moving back to Germany to be closer to family, giving them an opportunity to promote tiny living as part of the growing tiny house movement there. Maria and Tino share insights about that and insights into German perspectives on housing.
"So while we're here we observed tiny houses are also becoming a thing in Germany for several reasons. I think people are just curious about the concept, want to try things out, people also want to downsize, and be more sustainable and so on. And for sure, there's also thoughts about financial reasons to go tiny.

I think like in the US the housing market is going crazy in some cities in Germany. Like Berlin, for example, used to be where we actually lived. It used to be a very cheap city to live. Now the housing prices or prices to own an apartment are basically what they are here in Portland. So not cheap."

-Maria
Inside their Intriguing 26-foot Tiny Home
You enter Maria and Tino's 26-foot tiny house in the kitchen. To the right of the door is the raised living room that creates a large storage compartment underneath, accessed from the outside. There's room for a sleeper sofa, a baby gym, and a workspace for Tino. 
They built a curved counter-height table in the kitchen as a dining table and home office for Maria. Another creative DIY storage solution is semi-hidden in their stairwell to the loft bedroom. It's a"flying wardrobe"! Maria came up with a hanging closet rack on a pulley system, stored out of the way at the top of the stairs. Watch the tour above to see this in action.
Importantly, Eric Folkestad built Maria and Tino's tiny home. It's a hobby/side hustle for him. If you're interested in contacting him, please email us to receive his contact information.
Thanks to our video sponsor, Harry's!
Redeem a Harry's Trial Set for just $3 when you go to https://Harrys.com/Tinyhouse.
Exclusive Content
Monthly LIVE tiny living discussions with extended Q&A, plus BONUS content, like behind-the-scenes filmmaking and tiny home life insights.
Early Access
See new videos first, get first dibs on new online courses and more!
Exclusive Giveaways & Discounts
Win tiny living festivals passes, and more!
Join today!