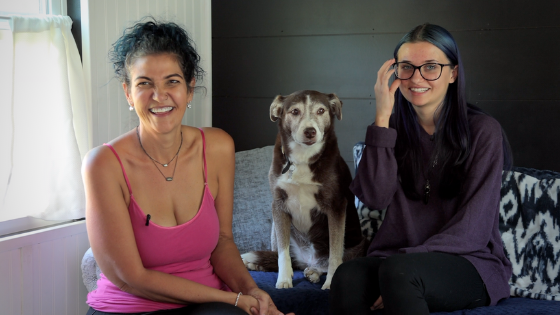 Mom Builds Daughter Tiny House as Dorm Alternative
Tiny House as Dorm Alternative & Beyond
How do you avoid expensive out-of-state tuition and student housing costs? Build a tiny house as a dorm alternative! That's just what single mom, Holly, did for her high school senior daughter, Tilly.
Holly sold her 2800 sqft house in pursuit of simple tiny home life. With the proceeds, she bought an RV. Holly plans to enjoy bucket list travels with her boyfriend after Tilly graduates high school. She also built Tilly a tiny house for a secure future. Importantly, this was a family endeavor. Holly acted as the general contractor, and her brother, Newt, was the lead builder. He builds huge barns for a living.
Just before the start of Tilly's senior year, they moved to a tiny home community just down the street from her future college. Talk about an ideal parking spot location!
While Tilly can use the tiny house as a dorm room alternative and home post-college, she has agreed to pay her mom back later in life. This will go towards Holly's retirement—completely the full circle of family helping family.
Inside Tilly's Tiny House as Dorm Alternative
Tilly's tiny house is 288 square feet, including her standing height bedroom. Impressively in 24-feet, the layout features a bathroom with a bathtub and combo washer/dryer but still manages to have a spacious kitchen and living area. Additionally, storage opportunities feel endless. This was all made possible by the super-efficient floorplan they bought from Indigo River Tiny Homes.
Holly sleeps on the sofa that folds out into bed while still living with her daughter. After high school graduation, Tilly will have the most charming and independent college freshman housing.
"I like tiny house living versus the dorm because here, I can actually express myself and put up my own decorations. And it's something I can keep up forever versus a dorm you just stay in it for a few years. It's kind of more like wasted money, in my opinion..."

-Tilly on her tiny house as dorm alternative
Watch the tour above to see more of Tilly's tiny home!
Thanks to our video sponsor, the Nebula Capsule projector!
Have you ordered our book yet?
Learn the history of the modern movement, get a breakdown of tiny home styles, and meet the passionate tiny community. The Beginner's Guide to Tiny Houses also discusses the pros and cons of micro-living―is a tiny house right for you, right now?
What people are saying:
"Most books about tiny homes are really just about the fantasy, with beautiful pictures in far-off places, but they don't tell you how to get from point A to point B. That's where this book comes in and fills in all the gaps!"