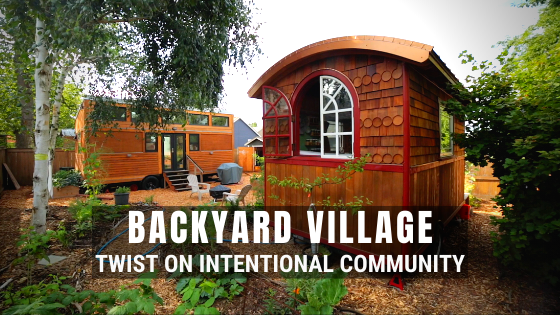 Backyard Tiny House Village: Twist on Intentional Community
Welcome to Going Places, an inventive tiny home community in Portland, Oregon.
It's a fresh take on an intentional community as a small scale cohousing setup with two tiny houses in the backyard and a shared small traditional house. It showcases how truly accessible and rewarding community development can be.
The Going Places community approach is a way to make urban living affordable while creating meaningful neighborly connections in a cooperative environment.
A cohousing community is semi-communal housing consisting of a cluster of private homes and a shared community space. Residents share resources like tools and in tasks, such as household repairs. Additionally, property, utility, and maintenance costs are also shared.
"I found that when people move to a cohousing community their relationships with their family and friends often improve because the physical and social structures of the community facilitate a healthier lifestyle."

-Lina Menard, Niche Consulting and original Going Places co-founder
Exclusive Content
Monthly LIVE tiny living discussions with extended Q&A, plus BONUS content, like behind-the-scenes filmmaking and tiny home life insights.
Early Access
See new videos first, get first dibs on new online courses and more!
Exclusive Giveaways & Discounts
Win tiny living festivals passes, and more!
Join today!