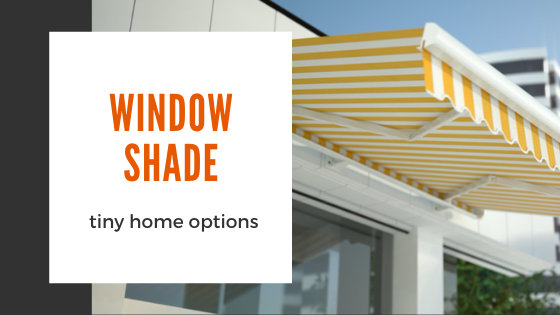 How Do You Shade Outside Windows? Everything You Should Know for Your Tiny Home
Are you wondering: how to shade outside windows? If so, we share everything to consider for your tiny home.
Sunshine's a mixed blessing. It brightens up our days in every sense!
But you can definitely have too much of a good thing, right? And that's never truer than when the sun rages down onto your tiny house in the hot summer months.
It streams in through the outside windows and turns your tiny home into a greenhouse, even with quality insulation.
The heat inside can get so oppressive that you're forced to turn your A/C up another notch, increasing your energy bill in the process.
Indeed, in the hottest parts of the country, a whopping 27 percent of total household energy expenditure goes on paying for air conditioning alone. Of course, this is much less for small homes.
Limit the sunlight entering your tiny home, then, and both your comfort level and bank balance improve! And shading your windows is one of the best ways to do it.
Are wondering how to keep the sunlight out of your tiny house? Read on to discover the best ways to shade your home's windows.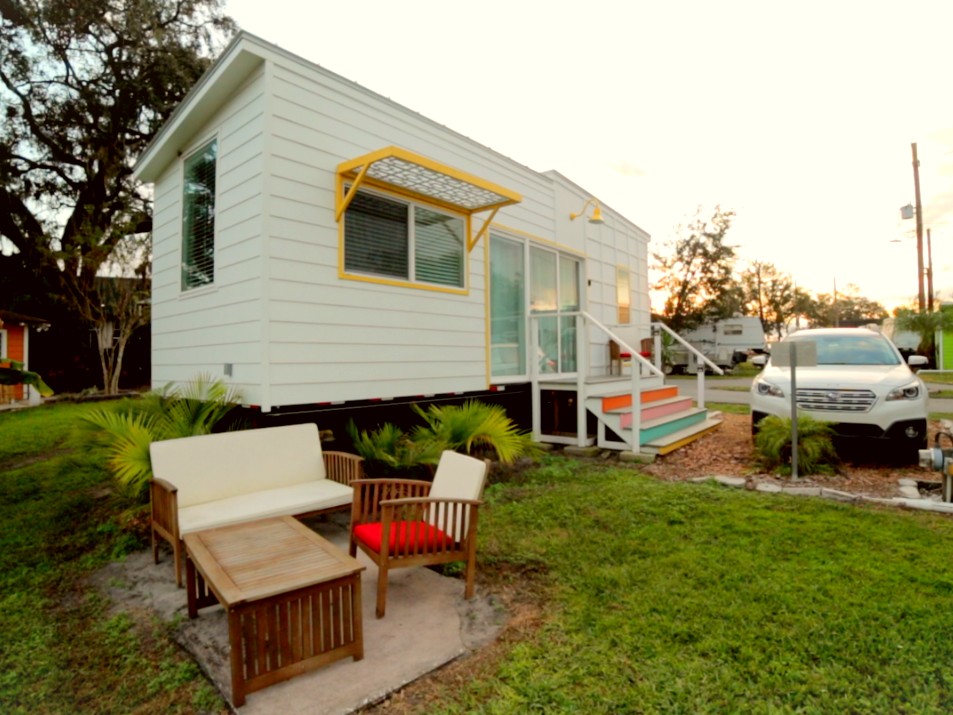 Work out the Direction of Your Windows
The best way to shade your windows often depends on their orientation!
After all, the sun is in different places throughout the day.
Windows that face eastwards will get the most sunshine in the morning as the sun rises. Those facing westwards will heat up in the evening at sundown. Windows that are oriented toward the south can have near-constant sunlight on them throughout the day; those facing north will get little to none.
As you can tell, taking a one-size-fits-all approach to window shading will never deliver the best results. Considering their direction is the only way to install effective solutions.
With that behind us, let's move onto some of the specific window shading options you have at your disposal!
Jalousies
Apart from being an exceptionally cool word, jalousies (pronounced 'jah-luh-sees') are an effective means of keeping the light off your windows and out of your tiny house.
Especially true if your home faces the south.
Never heard of them? We don't blame you!
These ingenious French inventions have been around for centuries. But few people would know what you were talking about if you brought them up in conversation.
Jalouses are those horizontal slats of material that are suspended in a frame and can be tilted open and closed.
Want to block out the sun (not to mention the prying eyes of your neighbors)? Simply close your jalousies!
And no, we don't mean 'louvers.' That's a common mistake. However, as we're about to see, these are two distinctive window-shading creations.
Louvers
Louvers bare many similarities to Jalousies.
They're horizontal slats of materials suspended in a frame that can help keep the sunlight off your windows (especially south-facing ones!). Oh, and they're just as ancient and French.
There's one essential distinction, though.
Louvers don't move. These slats are secured in an angled parallel position and have no means of being opened or closed. You're stuck with what you've got, whether you like it or not!
Love the idea of louvers but have a tiny house that faces east or west?
Well, think about mixing things up and installing vertical louvers instead. They're not so effective when the sun's high in the sky. However, due to the nature of your window orientation, that shouldn't be a problem.
With a low rising or setting sun, you'll enjoy some newfound shade while still having a view.
Awnings
Awnings are highly-effective exterior shades that are used all over the world.
It doesn't matter whether you're trying to stop the sunlight hitting your skylight, decking area, or a single window. There's an awning of the requisite size and style that'll do the trick.
Retractable awnings are often best-suited to the task.
These versatile shading-solutions can be extended and pulled back to suit your needs. Want the sunlight streaming in? Retract the awning. Want shade instead? Extend it out!
Even better, they double as weather protectors too.
If rain or snow starts to fall in wintertime, then you can extend the awning to enjoy the shelter it provides. Be careful in strong winds, though. Unsecured awnings will be swept up and away, causing potential damage in the process.
Shutters
Shutters can do a great job of keeping the sun off your windows too.
Assuming they're well-fitted and made from high-quality materials, they should stop the sunlight coming in. Nicely, they're attractive as well- not to mention a means of protecting your property in hurricanes and against intruders.
However, a downside of shutters is that they're all-or-nothing shading solutions.
You're either blocking all of the sunlight out or letting all of it in! That's unideal for anyone who wants to enjoy the view while staying cool indoors.
Of course, you can open shutters to varying degrees in fair weather. But you can only secure them in place when they're fully open or closed. If the wind picks up, they'll be swinging and banging in the breeze.
Don't Forget Glazing
Stopping the sunlight from hitting your windows isn't the only way to keep your home cooler inside.
The nature of the window itself makes a crucial difference too. Installing windowpanes that are either double or triple-glazed will provide high-quality insulation and energy efficiency.
The result?
Sunlight will still hit the glass, but its heat will be less able to get through. You get all the benefits of sunlight streaming in, with none of the overbearing temperatures. Even better, new windows with modern frames and extra glazing will stop the fresh, air-conditioned air from escaping too.
You'll be able to cool your tiny home more easily, which will help reduce your energy costs. Another option with similar results is window tinting or film.
Time to Shade Your Outside Windows
Sunlight's a two-edged sword for homeowners.
On the one hand, it creates beautiful light inside the house, brightening the mood and creating an airy sense of space in the process. On the other, though, it can cause your home to overheat and require expensive air-conditioning to regulate the temperature.
Looking for solutions to stop that happening? Installing shades on your outside windows is an effective way to do it!
A final multifunctional consideration is a sun-shade canopy.
It can both provide refreshing shade for your tiny house patio, and with clever placement, it can block some direct sunlight from entering your windows.
Hopefully, this post will help you pick the best shading option possible. Want to read more articles like this one? Browse our blog!
The Ultimate Tiny House Design/Build/Transition Workshop
Sign-up for this acclaimed 16+ hour Digital Tiny House Workshop to learn how to build a tiny house, the legalities to be aware, how to make the transition to living tiny, and more!
INCLUDED with the DIGITAL WORKSHOP:
54 bite-sized, engaging episodes
Downloadable follow-along booklet for note-taking
Over $300 in FREE bonuses, from tiny house plans to more how to's
Digital Diploma upon full completion of the course