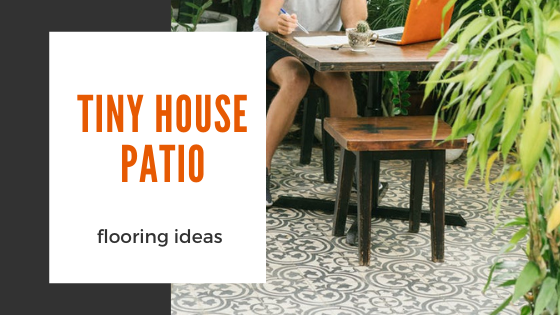 Beautiful Tiny House Patio Flooring Ideas
Complete your outdoor living space with beautiful tiny house patio flooring!
There are many tiny house patio flooring options that you can choose from, and deciding to pick among one of these can be difficult. Some even don't know the different options available for them. It can be extra challenging if you don't have a lot of space to work with your patio.
Here are some of the best and most beautiful patios flooring ideas for tiny houses. 
Wood-Plastic Composite Decking
When it comes to tiny house patio decking flooring, wood-plastic composite is among the best options available. Unlike wood, composites are more durable and long-lasting. It's also effortless to maintain, requiring only minimal cleaning to maintain its quality.
Another advantage is that composites are perfect for raised decks, which is useful for movable tiny homes.
While vinyl and plastic decking offer the same durability and long lifespan, wood-plastic decking has one clear advantage. Composite decking is more natural-looking and wood-like than PVC. Some high-quality decking even has grain textures, adding to the wood aesthetics. You can also go for single color varieties, which are equally appealing. If you want a beautiful decking flooring option, composite decking is one of the best choices.
The downside of composite decking is its price, which is higher than most deck flooring options. However, for its quality, long life, low maintenance, and beautiful appearance, the added cost is all worth it.
Porcelain Slabs and Tiles
Porcelain slabs and tiles are among the best choices for beauty. While most people think that they only belong indoors, thicker and more durable varieties are excellent flooring options for outdoor areas. Porcelain tiles are non-porous materials, able to withstand moisture, making them the perfect flooring option for places with rainy weather.
Not only do porcelain tiles offer superior durability, but they are also some of the most beautiful flooring choices. With many designs to choose from, you can either go for wood-like designs or rustic stone-like design. Not to mention, they are also low-maintenance, which makes them easy to clean.
Porcelain tiles may be best for permanently places tiny houses or those in long-term parking spots.
The downside of porcelain tiles and slabs is that some varieties tend to be slippery when wet. You'll want to get the least porous as possible. If the area where you'll install the tiles or slabs will experience heavy foot traffic, it's also best to get 20mm ones instead of the regular 10mm ones used indoors.
Another downside is the cost; porcelain tiles are pricey! Look for deals at reuse home and garden stores, like the Habitat ReStore. Keep costs down by using them as an accent piece. For instance, you could invest in a small amount to be used around an outdoor fire pit.
Artificial Grass Rolls and Tiles
One of the few things that make a patio look good is green grass. Unfortunately, not everyone has the time to install, maintain, and clean a grass lawn. Some can't even have a grass lawn due to space restrictions or having no dirt to plant it.
Fortunately, you can make do with artificial turf. If you love the feeling of stepping into the grass but don't want to deal with any dirt, then this one's for you. While having a slightly higher initial cost compared to real grass, fake turf is low-maintenance and long-lasting. Depending on the quality, it can last for at least 20 years.
Artificial grass is a great option for a movable tiny house patio or temporary yard!
And when it comes to appearance, it looks realistic. You may even have walked past yards having fake grass and never noticed it. And because it's synthetic, you'll never worry about it drying out and ruining your patio. Fake grass is also perfect for small houses. Aside from big artificial turf rolls, you can also get them in easy-to-remove and install tiles.
The only disadvantage of artificial grass is its high initial cost. Of course, it's also fake, which can be an issue if you like real grass. Other than that, it makes up for a beautiful tiny house patio flooring option.
Tiny House Patio Flooring Conclusion
There are many beautiful tiny house patio flooring ideas that you can choose from. For decking flooring, composites are some of your best options, while porcelain tiles and slabs make for striking, durable outdoor flooring. If you love grass, fake turf can be a good alternative.
These are only a few flooring options that you can choose for your small home. Of course, for the scrappy do-it-yourselfer, pallet wood provides a cheap tiny house patio alternative.
Digital Magazine Dedicated to Tiny Home Living
Do you have more time at home? Enjoy some inspirational reading from Tiny House Magazine!
Discover different types of tiny homes from liveaboard boats to Alaskan yurts, converted school buses, and more.
Try recipes from a tiny house kitchen. Each month we feature a recipe from the Tiny House Foodie. Learn to make it work and still cook like a pro.
Read excerpts from books on tiny houses, downsizing, and a host of other related topics.
Each month brings new topics and new, exciting articles!