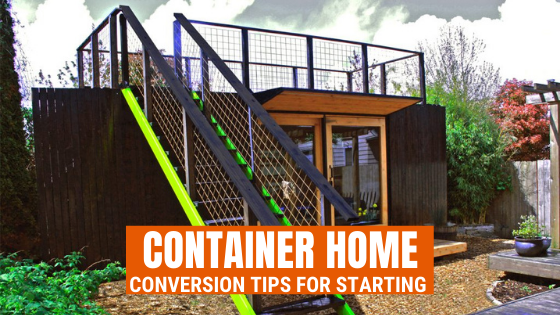 Minimalistic Container Home Living – 10 Tips to Know Before Your 1st Conversion
Reduce, reuse, recycle in style and on a budget with minimalist container home. But do your research!
Container homes have been a growing global trend over the last few years. Due to their simplicity and convenient size, architects find it very easy to be innovative in designing container houses. Containers can be easily stacked up or joined side-by-side to build larger rooms. Shipping container homes can be fully functional residential units that are well-integrated with the surrounding environment.
Shipping containers can help save on construction costs. You can either use brand new containers or upcycle used containers rather than building the house from the ground up.
However, it is unfamiliar territory for many people, and so, it is important to know all the factors you need to consider before choosing a container home conversion.
What You Should Know Before Building a Container Home
Shipping containers come in different configurations, including open-top, high cube, dry freight, insulated or thermal, refrigeration, and tank. You need to determine the one you really need for your container home building needs.
1) Check the shipping containers' condition before buying
It is essential to check the shipping containers that you are buying thoroughly. You can either check it yourself or take help from a professional to check things such as structural integrity, degradation of paint or steel due to corrosion, dents underneath and overhead, and information about past usage.
If you're buying multiple containers, also check if they are compatible with each other so that they can fit while joining. Usually, you get an 8 feet-high ceiling without insulation. But if you plan to install insulation, you need to buy 9 feet-high and wider containers, which are more expensive.
It is advisable to check containers in-person. But in the rare scenario that you cannot visit the container site personally, ensure that you get multiple high-resolution images from the seller that shows the container from all sides and corners.
You also can look up the shipping container serial number to find out what has been transported in it. Avoid buying one that was used for toxic cargo.
2) Used shipping containers can be a great option for a container home
If available in good condition, used containers are a great option for building a container home on a smaller budget. They are available at lower prices, compared to new containers. However, with used ones, you need to be very careful in your inspection.
Always check the usage history. If the container has been used in very rough conditions, it may have reduced structural integrity and lifespan. You need to look beyond the paint job and ensure that no corrosion or body is filling underneath.
Check 'one-time shipping containers,' which are as good as new. As the name suggests, the goods are loaded in them only once and shipped. Once the containers arrive at the destination, they are unloaded and sold in the after-market.
It all drills down to the budget you have and the lifespan you are looking for. New containers usually have a lifespan of up to 25 years, but used ones can also last long.
3)  Read up on your local rules for a container home
Container homes in the US can look and feel different from those in Australia. Each country has its own rules and standards that define the way your house will eventually look. Depending upon the weather, you may need to install a pitched roof to shed snow, for instance.
Regulations cover various factors:
Property zoning – Zoning is done by local authorities to segregate the land into chunks of areas and define the type of construction that can be done on it—for example, houses vs. high-rise buildings.
Building codes and permits – In the US and most other developed countries, the building codes and permits are based on the International Residential Code (IRC) and the International Building Code (IBC). These include international codes for plumbing, mechanical and electrical work, and fire protection. Some states in the US, such as Massachusetts, have their own building codes that you need to comply with.
HOA (Home Owners' Association) rules and Deed Restrictions (Restrictive Covenants) – Deed restrictions are often associated with the deed. They may require a court order to remove, whereas HOA rules can be changed by simple voting.
4) Don't change your design during container home construction
Once the design is complete and approved by the structural engineer and local authorities, changing it may jeopardize the quality of the structure and attract penalties due to non-compliance with the approved design.
We strongly advise you to make all the revisions before the design is approved and stick to it.
5) Don't cut or modify the containers too much
Shipping containers are manufactured to last long in harsh conditions. It means that cutting any large chunks out of its walls may weaken the overall structure. Not only will it cost you more to cut steel walls and reinforce it with a beam, but it will also reduce the overall life of the container.
With the right research and guidance, shipping containers can still be intelligently modified to construct a cozy cabin, a million-dollar home, and anything in between.
6) Choose your insulation wisely
Depending upon your geographical location, insulation may be necessary to contain thermal energy and prevent water vapor from entering the container. Steel is an excellent conductor of heat, and a bare-bones container may not be able to keep your house warm. But it also depends on the climate and location you are building at.
Choosing the type of insulation depends on performance, R-value, net interior space, air leakage, vapor permeability, cost, and eco-friendliness. You can choose among any of these options –
Non-traditional straw bale and hempcrete insulation.
Blanket insulation from fiberglass, slag, mineral, and rock wool, sheep wool, and cotton.
Loose-fill insulation using cellulose, fiberglass, vermiculite, and perlite.
Expanded foam insulation using either spray foam or various kinds of foam insulation boards, or a combination of the two types.
7) Finding contractors for container home conversions can be difficult
Since shipping container homes are a relatively new concept, finding contractors who can do the job is difficult. You can also consider building the house yourself and bring in contractors for electricity, plumbing, insulation, or welding work, as needed.
8) Think about any potential chemicals
Shipping containers are built and customized to handle harsh environments. For example, the wood floor could be treated with rat poison and external walls painted with weather-resistant paint that may have harmful effects.
You may need to consider these points and replace some container elements with others that are safe for human use. Or else you can buy a new container, which would be more expensive.
9) Avoid welding as much as possible
This brings us back to the point of carefully inspecting the container. If you buy a container with too much corrosion, you may have to cut large steel chunks and weld new pieces. Of note, this will weaken the container, shorten its life, and add to your expenses, which you can spend on other more important things.
How Container Homes Encourage Minimalistic Living
Container homes have become the chic poster child of minimalism in house construction.
Architect Marília Pellegini's Casa Container in São Paolo, Brazil, for instance, is a 194-square foot home comprising of two shipping containers. It is a great example of minimalistic living with a union of sustainability and contemporary design. The home décor matches the minimalistic design, a landscaped patio with a self-irrigating hydroponic garden and a bamboo garden.
Ready to get started on your own container home?
You can purchase new or used shipping containers to build cozy, minimalistic, and self-sufficient homes that can even go off-grid with roof-top solar panels and greywater harvesting systems. Importantly, shipping container homes can be tiny or large, depending on the number of containers used.
But as a minimalist small container home, you can more easily have a full-sized kitchen, a large bathroom, and even a spacious living area for social gatherings, as compared to a tiny house on wheels.
Conclusion
Shipping container homes attract more and more people because of their cost-effectiveness, ease of construction and modification, durability, and versatility. There are few limits to how innovative you can be in the design and utility of a shipping container home.
Go ahead, choose a container, and start building your own cozy minimalist home.
featured cover image: Model One Container Home
The Ultimate Tiny House Design/Build/Transition Workshop
Sign-up for this acclaimed 16+ hour Digital Tiny House Workshop to learn how to build a tiny house, the legalities to be aware, how to make the transition to living tiny, and more!
INCLUDED with the DIGITAL WORKSHOP:
54 bite-sized, engaging episodes
Downloadable follow-along booklet for note-taking
Over $300 in FREE bonuses, from tiny house plans to more how to's
Digital Diploma upon full completion of the course