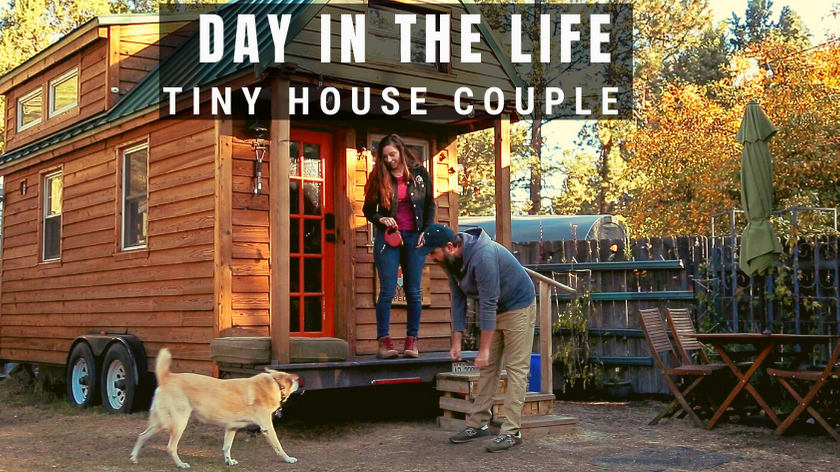 Day in the Life Tiny House Couple Working from Home
Enjoy a realistic look at what our day is like in our 130 sqft tiny house together, working from home.
We've been living in our tiny home on wheels for five and a half years now. Most of that time has been a nomadic lifestyle, living for a few days to a few months in different locales.
Now, we're trying out home base life in a longer-term tiny house parking spot, where daily routines are easier to maintain. It's a refreshing change of pace for us. Another positive side effect of staying put is the ability to create a cozy, functional outdoor living space. It's invaluable to have more room and a way to mix up our scenery during days at home.
Have you ever wondered what it's really like to live in a tiny house with your partner?  How about one that's only 130 square feet?
Every day we navigate our tiny home together. Literally, we're together all day long because we both mostly work from home. Spoiler alert: patience is required. 
This what our day in our tiny home is like.
We wake up every morning at around 8 am. Christian is the first to go downstairs while I stay in bed and do a couple of stretches. I am not a morning person, and this really helps me wake up.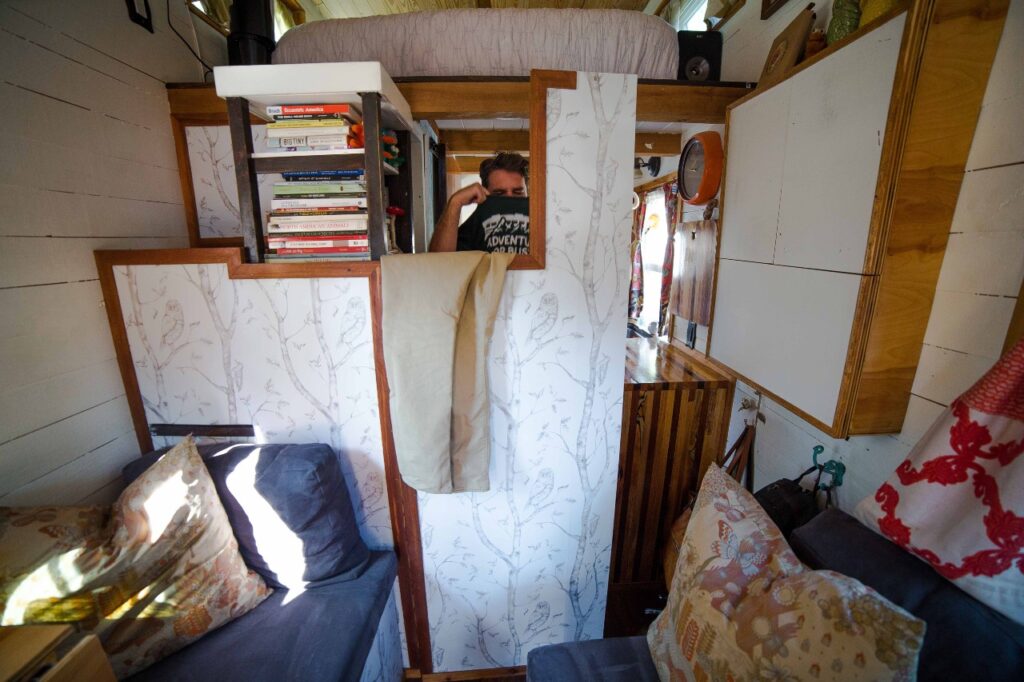 By the time I come downstairs, Christian has already gone to the bathroom and brushed my teeth. While he cuddles our sleepy baby girl, Winnie, I can easily access the bathroom and get dressed. We get dressed behind what we like to call the modesty door.
Next, I quickly open all the curtains to let in the light. Closing them a night feels so cozy, but our tiny house can feel like a cave in the morning.
By this time, Winnie is itching to go on a walk. We all take a 20-minute walk together around the neighborhood. This is where we like to talk about what we have planned for the day, either a video shoot or a day of computer work—editing, blogging, managing our websites.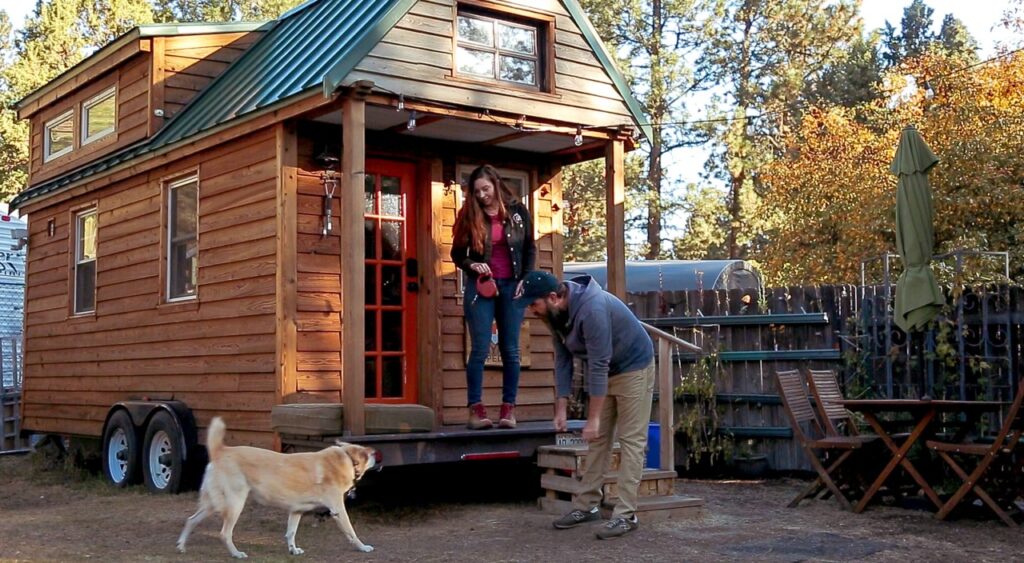 When we get home, it's time to sweep out the tiny house. A daily necessity thanks to Winnie's shedding. Christian waters the plants while I make coffee.
Our morning routine helps us feel refreshed and ready to work.
It's nice to have a change of scenery before spending most of the rest of the day working on the computer.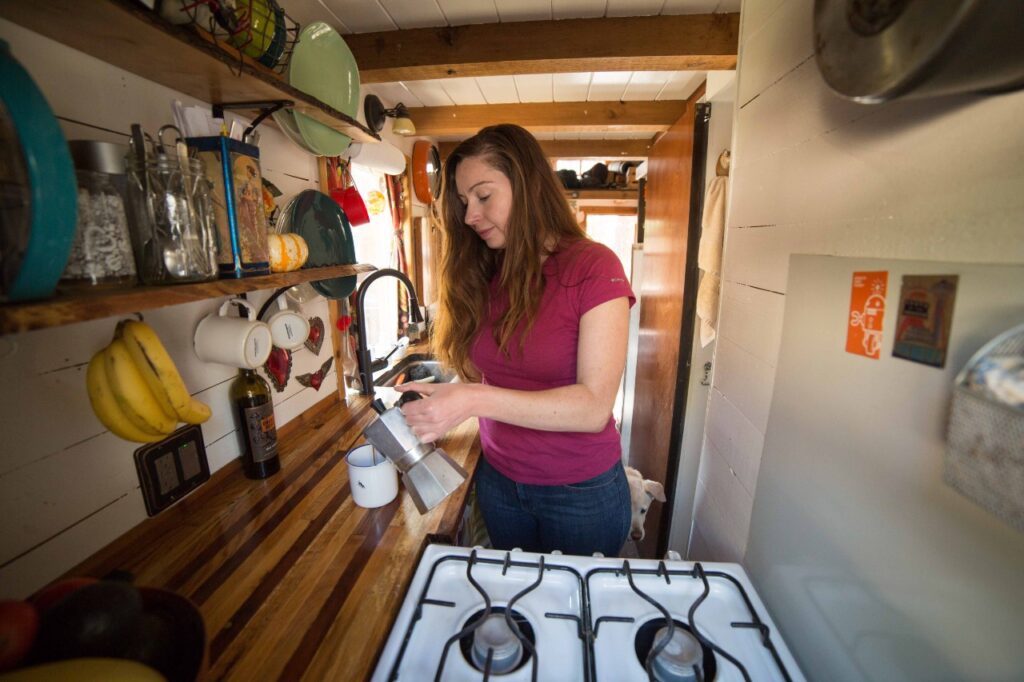 We set up our work station, aka our everything table, and work in various configurations throughout the day. Not surprisingly, this can require a bit of patience to navigate around each other because, at some point, we will get in each other's way. But we make it work.
Our communication and problem solving skills have greatly improved thanks to the last several years of working and living together in our tiny home.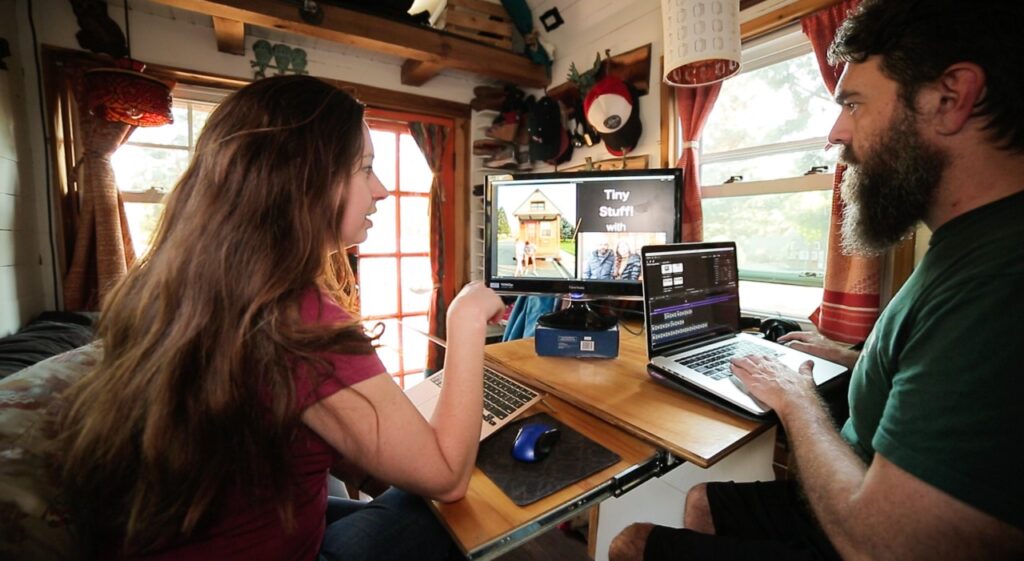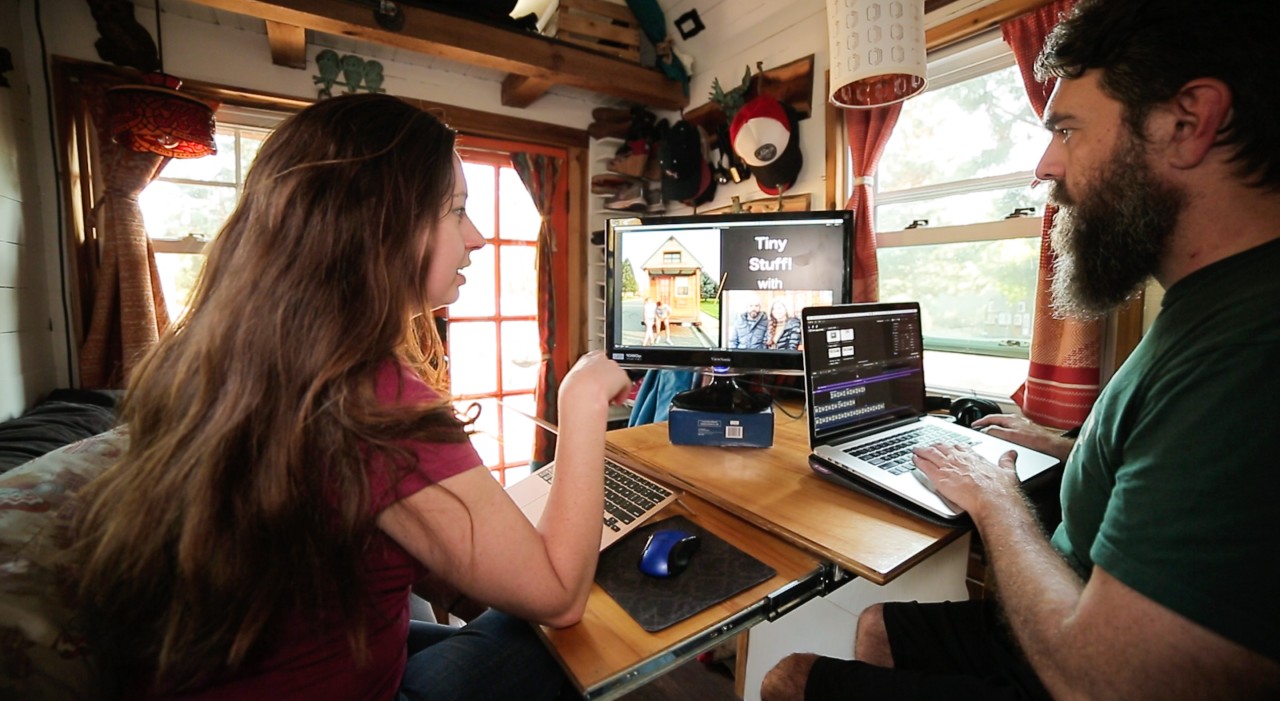 Around mid-day, I like to mix things up. So I switch to the standing desk.
By 12:30-1 pm, it's time for a lunch break. Our typical "brunch" meal consists of an omelet with tomatoes, green onions from our little garden, and bacon. Life is better with bacon.
While we eat, we listen to the news, touch base with each other, and then tune out. We've gotten really good at being alone together.
In the afternoon, we continue our work. This when we often collaborate on our latest video edit. On shoot days, we're out all day filming. We break around 5:30 to walk Winnie again. Followed by playtime!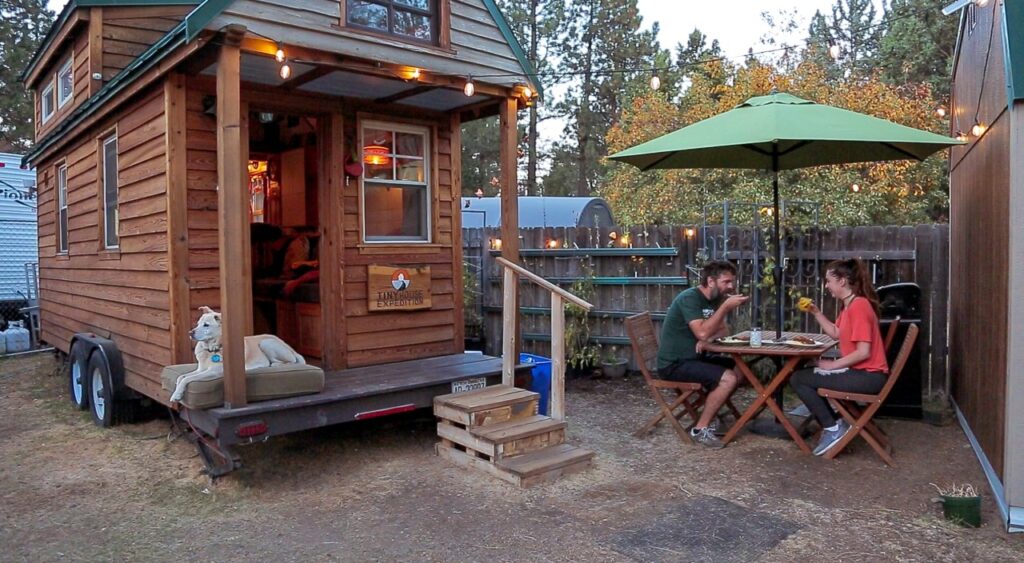 Then we wrap up our workday around 7-7:30. This, when I like to work out in front of the tiny house. And Christian unwinds in the yard or works on a hobby project.
Then it's time for dinner.
Lately, I've mostly used the grill to minimize heat in the tiny house.
However, with winter coming, I'll definitely cook inside more. Depending on the weather, we often eat on our patio.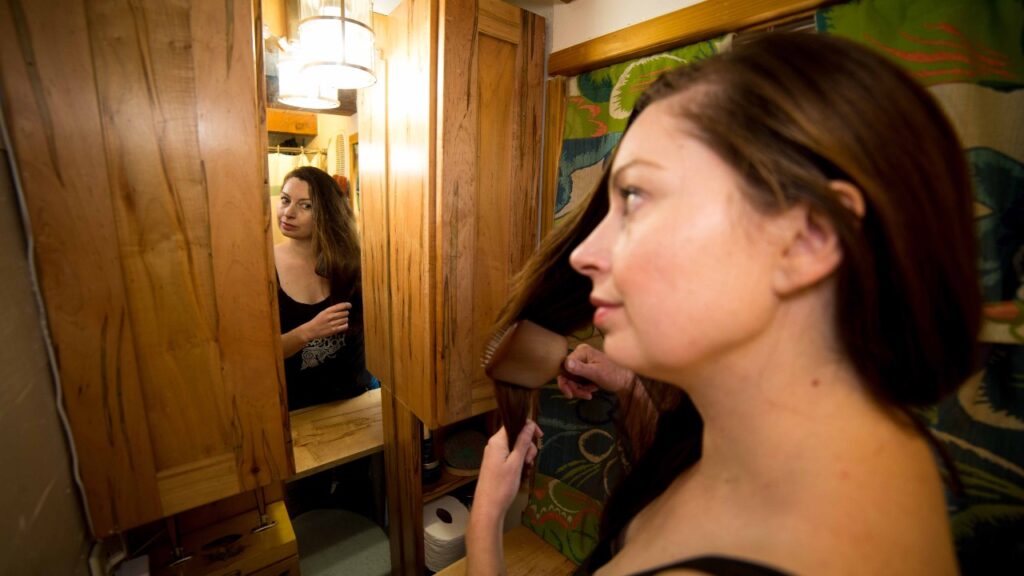 While I shower and get girly, Christian is busy crafting and watching funny YouTube videos. Then we both settle in to watch TV. By 11, it's time for our nighttime routine and lights out.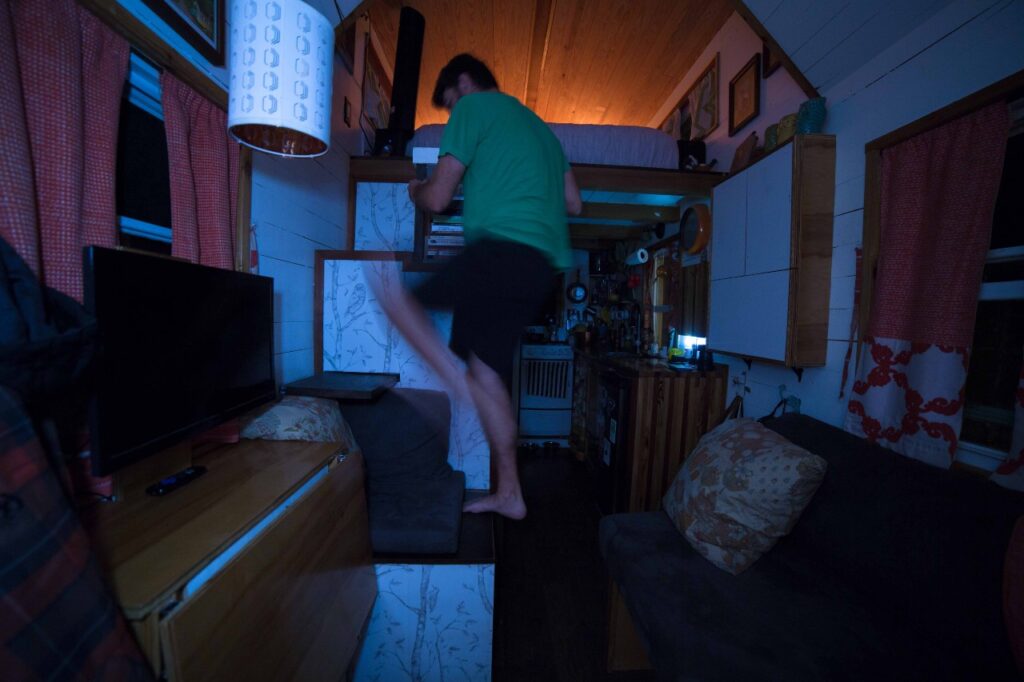 Ultimately, our day isn't much different than anyone else's. Though, for us, our tiny house feels like a Swiss army knife to help achieve all that we need to do.
Exclusive Content
Monthly LIVE tiny living discussions with extended Q&A, plus BONUS content, like behind-the-scenes filmmaking and tiny home life insights.
Early Access
See new videos first, get first dibs on new online courses and more!
Exclusive Giveaways & Discounts
Win tiny living festivals passes, and more!
Join today!