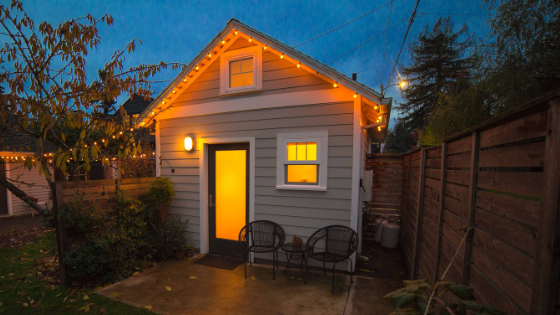 Best Home Improvement Ideas for Small Spaces
Are you envious of large homes and the potential for exciting (though pricey) home improvements that come with them? Having a small home doesn't mean you have to miss out! Small houses have many advantages, including a comfortable and cozy space that requires less maintenance.
With small spaces, home improvements are about making the room appear larger and optimizing storage and floor space. Fortunately, you won't have to spend as much on materials as compared to larger houses.
Check out some of the best home improvement ideas for small spaces to begin brainstorming how you can enhance your small home.
1) Hang High Curtains
One expert tip to make small spaces seem larger is to hang your curtains or drapery as high as possible. This tip gives the illusion that your room is larger than it is. For rooms with moldings, curtains can be hung about 4 inches above the window frame. If you don't have molding, hang your curtains about 6 inches above it.
Ideally, your curtains should barely touch the floor. When selecting curtain textures and colors, vertical print prints such as stripes can add extra illusion to your room. Check out these best drapery choices for small homes for more design inspiration.
2) Repaint With Lighter Tones
Dark walls and decor can make a smaller space seem darker and even smaller. Choosing light, neutral colors for your walls can help the room seem more open, brighter, and more spacious. Whether you paint one room in your home or all, painting can make a big difference in opening up tiny spaces.
If your room has crown molding or molding, paint the molding a few shades lighter than the wall color. This tip deceives the eye, giving the illusion of a larger, more prominent space. If you're on a budget, repainting is an affordable home improvement idea that won't break the bank.
3) Add Mirrors to Every Room
Another tip to enhance your small space is to add mirrors. They can be used for decorative purposes and not always just for bathrooms! Adding mirrors provides an optical illusion that deceives the eye and reflects light to make the room seem larger. Whether you choose floor-length or door-covered mirrors or small, decorative artwork with mirrors, adding mirrors is a fun way to freshen up your small spaces and make them appear bigger and provide more light.
4) Change Up Your Kitchen Backsplash
Can't afford an entire kitchen overhaul? Upgrading your backsplash is a fun way to make your space feel brand new. With many different materials, you can select a bright tiled backsplash that pops or the classic subway tile.
Today, many DIY kitchen upgrades use easy-to-apply adhesive backsplash tiles. These come in pre-cut sheets that simplify application instead of hand-placing individual tiles.
5) Upgrade Your Bed
Finding the perfect bed size for a small space can be difficult. If your bed frame or mattress is outdated, old, or just downright uncomfortable, upgrading your bed can be a great way to freshen up your bedroom. Remember, small spaces should not be overpowered with beds that are too large or bulky. This guide can help you determine the best bed frame dimensions for your room size. Many mattresses are available with different dimensions designed for small spaces.
While you're at it, it may also be a great time to consider upgrading your bedding. It can change how you feel about your room.
Also, consider switching to a Murphy bed? When not in use, easily tuck it away to create open floor space.
6) Revamp Your Closet
In small homes, closet space may be limited. As such, you want to maximize every bit of storage space in your home. If your closet seems cluttered and tight, it might be time to tackle a reorganization project. To make it fun, paint the inside walls a bright, fun color to provide dimension. You can also choose a vibrant wallpaper or one with a funky pattern. Then, add as many storage solutions as possible to make the best use of the space. This includes drawers or shelving, baskets, hanging rods, and over-the-door hooks.
7) Eliminate Clutter
Over time, you're likely to have accumulated excess clutter. It's human nature. For small spaces, clutter can make a room feel extra messy and crowded. As you approach home improvement ideas, sorting through your belongings that serve little to no purpose is also a good idea. Hold a yard sale or donate items to a thrift store to open up your space.
Design and decor for small homes should be highly curated to keep them from feeling cluttered and best reflect your personalized style.
Easy Home Improvement Ideas for Small Spaces
Want to get started improving your small space? Try one or multiple of these seven home improvement ideas today!
Don't have a small home yet? Think about downsizing! As previously mentioned, owning a small home offers so many benefits, including living a fulfilling simple lifestyle.
To learn more, read this blog post featuring ten reasons you should consider small house living. This may be the convincing you need to downsize!
Check out previous tiny home improvements we made!
Have you ordered our book yet?
Learn the history of the modern movement, get a breakdown of tiny home styles, and meet the passionate tiny community. The Beginner's Guide to Tiny Houses also discusses the pros and cons of micro-living―is a tiny house right for you, right now?
What people are saying:
"Most books about tiny homes are really just about the fantasy, with beautiful pictures in far-off places, but they don't tell you how to get from point A to point B. That's where this book comes in and fills in all the gaps!"