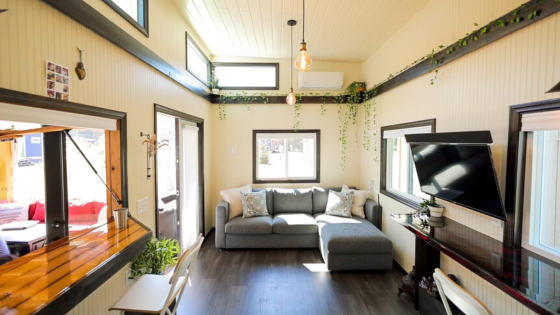 Builder lives in a Bright & Spacious Tiny House
Meet Mike, a passionate builder living in a bright and spacious tiny house full of comfortable, practical features. But he wasn't always into small spaces. He began building massive homes before fully embracing small-footprint living and THOW building.
Living in one of his creations has given him firsthand knowledge of what works well and what doesn't. As Mike will tell you, this has helped him improve his tiny house designs. After moving his business from Florida to North Carolina, he's now starting to build more homes on wheels for others.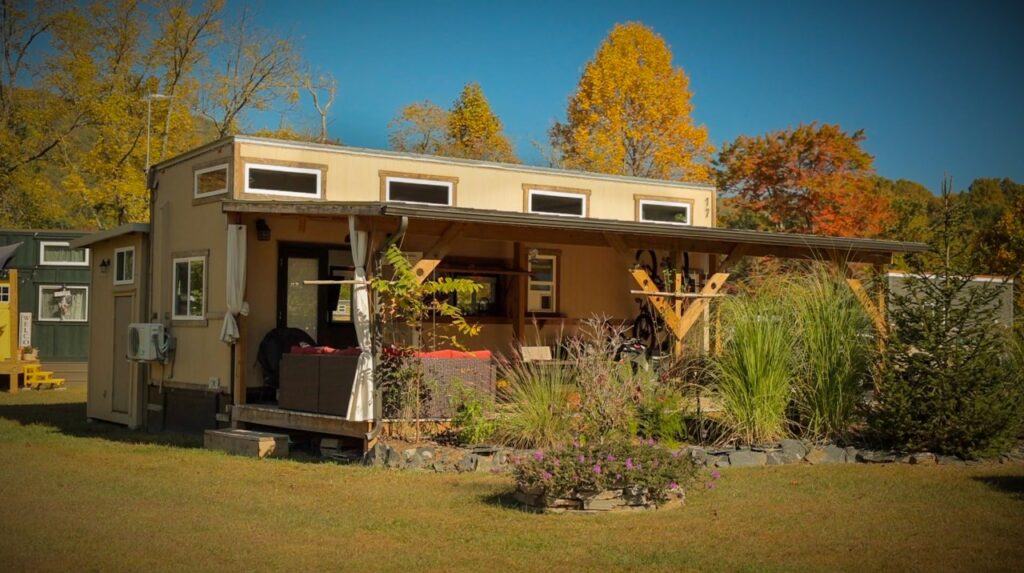 At Acony Bell Tiny Home Village, where he lives, Mike helps his neighbors with repairs, skirting, and other handyman projects. He shares his experience when he first moved in, as well as his thoughts on certification:
"Every day I was working on a new tiny home, whether I was setting it up, hooking up the plumbing, water, electric, skirting it, putting vapor barrier under it, insulating the basement walls, and then skirting it with whatever choice they wanted.

I had lots of fixes here. Windows that were flashed wrong. Doors that are flashed wrong. Roofs that didn't have any type of tar paper, any type of ice, and water shield. So all metal roofs will always condensate a little bit, and then drip down onto the-- well, supposed to be the tare paper or ice and water shield, and then it runs down off of that and drips off the eve.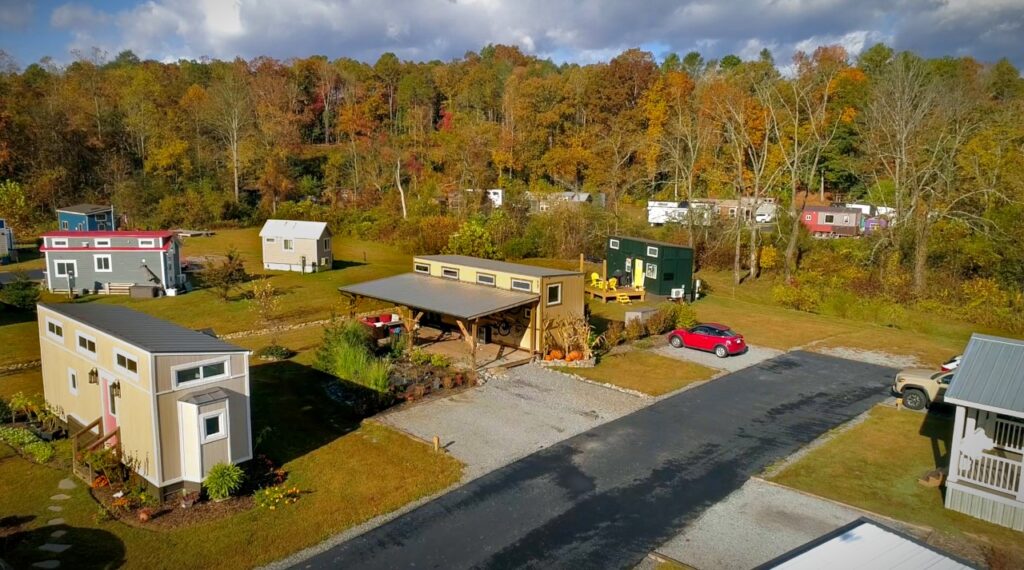 The certification is good. It gives you obviously more than something that hasn't been certified. One of the really important things is like if you've got a DIYer that has YouTubed how to do electrical work. I mean, I've been doing it since I was eight. I was pulling wire at that point; I wasn't doing much except for pulling wire. But I mean, at least with, like, say, NOAH, they inspect all your wiring.

So NOAH starts out, they inspect your trailer, then the framing, pattern and nails, and all that with framing. Then you go on to electrical and plumbing connections and all that. So at least if you have NOAH or RIVA but that kind of pertains to a little bit of a larger builder.

Don't 100% trust just because it has the NOAH certificate that, it's OK. I would still bring in somebody to inspect my home, even with any type of certificate."

-Mike Wasek, Mike's Custom Tiny Homes
Inside Mike's Bright & Spacious Tiny House
Mike's impressive, spacious tiny house on wheels is 30 long by 10 wide with an interior height of 10 feet 8 inches. That's definitely taller than most! The high ceilings, extra width, and many well-placed large windows make his 300-square-foot home feel extra spacious.
A pass-through window, for instance, adds to this feeling by connecting the indoor and outdoor living spaces. Mike's covered porch almost doubles his living room. Thanks to an outdoor heater and curtains, it can be utilized year-round.
Practical features make Mike's tiny house stand out for many other builders. L-shaped counter seating between the living room and kitchen offers dining and work-from-home opportunities. Underneath, you can easily store any necessary work equipment like a printer, easily accessible but out of sight.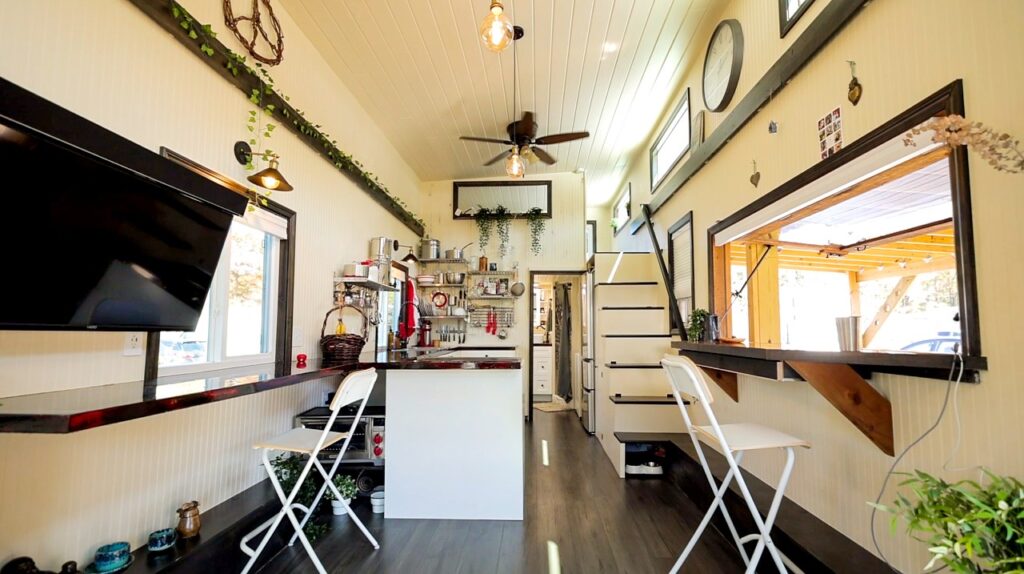 He installed a simple cable-wrangling system to keep things tidy. Something that's typically overlooked. You pass a cord down behind the wall so it's hidden and pops out underneath.
Mike also practically placed storage throughout his tiny house. For example, the bathroom holds everything you need for easy washing, folding, and dressing. On one side is a stackable washer & dryer. Across from it is a counter for folding clothes, next to the large closet. Simply perfect.
Watch the tour to see more of his spacious tiny house!
Mike plans to sell his THOW in the next year or so and then build his dream tiny house. If you want to buy it or commission a custom home, contact him here: [email protected]