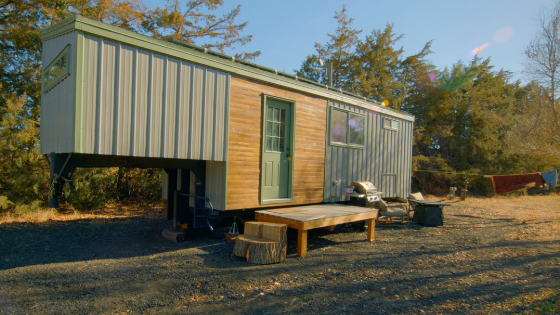 Couple Built $38k Tiny House in 3 months
$38k Tiny House Built wiht 50% Recycled Materials
Meet Sonja and Tim, college students who built a $38k tiny house over the summer in just three short months. They finished it just in time for the start of school. But not only did they accomplish this impressive feat, Sonja and Tim created a work of cozy art that is incredibly efficient and entirely off-grid. It's clear: these two have a bright future!
"The time that we had, we made it really beautiful with that time, so that's also special in its own way. But if we were to do it again, it would have been nice to have some extra time to do more of those really tiny, super detail-oriented time-consuming things that we didn't get to do in the house.

Towards the end, we did have to decide, like "yes, we did want to build this, but we only have the time to buy something that will work."

With the time we had, we spent about a year and a half prior to starting our build collecting things for our build. So it honestly would have been nicer to have more time for that as well. But you do need space to store that stuff. I would say like 50% of the house is reused or found. It would have been nice to say a higher percent.

The house cost overall about $38,000. That's $30,000 for the house and $8,000 for the off-grid setup."

-Sonja & Tim, @thebiglittletinyhouse
Inside Their DIY $38k Tiny House
Sonja and Tim built a 350 square foot gooseneck tiny house that's fully outfitted to be self-sufficient. For example, they installed nine 250W solar panels with a 6000w inverter and an expansive battery bank. Additionally, they made room for a 150-gallon water tank that can last a couple of weeks or more.
The interior craftsmanship is where Sonja and Tim's DIY tiny house really shines. It's customized to maximize usable storage space, a comfortable bedroom, and functionality for everyday needs like cooking and studying. Impressively, their massive closet is conveniently organized and multifunctional. It doubles as a privacy wall between the main living space and the standing-height bedroom in the gooseneck section of their tiny house.
Watch the tour above to see more of their incredible $38k tiny house!
Follow Sonja and Tim's tiny house life: @thebiglittletinyhouse
Thanks to our sponsor, Birch!
Visit https://birchliving.com/tinyhouse to get $400 off your Birch mattress, plus two free pillows!
Our NEW Tiny House Book!
"Alexis and Christian are great people and when they write a book about tiny houses, you can have confidence that it will be jam-packed with valuable information. This book delivers all the info you could possibly be looking for regarding tiny house living. Target for this book is someone that is feeling a bit overwhelmed and isn't sure what they need to consider as they embark on their tiny house journey. This book will provide the info they need and should help anyone in this position. Well done. Well written. 5 Stars."