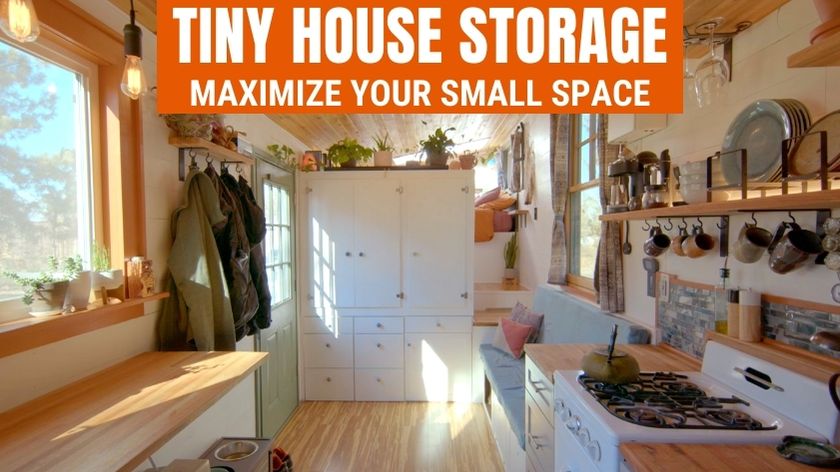 Tiny House Storage: 5 Tips for Small Space Living
Hello Friends!
It's Alaska, your Tiny House Concierge back again! Today we're talking about the all-important topic of tiny house storage.
Living tiny is a different thing, and while it's the best time ever, there are a few things that need to be carefully considered. My work as a tiny house consultant has taught me that these considerations range from financing to toilets, but if there is one thing that I see people struggle to wrap their heads around, it's this: what does one do with the stuff? And that, Friends, is why we are going to discuss tiny house storage today. 
Believe me when I tell you that the craftiness of tiny house storage goes on forever. Every day a tiny houser (or tiny house builder!) invents something that would blow all our minds. For today, however, I will keep it simple and give you five tips that will dramatically improve your experience of small space living.
Let's dive in!
1) Google "Pull-out Pantry"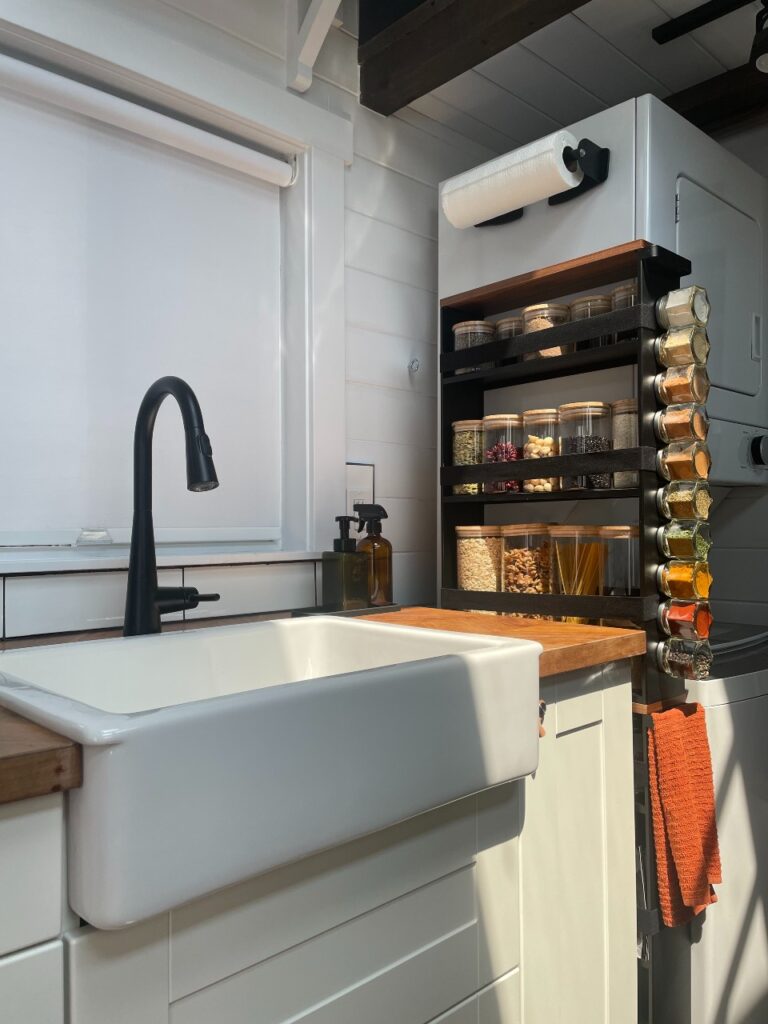 The pull-out pantry in my tiny house is 5.5 inches wide. This makes it the perfect width to fit between the kitchen counter and a stackable washer and dryer. Why is this a better storage option than cabinets? Well, to be fair, I have a few cabinets too, but having a pull-out pantry means I can have less in the way of cabinetry.
More specifically, a pull-out pantry allowed me to skip upper cabinetry, which goes a long way in creating a feeling of openness in a tiny house!
The openness is one benefit, but honestly, my favorite part about pull-out pantries is the way you don't have to dig for things the way you would in a cabinet or drawer. After all, who cares how many items you can fit in a tiny house if you can't find anything?
Pull-out pantries are all made slightly differently, and you'll want to do a little more digging to discover the one that's right for you. Some are built-in, and some are not. Some hide everything, and others (like mine pictured here) hide just what falls below the counter.
Do you have a favorite olive oil that comes in a tall bottle? Not a problem- just get yourself a pull-out pantry with adjustable shelves!
2) Consider a Storage Couch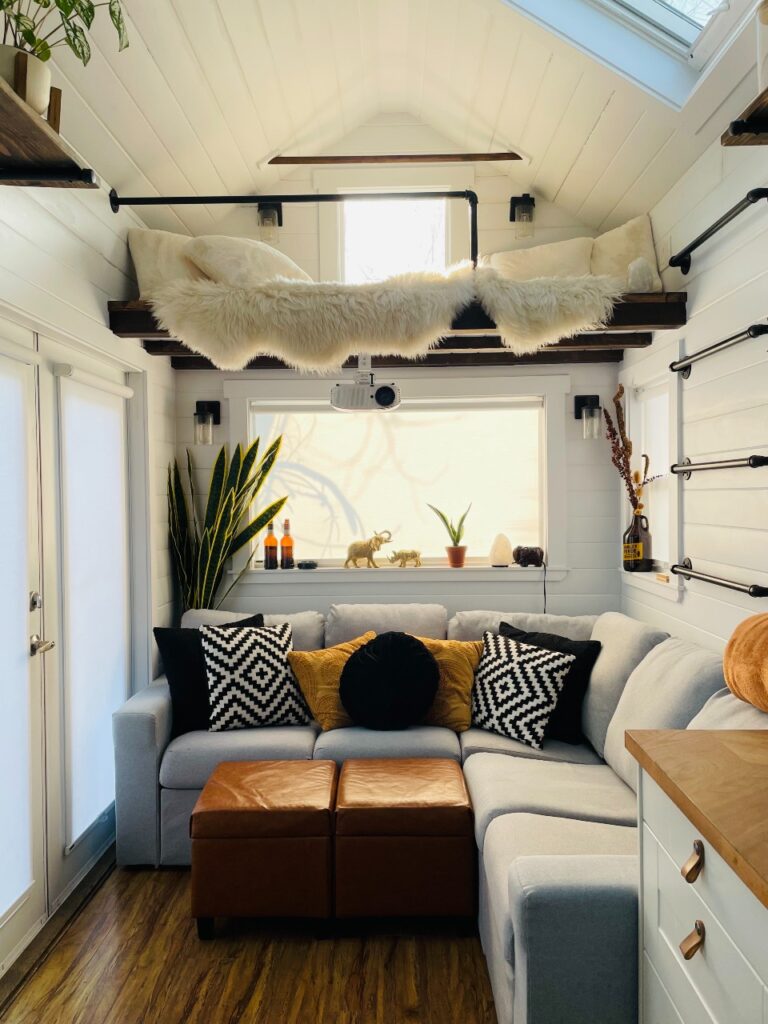 Couches take up a lot of space in a tiny house, and that's why it's imperative that they serve more than one function. While some people prefer to have pull-out-style couches for guests to sleep over, I prefer a couch with a storage option.
My couch may look like 'just a couch,' but the truth is that each of the cushions lifts up to reveal a storage bin. Want to know a secret? The storage doesn't end there! Let me explain.
See that space in the back of the couch? Well, of course, you don't, but if you got really close, you would find that my dining room table is hidden back there- as is my 70-inch projector screen! Oh, and the collapsable extension arm that opens the skylights lies in between the cushions, a can of Damp-Rid is tucked behind the arm, and there are definitely a couple of french fries located UNDERNEATH the couch.*
3) Skip the Pillows
OK, Friends, tiny house storage tip number three is not one I've personally utilized, but it is so genius that I have to bring it up! I believe the original credit for this nifty idea goes to vanlifers. So, I'd like to take this opportunity to give a shout-out to our tiny house cousins who figured out that you can stuff pillowcases with off-season clothing INSTEAD OF PILLOWS.  
How cool is that?! Your pillows will have cush, your clothes will be hidden, and your seasonal needs will be attended to without having to rent a storage unit.
Even better, you won't be dedicating your precious tiny house space to something boring like pillow-fluff. Pro-tip for making this work: get pillow covers with thick fabric to smooth out any lumps. 
4) Buy Functional Art Whenever Possible
The functional art trick is one of my favorite tiny house storage hacks! It goes like this: buy aesthetically pleasing versions of things you use often and store them in plain sight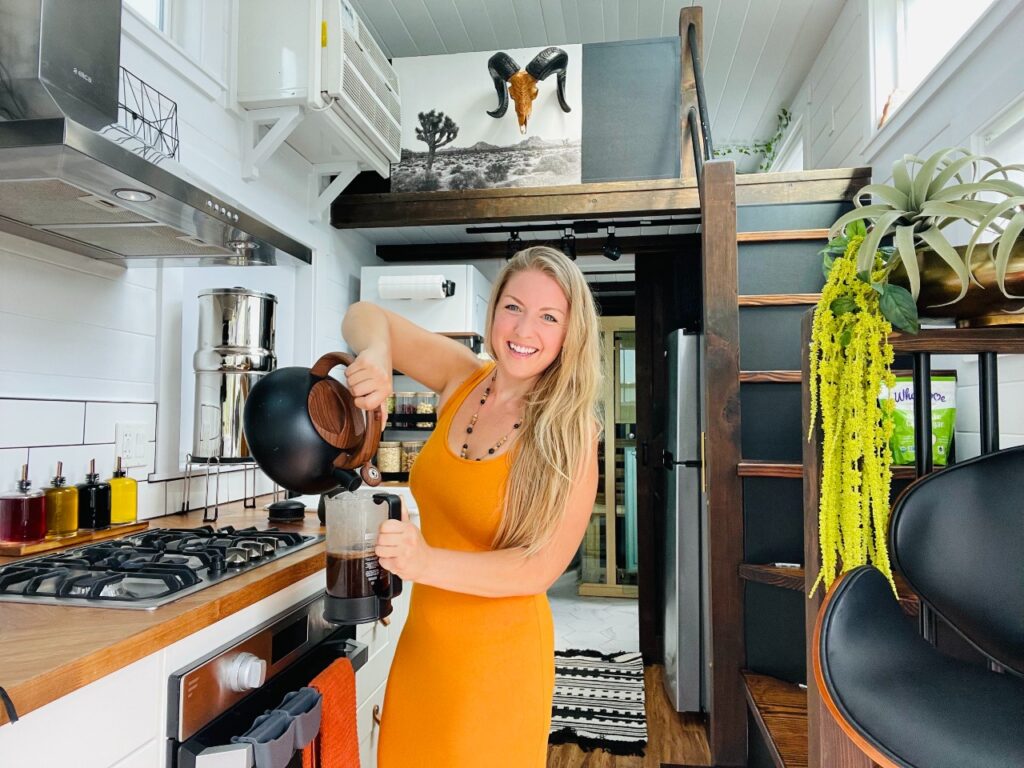 Why is functional art so important in a tiny house? Well, tiny houses only hold so many things, so when you combine functionality with aesthetics, you give yourself the option of storing things out in the open without making a small space look cluttered.  
Additionally, when you live tiny, you live in closer proximity to your belongings, which means that you experience them more deeply. Owning things that you love above and beyond function will heighten your experience of tiny house living, and storing them in plain sight will ensure that the waves of gratitude continue forever.
My favorite example of functional art in my tiny house is definitely my kettle. It's something I use several times a day, and it matches the decor perfectly. For these reasons, the kettle lives on the stove, and I get a little spark of joy every single time I see it!
5) Think Vertically
Well, Friends, that brings us to tiny house storage tip number five! The fifth tip I have for you is this: think vertically. Most tiny houses have eleven-foot ceilings. In addition to feeling incredibly fancy, this also means that you have more upward space to play with than you might in some traditional homes.  
Why is it of utmost importance that you utilize vertical space? Well, remember that tiny houses, by definition, are four hundred square feet or less. This means that your floor space (and counter space!) must be used judiciously. Extremely judiciously. And it's for this reason that thinking 'up' rather than 'out' is so important. 
So how might one integrate vertical storage? Honestly, the possibilities are endless, but here are just a few ideas.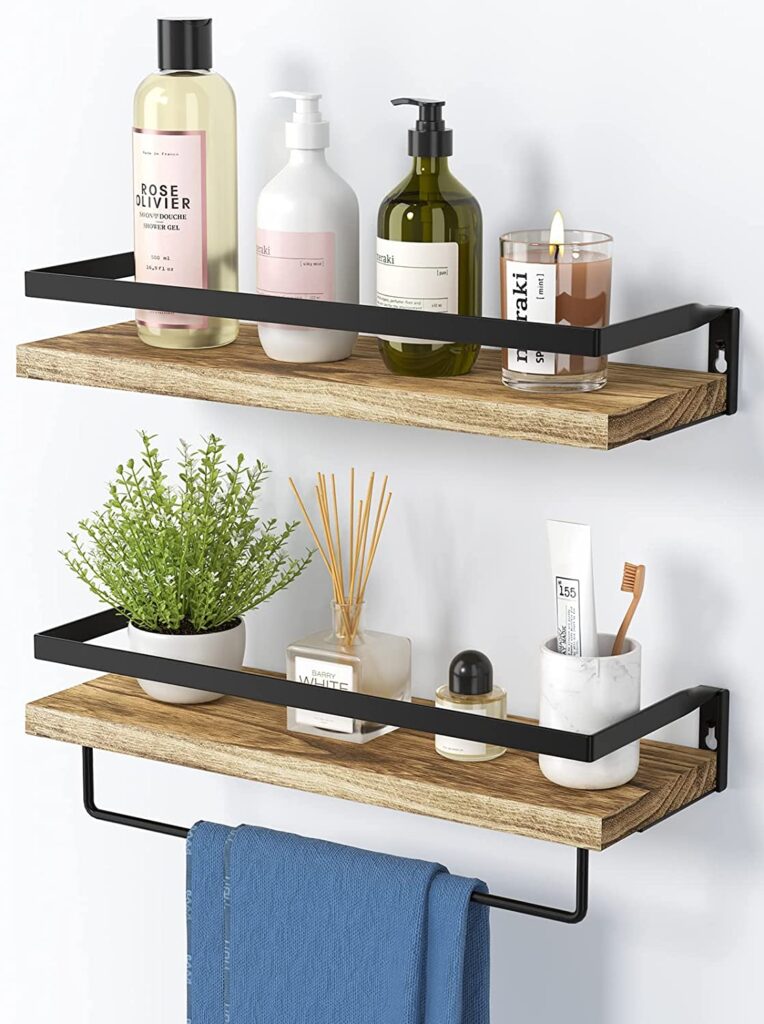 Floating shelves or wall-mounted cubbies will go a long way in a tiny house bathroom. They keep things easily accessible while not taking up precious square footage. But are there things you want to hide? Not a problem. Just put baskets in the cubbies to keep non-aesthetically pleasing items out of sight.
Clothing storage is another area in which thinking vertically could be helpful. For example, hanging shoe racks can be put on the inside of closet doors to keep your shoes organized and out of the way. And if you are someone who has a lot of hanging clothes, I encourage you to Google "space-saving hangers." These are mini-miracles that will let you fit way more clothes in your tiny closet than you otherwise could.  
There are so many ways to 'go vertical' in the living room, but my favorite example is a holiday one: the tiny house Christmas tree on the wall. Oh, that and shadow boxes!
Tiny House Storage Wrap-up
Alright, Friends, I must end things here, but I hope that I've given you some insight into tackling tiny house storage! As I mentioned, the possibilities are literally endless but don't let that overwhelm you. Your creativity will grow with your tiny life, and you can always update along the way.
If you want help going tiny, you can find me here. Oh, and if you want to see how storage plays out in my house, I made you a series of tiny house storage videos that you can find on YouTube.
As always, thanks for listening! 
Until next time,
Alaska
*OK, that's not actually where I KEEP the fries; it was more the result of an accident. BUT, it just proves how adept couches are at hiding things. Also, it proves that I do yoga because how else do you think I discovered the fries?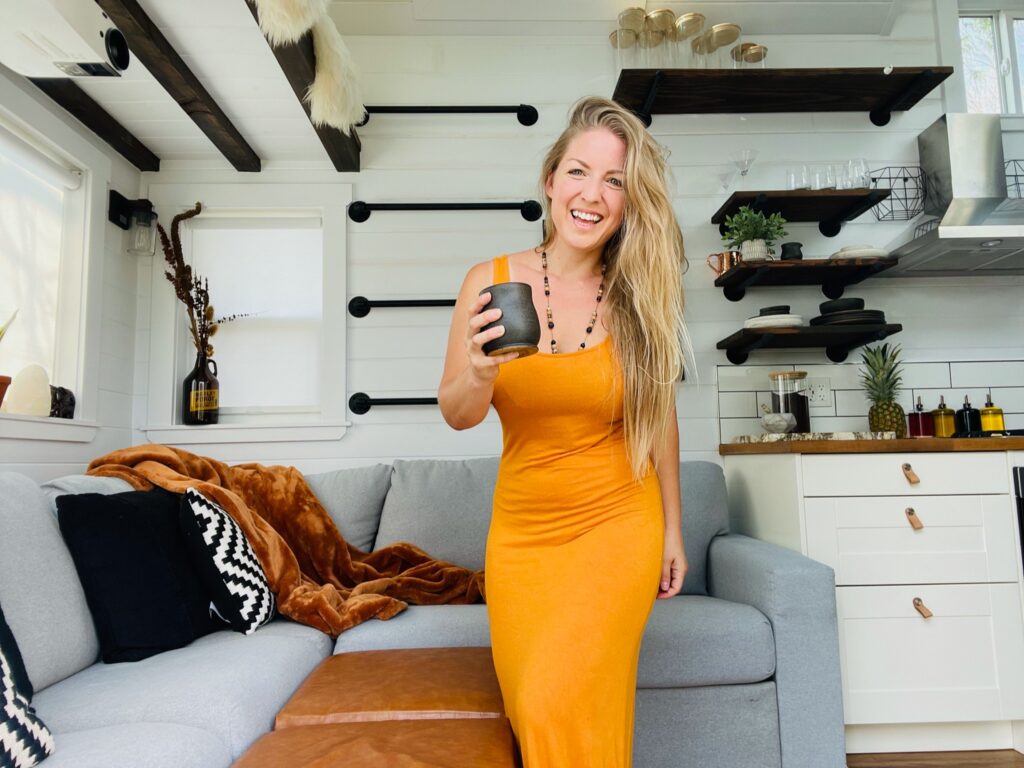 "It's my one true desire that everyone experiences the magic that comes from a tiny house lifestyle."
Alaska is a writer, realtor, and tiny homeowner living in the great state of Colorado. She is the founder of The Tiny House Concierge, a company that offers consultation and copywriting services for people looking to rethink their housing and rewrite their lives. In addition to her website, she can be found on Instagram and YouTube.
Have you ordered our book yet?
Learn the history of the modern movement, get a breakdown of tiny home styles, and meet the passionate tiny community. Also, The Beginner's Guide to Tiny Houses discusses the pros and cons of micro-living―is a tiny house right for you, right now?
What people are saying:
"Most books about tiny homes are really just about the fantasy, with beautiful pictures in far-off places, but they don't tell you how to get from point A to point B. That's where this book comes in and fills in all the gaps!"