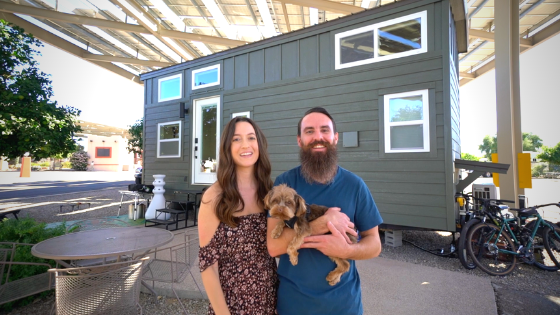 Couple's Clever Tiny House Enables Slow Travel Lifestyle
Flexible jobs, flexible home = adventure of a lifetime
Meet Matt and Logan; they travel with their 24' clever tiny house every few months, thanks to flexible jobs. Logan works as a traveling cardiovascular tech. While Matt easily finds work wherever they go as a building engineer. For them, their home on wheels gave them the perfect opportunity to explore the country before settling down on their future land.
"We get to travel the country but at a slower pace. Every spot we stop at is about 3-6 months, so we really get feel for the town we're in and the state and see if we like it or not. And if not, we can just hook up the tiny house and go somewhere else.

One of the big reasons was that we realized where we grew up and lived probably wasn't the place we wanted to be the rest of our lives. There are so many more places to explore and see. And we really want to figure out where we want to settle down in the future, raise our family, and invest in a house.

Tiny house life specifically was very appealing to us because it feels like an actual house but just on a smaller scale."

-Logan and Matt, @moseyingaroundtogether
Inside Their Clever Tiny House
Wind River Tiny Homes built Matt and Logan's tiny house on wheels. It's 24-feet long by 8.5-feet wide, and 13.5-feet tall. In total, they have 290 square feet of living space (including loft). Their home is full of custom design details, like a dog crate built right into their storage stairs.
Another cool feature is a do-it-yourself solution for airflow. Matt created a mini-split snorkel to redirect some cool air into their sleeping loft. As he points out, wall placement to achieve optimal airflow across the entire tiny house is a challenge. They noticed perfect cool temps downstairs, but the upstairs was too warm. So that lead to a DIY invention using plastic gutters from Home Depot.
Watch the tour of their clever tiny home to see more!
Follow Matt and Logan's nomadic tiny home life here.
Thanks to our video sponsor, Wren!
Offset your carbon footprint on Wren. And the first 100 people to sign up will have ten extra trees planted in their name!
The Ultimate THOW Travel Guide
Learn the ins and outs of traveling with your tiny house on wheels, whether you are planning a one-time move OR a road trip.
We share our extensive first-hand experience traveling with our tiny home over 55,000 miles. Our hope is to encourage and empower your own DIY travel experience.
With the right preparation you'll be able to it the road, safely, and have the time of your life. Sign-up here.