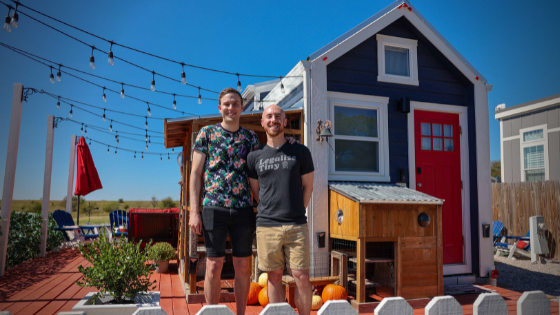 Couple's Tiny House with Epic Catio & Yard
Meet Jacob and Michael, newlyweds living in a lovely 26-foot tiny house with an epic catio. They found a convenient parking spot with a sizable lot in the Crosswinds RV & Tiny Home Community near Fort Worth, Texas. Impressively, their outdoor yard with deck doubles their living space for them and their three cats. As you'll see in the tour, a top priority for Jacob and Michael is the comfort and well-being of their kitties.
"One of the first things we did was have a carpenter build these two tiny houses (catios) outside because we were not about to have litter boxes inside our tiny house. Plus, our cats really like the outdoors. So we wanted to give them an opportunity to enjoy the outdoors but safely."
Moving in together and downsizing during the pandemic worked out beautifully, thanks to the flexibility of their humble abode. After Michael moved in, they renovated to accommodate their blended fur family needs. This included expanding their epic catio, creating extra storage space, and making Jacob a more comfortable home office space, who now works from home.
"We did all our big life changes in one six-month period. The space survived all those transitions."
Inside Their Tiny House with Epic Catio
Jacob and Michael's tiny house is 26'-feet long and 8.5-feet wide. To achieve their ideal layout, they mixed and matched three Tumbleweed Tiny House Company designs. As a result, their home features a downstairs master bedroom. This allows them to enjoy extra privacy apart when desired.
Other top tiny house features include the lounge loft, big kitchen pantry, and counter height desk for home office or dining. As noted above, they modified their home to accommodate their needs better when they downsized into it together—living as a couple for the first time.
The cats can choose from two cat doors underneath the table that open into their two-part catio connected by a bridge. The expansive catios provide multi-level lounge space for the kitties, porthole windows, storage for two litter boxes. No potty smell inside the tiny house!
Watch the tour above to see their charming tiny house with epic catio in detail!
Have you ordered our book yet?
Learn the history of the modern movement, get a breakdown of tiny home styles, and meet the passionate tiny community. The Beginner's Guide to Tiny Houses also discusses the pros and cons of micro-living―is a tiny house right for you, right now?
What people are saying:
"Most books about tiny homes are really just about the fantasy, with beautiful pictures in far-off places, but they don't tell you how to get from point A to point B. That's where this book comes in and fills in all the gaps!"