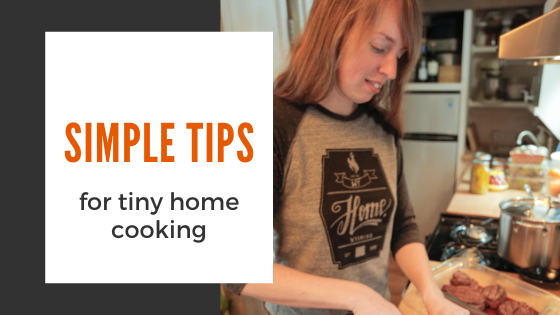 Deliciously Simple Tips for Cooking in a Tiny Home Kitchen
Keep it simple! It's good life advice and for preparing meals tiny home kitchen too.
Cooking should be an enjoyable experience regardless of the size of your kitchen. Whipping up culinary creations is more than just a necessity for many people who find cooking to be their passion. Don't let the limited space of your tiny home kitchen stop you from the enjoyment of cooking.
Tiny homes are tight on space, but that doesn't need to hinder your creativity. Even the smallest spaces can be turned into functional meal prep areas with enough planning and innovation. There is no need to find your post-meal kitchen in a mess when you work in an efficient space regardless of size.
If you're considering a kitchen remodeling project in your tiny home, the most important aspect should be meal prep space. Even the simplest of meals require a minimum amount of space to be prepared.
Let's take a look at a few simple tips for cooking in a tiny kitchen.
Smart Prep
Meals are created in steps. If you are preparing a meal with many ingredients, you can save time and space by preparing some things ahead of time. For example, if you are making a pasta sauce, take some time to cut up your vegetables and other ingredients before cooking the other elements.
Chopped ingredients can be placed in small bowls, and the mess cleaned up before you move onto the next cooking step. Professional chefs often pre-chop and prep many of their ingredients in advance so that cooking can be more fluid.
To sum up, preparing meals in tidy, manageable stages helps minimize tiny home kitchen chaos while cooking.
Multiple Prep Areas
Tiny home kitchens are often limited to counter space and preparation areas, but with a little ingenuity, you can create extra space to help you prep your meals and get organized for cooking. Try some of these innovative space expansion ideas:
Place a large cutting board over your sink.
Use tiered baking racks to create multi-level areas of space to place ingredients.
Open a drawer and place a cutting board across it.
Place a cutting board over your stove burners before you start cooking.
Clean As You Cook
Your tiny kitchen won't leave you much room to make a mess, and cooking can be messy. When you are preparing a meal in a tiny kitchen, the best way to keep your space clean is to tidy up as you go. Wash out bowls, measuring cups, and spoons right after use and put them away so that they won't take up needed space. Cleaning as you go will also make it easier to clean up when the meal is done.
Arms Length Convenience
When you concentrate on creating a delicious culinary creation, you don't want to be continuously distracted by searching for your cooking utensils all over the kitchen. Using creative space-saving storage can help you keep everything you need within reach. Hang your pots and pans overhead and mount a spice rack over your primary prep area to keep your cooking essentials easily accessible.
Simple Meals
There are thousands of delicious meals that can be made with just a few ingredients. When you are pressed for space in your kitchen, simple meals can make all the difference in your meal prep. Full flavor with less mess is the key.
In Conclusion
As compared to larger home living, the tiny home lifestyle requires some sacrifices to achieve the peace and minimalistic style that you are looking for. But that doesn't have to hold you back from enjoyable cooking. Practice a few of these tips to help you create delicious meals without the hassle in your tiny kitchen.
Watch for Clever Tiny Home Kitchen Design Ideas!
Digital Magazine Dedicated to Tiny Home Living
Do you have more time at home? Enjoy some inspirational reading from Tiny House Magazine!
Discover different types of tiny homes from liveaboard boats to Alaskan yurts, converted school buses, and more.
Try recipes from a tiny house kitchen. Each month we feature a recipe from the Tiny House Foodie. Learn to make it work and still cook like a pro.
Read excerpts from books on tiny houses, downsizing, and a host of other related topics.
Each month brings new topics and new, exciting articles!