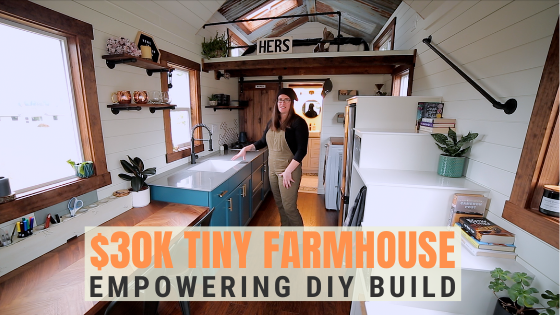 Empowering DIY Build: Woman's Modern Farmhouse Tiny Home for $30k
We share a stunning farmhouse tiny home built by a resilient first-time DIY builder in our latest tour.
Meet Tori, a Millennial shellfish biologist with NO prior building experience. After falling in love with tiny homes and doing in-depth research, she built a gorgeous modern farmhouse-style tiny house.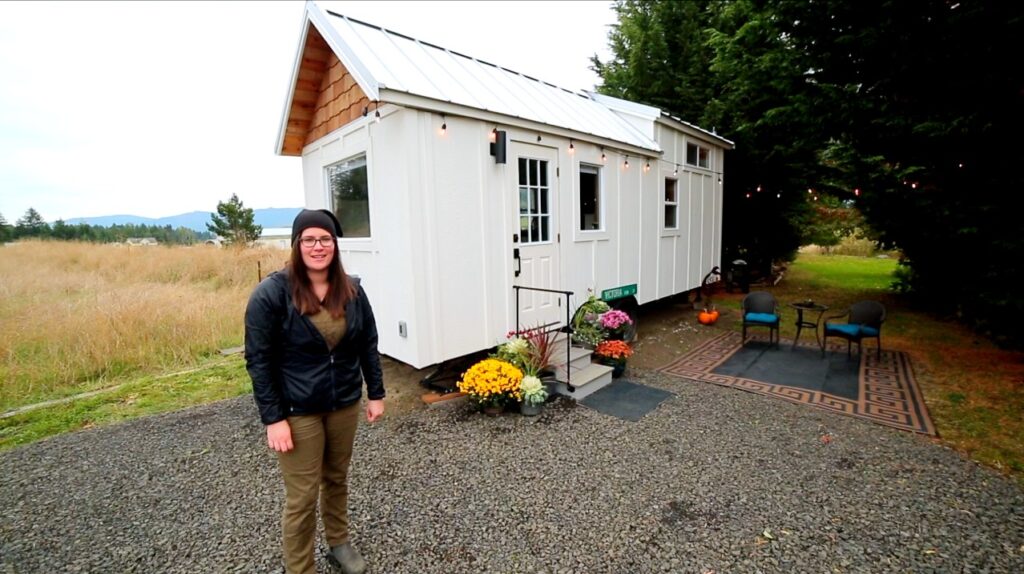 As she puts it, her tiny house build was "powered by significant amounts of tequila and inspired by Joanna Gaines" of Fixer Upper fame. Tori's perseverance also fueled her farmhouse tiny home build. No matter how long it took to get it right, she was determined to get it done right despite the frustrations encountered along the way. 
Importantly, Tori paid for the entire tiny home for cash as she went. It ultimately cost about $30,000 and took her one and a half years of building over a three year period.
Tori has an empowering message for newbie DIYers and female tiny house builders:
"It's sometimes intimating going to the hardware store and asking for what you want and have build question you. I suggest trying it, even if it's something small to build, or even go to a workshop because it's empowering...Now I see things, and you know, 'I think I can build that. I should try that'. It's a really nice feeling not needing to find people to do things for you."
Tangled Tiny, a Farmhouse Tiny Home on Wheels
As you'll see in the tour, Tori's farmhouse tiny house strikes an ideal balance of form and function. That was definitely achieved via careful planning, as well as material sourcing.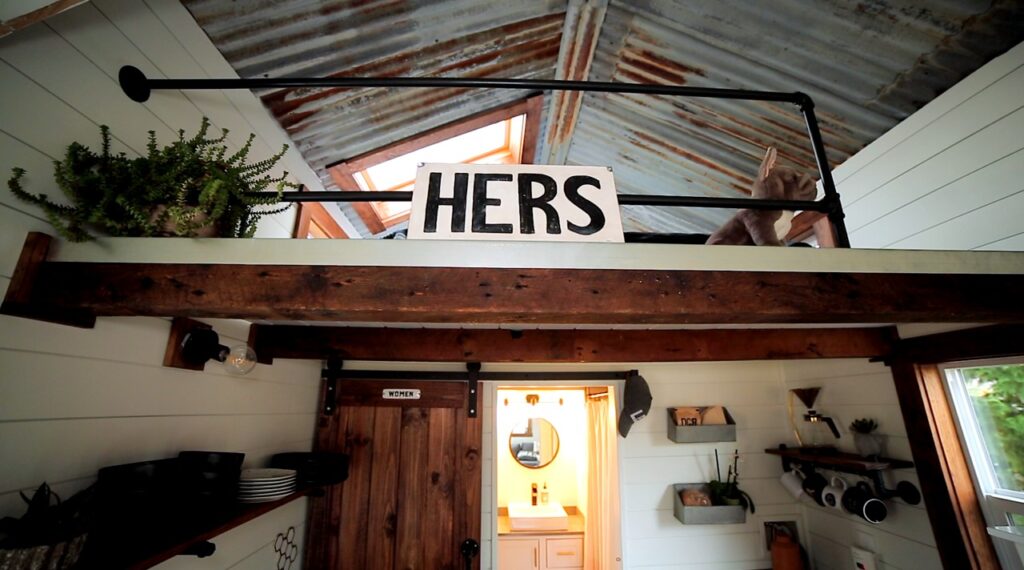 Tori sourced her 24' tiny house trailer from Iron Eagle out of Portland, Oregon. They added a bump-out over the tongue to allow for extra room inside her bathroom. That's where she put her sink, freeing up significant floor space.
Her interior design began with a Liberation Tiny Homes farmhouse design with the Ikea couch seen in so many THOWs. But the bread and butter of Tori's design and decor inspiration is definitely HGTV's Fixer Upper. She even took a planning trip down to Joanna Gaine's Magnolia Market in Texas.
White shiplap walls with dark window trim that ties into her striking salvaged beams pull together the core farmhouse look. Tori added visually appealing yet functional elements for creative storage, like rustic wire baskets in her tiny house stair storage cubbies.
One of our favorite features of Tori's farmhouse tiny house is the character-rich, aged corrugated metal loft ceiling. It acts as a statement piece for the entire home. Additionally, the contrasting color helps create a feeling of distinct living spaces.
Watch the tour and let us know your favorite tiny house design feature!
Follow Tori on Instagram, @Tangled_Tiny.
Exclusive Content
Monthly LIVE tiny living discussions with extended Q&A, plus BONUS content, like behind-the-scenes filmmaking and tiny home life insights.
Early Access
See new videos first, get first dibs on new online courses and more!
Exclusive Giveaways & Discounts
Win tiny living festivals passes, and more!
Join today!