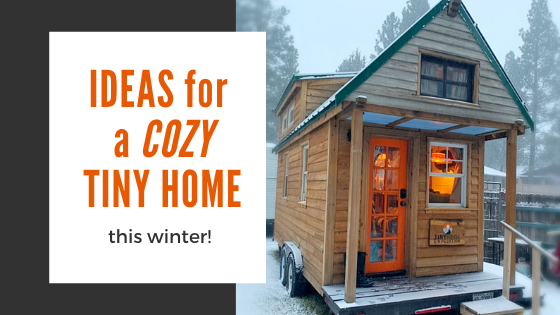 3 Actionable Ideas to Keep Your Tiny House Cozy
Keep your tiny house cozy this winter!
If you love the flexibility of a nomadic lifestyle, the ability to move as needed or desired, tiny homes on wheels make a perfect option for you. While you may love the mobility and financial freedom, keeping it warm in the brutal winters can be a massive challenge if you're not prepared.
However, it isn't as daunting as you may think, provided that you take the right measures to winterize your mobile-ready living space and secure the warmth indoors.
Here are some actionable ideas that you can implement for the best results to keep your tiny house cozy this winter.
Insulate Properly
Proper insulation is something that deserves attention if you are concerned about ensuring warmth and comfort for your tiny home in the winter months. Insulation works all-year-round as it keeps the cool air inside in the summer and also retains the warmth in the winter, so it is something you cannot overlook.
It becomes all the more important when the temperatures outdoors drop to sub-zero levels.
Not only does it lock the warmth inside, but it also ensures that your heaters work more efficiently. So you end up saving money and energy, which brings sustainability for your tiny home lifestyle.
Everything boils down to using quality materials for insulating the place because it ensures good resistance to heat transfer. Check out our quickstart guide to the best tiny house insulation options.
Invest in an Electric Heater 
An electric heater is the best appliance you can pick to make your tiny home winter-ready. Compared to gas heaters, electric heaters are simple to install, easy to maintain, and require little power. They also emerge as a cost-effective option to keep your tiny house cozy.
You can take things a notch higher by installing a corner electric fireplace by MagikFlame if you have some space to spare. You get the aesthetics of a fireplace paired with the functionality of an electric heater.
An electric fireplace offers an incredible experience for tiny home dwellers as it lets them enjoy warmth through the freezing nights through the winter without worrying about the mess, poor air quality, and cost and space constraints. Just make sure that you pick one that excels in terms of safety, efficiency, and performance.
Apart from a heater, also invest in a generator as a backup plan, just in case.
Protect Pipes from Freezing
While ensuring good insulation has you covered to a significant extent, you also have to make sure that pipes and hoses do not freeze. Freezing stops the supply of warm water and also exerts pressure on the pipes to the extent that they may burst. Therefore, protecting them becomes an essential requirement for preparing your tiny house for the winter season.
Whether you buy or build, some strategies can help you secure the pipes in the colder months. Consider having the supply lines inside the house to prevent exposure to cold air. Burying the water supply line underground is a good idea, although you may also insulate them if it isn't possible to bury them.
Also, on-board water tanks help keep water flowing even if your main water supply freezes. Here's what we did to winterize our tiny house water system.
Keep Your Tiny House Cozy this Winter
Although keeping your tiny house warm in harsh winter sounds challenging, it's easily done with the right prep, beginning during your build. All you need is to have the right appliances and good insulation in place, and you can enjoy the incredible lifestyle even when it is freezing cold outside.
Find Your Perfect Plans for Your Dream Tiny House!
Browse this amazing, growing directory of tiny house plans—all on sale for a 5% lower price than other places on the web.
Plus, every plan comes with over $200 in FREE bonuses, including a comprehensive how-to build a tiny house digital workshop!