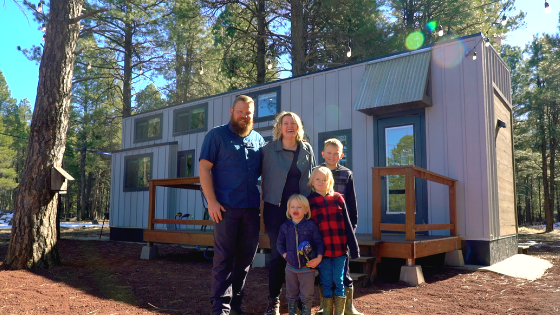 Family of 5 in Tiny House on Historic Homestead
Family of 5 in Tiny House Embraces a Slow Living Lifestyle
Meet the Beers, a family of five in a tiny house on a dreamy historic homestead in northern Arizona. Their journey to simple living began with a burning desire to slow down. Several years ago, Justin and Rachel worked long hours in corporate America in bustling Phoenix. Quality time with their kids felt all too rare. Ultimately, their dissatisfaction with the status quo led them to sell their large house and move into an Airstream.
They did full-time RVing for a year and a half back when they were a family of four. While this time served as powerful lifestyle rest, they knew for long-term living the Airstream wouldn't cut it. They needed a larger, more durable home. Also, the idea came about to combine their skills by starting a business that aligned with their lifestyle priorities—the Hummingbird Tiny Home Inn.
"What pushed us to do that too was my mom passed away in 2017. She'd only been retired for about ten years and really put into perspective how short life was. So, I just knew time was fleeting and wanted to make sure to live life and be with my family because I didn't see them very much. My heart was drawing me to be closer to them.

We decided to sell 90% of our belongings, live simply and just more experiences over stuff, and be together.

I'm so happy we did. We definitely our hurdles and bumps along the way.

As soon as we stepped on this land, it felt like home. I knew that our journey had drawn us here."

-Rachel Beers, @tinyhomeinn
Inside their 10-ft Wide Tiny House & Homestead
The Beers family worked closely with
Uncharted Tiny Homes
to design and build their three tiny home rentals. From this experience, they fine-tuned a layout that would work best for their family. This led them to a 34-f00t long by 10-f00t wide house on wheels with two one-foot pop-outs for the living room and private downstairs bedroom.
 Their children each get their own room in the spacious loft. There is also an upstairs play space for toys and gaming. Of course, kids can always need more room to stretch their legs, play, and explore. They love playing outside. Additionally, their 20-acre homestead came with a historic small cabin, which is now a playroom—a Lego building paradise.
Watch the tour to see more of this family of 5 in a tiny house!
Follow the Beers' family slow living lifestyle and their rental business: @tinyhomeinn
Thanks to our sponsor, Brightland!
Learn more about their delicious olive oils and 10% OFF here!
Our NEW Tiny House Book!
"Alexis and Christian are great people and when they write a book about tiny houses, you can have confidence that it will be jam-packed with valuable information. This book delivers all the info you could possibly be looking for regarding tiny house living. Target for this book is someone that is feeling a bit overwhelmed and isn't sure what they need to consider as they embark on their tiny house journey. This book will provide the info they need and should help anyone in this position. Well done. Well written. 5 Stars."