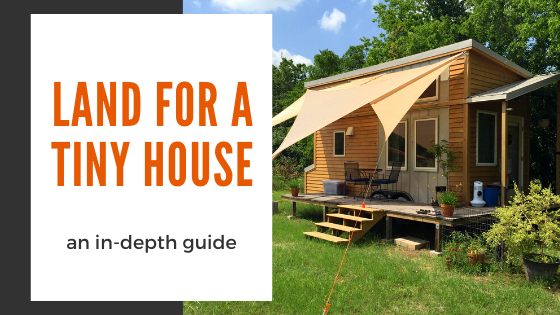 How to Find the Best Land for Your Tiny House
What You Need to Know for Finding Land for Your Tiny House, Whether it's on Wheels or Foundation
Preparing to make a significant lifestyle change to live a more simple self-reliant lifestyle? Finding land for your tiny house may be high on your list of priorities but is quite challenging. And you're not alone.
Did you know that 63 percent of millennials would consider buying and living in a tiny house? The price for a new construction home is through the roof (pun intended), but there is no reason you can't make buying the best land and building (or buying) the best tiny house a reality.
Getting help from the construction industry is a great way to get started with building your tiny dream home, but there is some essential information you need to be aware of when looking for land, like all the associated costs. The good news is that you're in the right place to get started.
Keep reading for guidance on how to find land for your tiny house.
Issues With Finding the Best Land for Your Tiny House
Planning the design of your new tiny house is one of the most enjoyable parts of building your new home, but most people that want to live in one run into issues finding land to call their own. Or securing any kind of parking spot for tiny houses on wheels.
If you ask enthusiasts where they want to park their tiny house, many are quick to reply, "on my own land!" But very few are aware of all that goes into single lot development. Unfortunately, it is not as straightforward as it might seem. There are many critical restrictions, risks, and expenses you need to consider.
You should keep in mind that some states will not allow tiny homes, even if on a foundation, due to things like minimum square footage requirements in some local zoning laws.
1) Where to Find Land for Your Tiny
You'll need to look into several factors to find the best land for your tiny house. Begin by considering potential settings for your new foundation-based home or THOW. If you're a country lover, you're in luck—that's the path of least resistance!
Here's what you need to know about various geographic settings:
Urban
It is almost impossible to find an urban setting where you can build or place a tiny home often because of limited available land. Further, that's where you find the strictest zoning and building code restrictions.
If you do find a rare urban area allowing tiny homes, expect to pay a premium for a lot, and you won't get much room to work with. Sure, you can fit your small house on the plot of land, but you won't have much leftover. Of course, for city lovers, this may be a worthwhile compromise.
Notably, urban doesn't have to mean a big metropolis. Select small cities can be less expensive, restrictive, and downright tiny house friendly like California City, California. So keep that in mind if the benefits of an urban setting, like walkability, are a top priority for you.
Suburban
Finding land for your tiny house is a bit easier in a suburban area. There are more lots available to choose from at less cost than urbanalternatYou'llYou'lll get the best of both worlds if you find the property in a suburban area, more space, and likely have a reasonably short drive to a city center.
If you want a complication-free process of building your foundation-based tiny home, then you should try to find land that doesn't have a ton of building restrictions. For instance, it's wise to avoid neighborhoods that have strict HOA regulations.
You'll want to contact the local jurisdiction to determine what size home you can build, what building code you need to meet, and other zoning-specific rules to follow, like required setbacks.
After securing a suburban lot to place your modular tiny home or new construction build, you'll need to scour your property for obstacles. You might need something like the falcon f2 to survey the land and locate any underground utilities.
Currently, options are exceptionally limited for placing tiny houses on wheels in a suburban area. The most common way they're approved right now is as accessory dwelling units (ADUs) or in places like mobile home parks.
Visit the Tiny Home Industry Association's Map to find areas that they're accepted—search by state!
While you'll save money by getting the land for your tiny house in a suburban setting rather than an urban area, it isn't the cheapest option. If you want to save more money, you need to go rural.
Rural
Rural land might be further away from the city, but it is much cheaper to purchase. Also, there are far fewer regulations you'll face. The more that population density drops, the more the price of land drops. And good news! There's a wide array of rural counties with minimal or no building codes. Look for unincorporated areas and unrestricted land.
You'll also have the benefit of having fewer neighbors, so no one is likely to be bothered by your land development or building project as long as it isn't impacting them.
There are some significant downsides that you should think about before you buy land for your tiny house in a rural setting. Undeveloped plots you'll be choosing from likely don't have much or any infrastructure in place. For instance, they might lack a driveway, running water, and electricity. You'll need to pay to get those services put in or get equipment to do-it-yourself.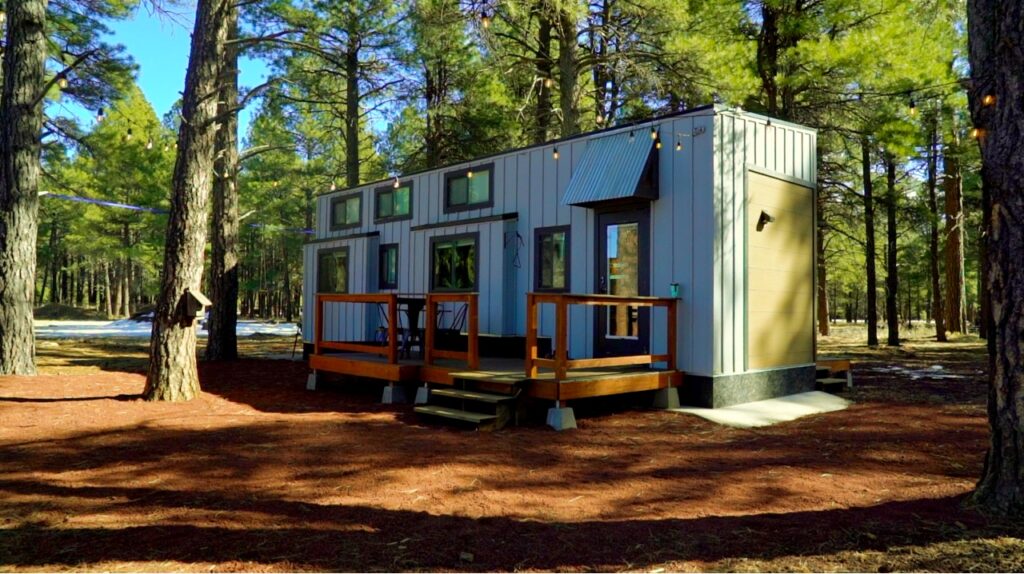 Where to Find Land Listings for Your Tiny House
Available land and undeveloped lots are not abundant everywhere in the country. Driving around searching for land for sale signs is not an efficient way to find a lot. Fortunately, there are more online land sales sites than ever before. These allow you to search by location, property type (farm, recreational, etc.), and special features.
For more in-depth information about an available parcel, be sure to contact the local jurisdiction, city or county, or both.
Search for land for your tiny house here:
2) Local Regulations to Be Aware Of
You need to answer two big questions for every piece of land for your tiny house that you consider purchasing. First, how is it zoned? Second, what are the required building codes?
Zoning laws govern the use of property in a particular area and what can be built on it. Municipal and county governments create these ordinances. While building codes regulate the specific rules for constructing a structure— enacted by the state, county, and city governments.
You need to take some time to research the zoning laws in your area before you put pen to paper and make your significant purchase. Zoning and building codes are the biggest issues that could shut down your building project before it ever gets started.
Start by having a conversation with the municipality's land use planning department to find out everything you'll need to do to comply with local laws. For starters, you'll learn if tiny homes are allowed and then what building requirements they need to meet.
For new construction, you can alter your design to meet those requirements if need be. However, if you have a completed tiny house on wheels, you may need to provide proof of third-party certification.
Did you know some THOW builders can now build a unit be compliant with RV, IRC Appendix Q, modular home standards?
Additionally, talking to the local authorities will help you determine the permitting costs you need to budget for a tiny house build and land development.
Easiest Land Option for Tiny Homes
Counties with unrestricted land provide the absolute easiest land option for tiny houses. That means they with no zoning or building laws. However, they most likely do have essential health and safety regulations. This varies, of course. In some areas, deed and easement restrictions still apply.
Always check with the county before buying land for a tiny house. You will learn what regulations and inspections are required, including sanitation and water. Be prepared for a septic system requirement.
When Tiny Lots on the Prairie, a tiny home community in north Texas, formed, the owners checked with the county to learn what rules applied to their rural property. The county informed them that a septic system was the only requirement. Owners Brett and Mindy West happily complied. For an added safety precaution from the regular high winds, they also took it upon themselves to install tie-downs for each tiny house on wheels.
3) Utility Considerations for Tiny House Land
So you found a beautiful piece of land for your tiny house, but does it have power and water access? No available power means you need to create your own or pay to bring it to your property. Costs will vary depending on location. The hookup fee may be minimal if you are very close to a power pole. But the further you are from utility connections, the pricier it will be to connect your property.
The same goes for water. If city water isn't available, and there's no existing source, you'll need to create a solution. Options include trucking in and storing water in a large tank. You can also drill a well; this costs anywhere from $3,500 to $25,000, plus permitting fees. Rain catchment is another potential water source, but it's wise to have a second reliable source.
As a reminder, connecting to city/county-supplied power and water requires permits and a visit from the building inspector.
Suppose you want an off-grid power solution; you'll want to consider how much capacity you'll need to be comfortable and the upfront costs associated with solar power systems or a wind turbine. Additionally, don't forget the ongoing maintenance requirements to keep these functional.
Don't forget sewage!
Depending on the size and type, a new septic system can cost $4,000 to $20,000. Smaller houses require smaller systems, and the good news is that translates to significant cost savings. For an additional discount, install it yourself, but be sure to follow permitting guidelines.
A popular sewer option for tiny houses is a composting toilet. The byproduct can become actual humanure compost that can be used to fertilize select plants. Read the Humanure Handbook to learn the ins and outs of properly executing this kind of composting system. Additionally, you would need to create a greywater filtration system for household water and urine management.
Unfortunately, most municipalities do not allow this kind of water and waste management. Check your local regulations to know for sure.
The most affordable and less laborious utility route is to find undeveloped land that already has all utility connections—power dropped, an existing well, and sewage solution.
Heather & Nathan share a breakdown of their raw land development process & costs in rural Colorado:
4) Land Development Costs
If you are looking to purchase undeveloped or raw land for a tiny house, you will need to consider what human-made improvements may be desired and required. Most importantly, think about how you will move your tiny house onto the property—an access road and or a driveway is a necessity. This will likely involve clearing and grading your lot.
The total cost of any land purchase, depending on where it is and the local regulations, could also include the following:
property survey
soil and water tests
permits fees
engineering services
utility hookups
tree removal
Our advice for budgeting for land development costs: add several thousand dollars extra for any unexpected problems or fees.
Finding the Best Land for Your Tiny House
As discussed in this article, there are several things that you should look for when searching for land for your tiny house. It is not a simple process, but if you're patient, do your research, and are flexible, it will pay off in the long run. But don't forget to create a comprehensive budget for all the costs involved, including:
tiny house construction costs
land cost
land development costs
For more helpful articles like this one, make sure you check out our blog!
Have you ordered our book yet?
Learn the history of the modern movement, get a breakdown of tiny home styles, and meet the passionate tiny community. Also, The Beginner's Guide to Tiny Houses discusses the pros and cons of micro-living―is a tiny house right for you, right now?
What people are saying:
"Most books about tiny homes are really just about the fantasy, with beautiful pictures in far-off places, but they don't tell you how to get from point A to point B. That's where this book comes in and fills in all the gaps!"
Try out the Tiny House Lifestyle, No Tiny Home Required