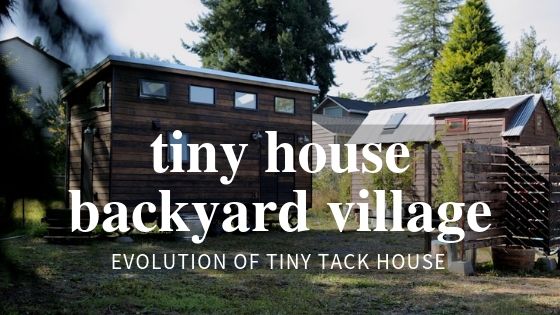 Family's Charming Backyard Tiny House Village
Chris and Malissa Tack designed and built their beautiful, off-grid tiny house 8 years ago—now famous Tiny Tack House.
If you have ever perused Pinterest or Google images for tiny house inspiration, you have definitely seen the lovely Tiny Tack House. Chris and Malissa Tack built it in 2012 before "tiny house" was a well-known term (pre-TV shows).
Back then, only a few plans and DIY resources were available. Malissa decided to design their house herself. She is a highly skilled 3D artist and always up for a good challenge. This lack of available information inspired her to launch a blog about their experience and later to offer their tiny house plans to the other DIYers. It was one of the first DIY tiny home blogs, an early inspiration for us and countless others.
Malissa's design was very organic. It was continually adjusted on the build site, as layout issues arose. The result: an exquisitely simple and efficient tiny home.
With all the complex and sometimes over-the-top tiny house designs available today, the Tiny Tack House is a breath of fresh air. We love how bright and open it feels while achieving top-notch functionality for daily living and working from home.
It's a 140 square feet THOW and sits on a 7' x 20' trailer, and took them seven months to build. The total cost is between $15-20,000.
As their family has grown, the use of their tiny home is evolving.
It served the needs of the Tacks beautifully for five years, tucked away in the Washington countryside. They grew lonely and craved the closeness of others. A new dream was born. Malissa and Chris envisioned a small community with a few tiny houses and common house; an arrangement that could offer more flexibility for their changing family needs and a relaxed communal environment.
They found a small, renovated house on a big lot, located in a quiet neighborhood, outside Seattle. Their tiny home sits on the front of the lot, providing ample space for up to two to three tiny houses, a large garden and plenty of lawn space.
Their paved driveway is 10' wide — just enough room to maneuver tiny houses into the backyard. Christian and I recently tested it out with our traveling tiny home. Easy as pie!
After making the big move, the Tack family grew. When we visited, we met Chris and Malissa's then beautiful 11-month old baby girl, Sol. Now, they have another sweet baby girl,
Their extended family now includes their new tiny house community member, Kat.
She lives in a sharp, modern Shelterwise home. They all share the common spaces in the main house—kitchen, living room, and bathroom. All community members are vegan and often share meals.
After much hard work and TLC, the community is now enjoying the bounty from the garden and the fruit trees. Malissa's DIY building skills once again came in handy for the creation of five raised garden beds with an attractive Shou Sugi Ban finish.
For now, the Tacks live in the main house. Their tiny house will always be their home and will be part of their family. Perhaps Chris and Malissa will live in again when they're older, and maybe one of their daughters will live in it for a time.
But for now, they rent out their Tiny Tack House on Airbnb to give others interested in living tiny an opportunity to try it out a first-hand. The majority of their guests, from all around the country, are renting it for just that reason.
To learn more about the Tiny Tack House and the Tack community here.