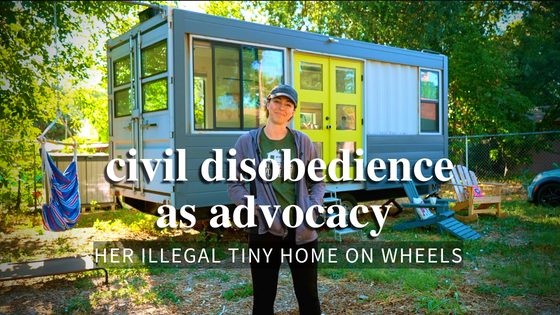 Her Illegal Tiny House on her own Land
Civil Disobedience as Advocacy
Meet Robyn, a new housing advocate living in a container home on wheels on her own land. Because it's currently illegal, she has no access to city utilities, so she's living off-grid. Her property is just under a quarter acre. It is zoned as a residential property, and she's between a couple of residential homes. Notably, there are no city utilities to the property. That's mainly because Robyn's tiny house is parked here illegally.
Civil disobedience is an act of advocacy for her. Robyn readily admits that she could sell her property and move on, but she's trying to create a positive for the entire community.
"It is civil disobedience. It is a way to be completely transparent with your local government, with your local community, your neighbors. Educating them on what you're trying to do, I think, is super important as well.

I wrote letters to all my neighbors. I've posted on apps welcoming my neighbors to take a tour of my home to talk to me. I've had nothing but support and interest in what I'm trying to do. And honestly, a lot of people that work in my local government support what I'm trying to do. It's just trying to navigate how to do it, where to start, having this as an example for the whole community, for the city, and for the Sacramento region. As far as I know, this will be the first legal, tiny home residential property in the region. So that's pretty cool.

Once we get there eventually. It's a long process. It's a long process. I'm not willing to say, yes, I'll do whatever you want. I am willing to have conversations about options. It's mainly about affordability. I understand not everybody's ready for compost toilets. Not everybody is ready for all these off-grid options, and all these alternative materials, and things like that. Not everybody is ready for wheels. There are superficial discriminatory things about our zoning laws as well."

-Robyn, @robyn_mari
Her Illegal Tiny House on her Residential Lot
Robyn's tiny home on wheels is built using a 20-foot shipping container and is 160 square feet. It sits on the back part of her quarter-acre lot. Outside she's adding a picnic table, hammock, and her aerial rig for exercising. Solar panels are mounted on the roof of the container home.
When Robyn was designing her tiny house, she wanted it to be bright and open, with as many windows as possible. With the French doors and the original shipping container doors both open, they make her space feel roomy and airy. When the weather's nice, she loves to open them to let more light & air in but also to feel like she's sleeping outside. Her bed is next to the doors. Importantly, she utilized the space under her bed for storage which she can access parts from inside or out.
Currently, the functionality of her bathroom and kitchen are affected by the lack of city utility access. A kind neighbor lets her rent water access. Due to limited electricity from her solar setup, she cannot use her fridge. Instead, she relies on a big cooler. Robyn is actively working with the city so she can be permitted and get utilities. But she refuses to pay exorbitant fees for hookups, so one key focus for her advocate for lowering those and creating payment plans. This will help others who want to create their own housing and do it more affordably.
"That's essentially what I'm asking my government; for me to be able to do is to please let me live within my means. We kind of aren't allowed to live within our means. We kind of have to take out these loans, and these mortgages, and live in these bigger homes. That's just how the system has been.

It's not that I don't believe in the current system or feel that it has housed a lot of people very comfortably for a long time. But now, we need more options. We need more alternative materials. We need more alternative zoning, and codes, and those types of things so that we can live within our means. I've shared a lot on social media. And I'm a fairly private person. So sharing this part of my life, the details of the struggle, and what's going on was hard to do.

A lot of times, especially in a lot of this policy, it's taken them years to develop this current system. It takes them-- to adapt it takes a lot of time and energy as well. I'm aware of that. But that's why I'm patient. I'm here, I'm patient, I'm willing to be the example. I will adapt to your zoning, to your codes. I'll remove my wheels. I'll do all of that. Just make it affordable. And that's what I always come down to. Just make it affordable, please. Yes, for me, but we've got to come up with a path. I'm more than willing to be the example."

-Robyn, @robyn_mari
Watch the episode above for a full tour & more tiny house advocacy insights!