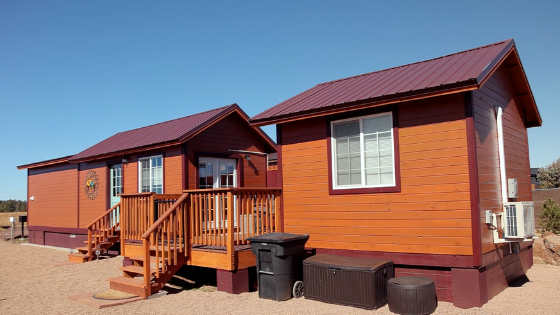 Her Two Tiny Houses Connected by a Deck
Tiny House Living Led to Rental Business
Meet Debby, owner of two tiny houses connected by a deck and a THOW next door, all located next to each other in the Arizona White Mountains. After her initial experience living tiny, she discovered her joy for designing small spaces. Now Debby shares them on Airbnb, providing her with a substantial income stream. Because of her success, she plans to snowbird between California near the ocean and her Casa del Sol home at the LuxTiny tiny home community in Arizona.
"My goal with Lily Pad (her first tiny house), I wanted to create—again as a Libra, anybody that's into astrology, it's very much about beauty and aesthetics, and comforts—just something that really feels your heart and soul, very much warm feeling  I wanted to create a space that was 100% mine  It was a sanctuary; I felt like in a cocoon  For a year, I stayed there  I kinda healed my soul  I don't know if that makes sense to y'all, but kind of healed my soul and reconnected and got away from the hubbub and the business and the city, traffic, and too many people.

...

I think it's important to be part of a positive movement and also to take care of yourself financially in the world. So it's kind of a win-win  I'm able to take what makes my heart sing, which is designing beautiful homes and tiny homes I love and create places for people to come and experience joy in a world that isn't always joyful."

-Debby, Living Tiny in Style
Inside Her Two Tiny Houses with Connected by a Deck
Debby is two tiny houses connected by a deck are; a 10-foot wide park model tiny home connected and a simple casita guest house. The outdoor living space between the two is protected from the wind with a wall on one side. This also acts as a privacy screen from her neighbors. Her adorable Shiba Inu enjoys sunbathing on the gated deck too.
LuxTiny Tiny Home Custom Builders brought Debby's designs to life. Both have open layouts. But of course, the casita is much tinier at only 144 square feet. Casa del Sol is a spacious 360 square feet. It's all one floor with a master bedroom. To maximize flow between rooms, Debby opted for a Murphy bed. This allows her to use that room for sleeping, working, and exercising.
Interestingly, Casa del Sol features a shower while Debby's Lily Pad tiny house on wheels has a bathtub. A full-size stackable washer/dryer ate up the space for a tub in Casa del Sol, but she is thrilled to have this luxury. As Debby points out, this is an excellent example of how what you prioritize in a small space design dictates what's possible in the rest of the home.
Similarly, she made full-size kitchen appliances a top priority. But the trade-off is less counter space. Debby makes up for this by wheeling in a movable island from the bedroom when cooking large meals.
Watch the full tour of her two tiny houses connected by a deck to see more!
Learn more about Debby's tiny home journey and book a stay at one of her houses here.
Have you ordered our book yet?
Learn the history of the modern movement, get a breakdown of tiny home styles, and meet the passionate tiny community. The Beginner's Guide to Tiny Houses also discusses the pros and cons of micro-living―is a tiny house right for you, right now?
What people are saying:
"Most books about tiny homes are really just about the fantasy, with beautiful pictures in far-off places, but they don't tell you how to get from point A to point B. That's where this book comes in and fills in all the gaps!"