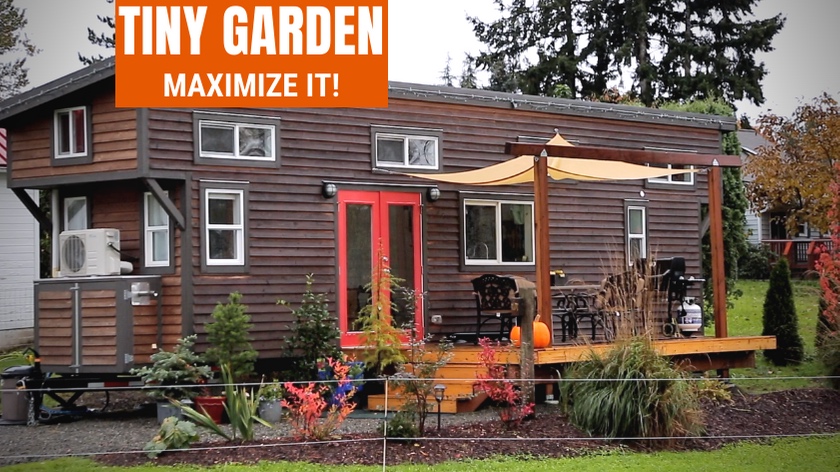 How to Create the Illusion of More Space in a Tiny Garden
Is your outdoor living space tiny? Make the most of it with these tips!
If there is one thing that most of us have learned over the past year, it's that even the smallest amount of outdoor space is important for escaping the home and getting outdoors. But if you have a tiny garden, spending time outdoors might feel cramped and uncomfortable. Thankfully, there are several things that you can do to maximize the garden space that you have and ensure that you are making the most of it. By thinking outside of the box and making a few simple changes, you can easily make your garden look and feel much bigger or even create the extra space you want by rearranging the garden's entire layout.
If you want to make a tiny garden and outdoor living space more enjoyable, here are some tips to keep in mind.
Add Mirrors
Adding mirrors to any space, including your garden, is a simple yet effective trick for adding the illusion of more space. Mirrors are the ideal way to make your garden look bigger than it really is. Consider adding mirrors along the whole length of a wall to make the garden appear twice the size that it is, or add a large feature mirror to the garden space to create more spaciousness.
Keep Bulky Plants Minimal
When it comes to choosing plants for your outdoor space, it is a good idea to keep them to a minimum and avoid planting bulky bushes and shrubs. Bushes and larger plants that are often found around the garden space's outer edge can take up a lot of room and make your garden appear smaller than it actually is. Consider removing bushes and replacing them with fencing for security and privacy instead.
Divide into Zones
Consider a floor plan for your small garden space and divide it into different zones to give the illusion of extra space. Furniture lying around the garden can lead to a cluttered appearance and make it look smaller while having strategically placed furniture in designated zones can have the opposite effect. When everything in your garden looks like it is meant to be exactly where it is placed, it can create a more organized feel that opens up the space. The use of outdoor rugs is a great idea for dividing your garden into different sections.
Use Light Colors
When choosing fencing, decking, and other materials for your small garden, lighter colors tend to be the best choice for opening up the space and creating the illusion of more room. While dark colors can look nice, they are often not the best choice for a small garden space since they can cause a closed-in feel and make the space appear smaller than it really is. The good news is that Ecoscape's composite decking comes in a wide range of colors to choose from, including many light and bright colors that will open up the space in your small garden. Ecoscape UK provides a wide range of composite decking products with different styles and finishes, all made from 95% recycled materials to give your small garden an eco-friendlier touch too.
Scale Your Furniture
Garden furniture is often essential to ensure that you have somewhere to sit and relax outside on a nice day and entertaining friends in your garden. However, in a small outdoor space, selecting furniture that is too big for the area could make it look cluttered and even smaller. If you have a garden table and chairs that look huge in the space, they will end up becoming the main focus of your outdoor space, even if you have planted beautiful flowers and plants around them.
Make sure that you keep size in mind when selecting your garden furniture and consider items that are not going to overpower the space. Many brands are selling small-scale outdoor furniture like vidaXL garden furniture.
Add Smart Storage
Storing garden items can become a challenge when you have a small outdoor space. If you don't have room for a shed, gardening items and other accessories might end up cluttering the garden instead of being stored away neatly. Not only does this look unsightly, but it can also be dangerous if tools are loose in the garden and you have children, and being out and exposed to the elements could affect the lifespan of your items. Seating with storage is a good way to add more storage space to your garden. A bench that lifts to reveal storage space underneath, for example, is a great option for making sure that all your things have somewhere to go without taking up any additional space.
Add Interest with Potted Plants
Many homeowners with small gardens will remove the lawn and make the most of the space by adding a deck or patio for an outdoor seating area. However, if you want to ensure that your garden is colorful and looking nice, the best way to do this is with strategically placed potted plants to add to create color and interest in even the smallest of gardens. Group together several different plant pots in different colors and sizes for an eclectic and fresh look that will put the finishing touches on your garden area without taking up a huge amount of your space.
Plant Vertically
Making your garden area larger and creating more ground space for you to enjoy can be achieved by planting vertically. This will also remove the need to add borders around the edge of your outdoor space and provide you with more room for decking or an outdoor seating area. Also, planting vertically means that you can still enjoy several gorgeous plants in the garden without risking it becoming cluttered. Consider planting a living wall, using a garden trellis, or hanging baskets at different levels to add a splash of color and interest to your garden while still preserving the floor space.
Transform Your Tiny Garden & Outdoor Living Space
Even the smallest of gardens can easily be transformed into a peaceful outdoor haven to spend time in. Keep these tips in mind if your small garden has begun to look cluttered and you want to make the most of the limited space.
Digital Magazine Dedicated to Tiny Home Living
Do you have more time at home? Enjoy some inspirational reading from Tiny House Magazine!
Discover different types of tiny homes from liveaboard boats to Alaskan yurts, converted school buses, and more.
Try recipes from a tiny house kitchen. Each month we feature a recipe from the Tiny House Foodie. Learn to make it work and still cook like a pro.
Read excerpts from books on tiny houses, downsizing, and a host of other related topics.
Each month brings new topics and new, exciting articles!