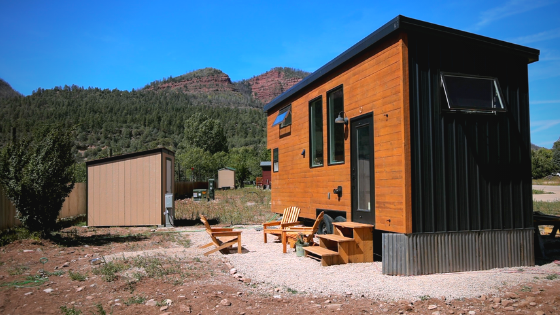 NEW Tiny Home Community in Colorado
Welcome to Hermosa Orchards Village, a new tiny home community in beautiful Hermosa, Colorado. Chris Hall, a first-time developer, decided to create it after hosting a tiny house on wheels on his property several years ago. That experience opened his eyes to the need for THOW parking. Ultimately, this led him to pursue developing his several-acre family land. The approval process was long and slow. With Chris's project approval also came La Plata County's tiny house community zoning regulations to allow others to follow in his footsteps!
"You really got to do your due diligence when you come in to develop something because every place is different and has different rules and regs. Some will make it possible, and some will make it incredibly difficult. Like if you just go one county over to Mancas, they don't have any building codes, and you just do whatever you want over there. Every city decides how they want to develop...

I'm not a developer; I built a few houses, but this is my first roll into it. It took a lot of time. Because man, it is difficult and expensive! You just don't go in; you're hiring your engineers and attorneys and all that stuff. It's a lot. You're not going to get rich off it, but I think it's a good thing for the community.

I think a lot of people poo poo the old trailer parks, but you know, you got to start somewhere. They really provide a good service for low income. The old trailer parks, actually, most of them are kept pretty well and haven't been let go. They provide that first homeownership opportunity for a single mom, for a teacher, or for somebody who can get into one affordably and build some equity and use it as a stepping stone... I really do believe you need these varying levels of housing for people starting out."

-Chris Hall, Hermosa Orchards Village developer
Inside This NEW Tiny Home Community
Three hundred sixty mountain views surround Hermosa Orchards Village. It's just a few steps away from a trail system and a short drive to a ski resort, hot springs, and charming downtown Durango. Keep in mind the community is brand-new and landscaping is still going in. However, there is still plenty of green space to be had, including the wonderful communal fruit tree orchard.
The Village features eleven 36-foot wide spaces and eleven 50-foot wide spaces ranging from 95-feet to 135-feet in length. That's much larger than many other tiny home communities and RV parks. Each lot has room for yards, landscaping & gardening, picnic tables, and a shed or small studio space.
Lot rent ranges from $650-$825 per month and includes water and sewer services. Additionally, electric, trash, cable tv, and high-speed internet are available for each. Why this is higher than some other communities, it's a fraction of the cost of a local one-bedroom apartment.
"As a tiny house owner you understand the importance of square foot price. Our spaces are .15 cents per sq' to rent. Compare that to a typical 20x40 space at .50-$1.00 per sq'. Living in a tiny house that extra outdoor space is very nice to have."
Watch the tour above to see more of this new tiny home community and see below to see inside a resident's house!
Contact Chris to reserve one of the available tiny house lots.
Thanks to our sponsor, Blueland!
Get your first Blueland purchase for 20% off with our link.
Maggie & Hawken's Tiny House at the Village
Our NEW Tiny House Book!
"Alexis and Christian are great people and when they write a book about tiny houses, you can have confidence that it will be jam-packed with valuable information. This book delivers all the info you could possibly be looking for regarding tiny house living. Target for this book is someone that is feeling a bit overwhelmed and isn't sure what they need to consider as they embark on their tiny house journey. This book will provide the info they need and should help anyone in this position. Well done. Well written. 5 Stars."